Political and Labor Blogs
AFL-CIO Now
News From The AFL-CIO
Altercation
By the
Nation's
Eric Alterman
Blue Collar Blog
Firefighter, IAFF Member and CWA Staffer Sounds Off
Chris Mooney
The politics of science
Communicate or Die
American Labor Unions and the Internet
Crooks and Liars
Political hypocrisy n The small screen
Daily Kos

A must read for all political junkies
DMI Blog

Politics, Policy and the American Dream
Edwize

The blog of New York's United Federation of Teachers
Effect Measure
A forum for progressive public health discussion
FireDogLake
A Group Political Blog -- Always Something Interesting
GoozNews
Who's Watching Now That The Cameras Have Left?
Gulf Coast Reconstruction Watch
SHOCKED
that there's corporate influence on public health policy?
Impact Analysis
A portal for your adventure in environmental health
Liberal Oasis
On a mission to reclaim the good name of liberals because America was founded on liberal beliefs of freedom and justice for all.
MaxSpeak
Economics deciphered by "Max" Sawicky
Mine Safety Watch
Health and Safety in the Mines
Mother Jones
On Top Of The News
Nathan Newman
Politics, economics and labor issues
Political Animal
Keeping up on Washington Politics by veteran blogger Kevin Drum
The Pump Handle
A water cooler for the public health crowd
rawblogXport
Labor news
Seeing the Forest
...for the trees: A Political Blog
Sirotablog
David Sirota's online magazine of political news & commentary for those who
really
can't get enough politics
Stayin' Alive
Discussion of public health and health care policy, from a public health perspective.
Suburban Guerrilla
Wit, wisdom and politics by a reformed journalist
Talking Points
In-depth politics by Josh Marshall
Tapped
A group blog from the writers of the
American Prospect
Tom Tomorrow
Politics and passion from the cartoonist
Workers Comp Insider
Good and fairly enlighted resource
Working Immigrants
The business of immigrant work: employment, compensation, legal protections, education, mobility, and public policy.
Working Life
By a veteran labor and economics writer Jonathan Tasini
The Yorkshire Ranter
The scene from across the ocean
You Are Worth More
Labor issues in the retail trades
Health and Safety Websites and Resources
Hazards Magazine


Deceit and Denial


eLCOSH (Electronic Library of Safety & Health)


NYCOSH


COSH Network


UCLA-Labor Occupational Safety and Health Program (LOSH)


A Job To Die For


ILO Encyclopaedia of Occupational Health and Safety


Grist Magazine


Drum Major Institute For Public Policy


International Right To Know Campaign


Labor Occupational Health Program (UC Berkeley)


Maquiladora Healthand Safety Support Network


OSHA Worker Page


NIOSH


Canadian Center for Occupational Safety and Health


ACT Workcover (Australia)


Health & Safety Executive (Britain)


Worksafe British Columbia


United Support & Memorial For Workplace Fatalities


US Labor Against the War


LaborNotes


Labor Arts


The Occupational Safety and Health Act of 1970


The Mine Safety and Health Act of 1977



Union Health and Safety Websites
AFL-CIO


United Electrical Workers (UE)


AFSCME


AFSCME DC 37


United Auto Workers


Center to Protect Workers Rights


Communications Workers (CWA)


Laborers


LabourStart


ICEM

---
---
Monday, October 18, 2004
PERMALINK Posted 10:28 PM by Jordan


OSHA's Future in a Bush or Kerry Administration
There are two recent articles that speculate about what lies in store for OSHA under either a second Bush or a Kerry admnistration.
Jim Nash tackles the subject in
Occupational Hazards
. It's clear that labor has been unhappy with Bush's reign -- from the early days of the administration which saw the repeal of the Ergnomics standard to almost four years later where we've not seen the issuance of a single new standard. Nash notes that labor isn't the only constituency that is disappointed:
Not all business groups are satisfied with OSHA's failure to promulgate standards. "To some extent they've become a 'one-trick pony': alliances, guidance and partnerships," comments Frank White, vice president in the Washington, D.C. office of Organization Resources Counselors (ORC) Inc., a consulting firm that represents many of the nation's largest companies.

While recognizing the complex hurdles that block OSHA rulemaking, White believes OSHA needs to find ways to overcome these challenges.

"I think it's a fundamental function of OSHA to issue standards. I don't think OSHA can say implicitly by their failure to issue new standards, 'we're stymied by the system,' so we'll divert our attention to guidelines and alliances."
In addition, Bush's OSHA seems to have united all sides about two issues: it's failure to address the problem of updating antiquated Permissible Exposure Limits for toxic chemicals and the attempt to reorganize NIOSH.
After the past four years, life won't be easy under a Kerry administration, but disasterous with another four years of Bush:
After the failure of the ergonomics standard and 4 years of voluntarism, some current and former OSHA employees say whomever is named to head OSHA will find a national headquarters drained of morale and rulemaking talent. Just as the budget deficits will limit OSHA initiatives, this brain drain may hinder new rulemaking.

But while industry leaders and OSHA insiders wonder how much difference the election will have on the government's approach to workplace safety, labor leaders are convinced this election is a critical turning point.

"If we have 4 more years of Bush and Cheney," predicts [AFL-CIO Health and Safety Director Peg] Seminario, "you'll have an OSHA and an MSHA that will basically be consultation agencies to help business."
Nash also speculates about what effect the outcome of the battle for control of the Senate will have on OSHA.
Aside from legislation that seems to go nowhere in an evenly diviced Senate, there is one imporant role that has been missing in a Republicans controlled Senate:
The AFL-CIO's Peg Seminario and Randall Johnson of the U.S. Chamber of Commerce don't often see eye to eye on OSHA issues, but they agree about one thing: when it comes to the control of Congress, it's OSHA oversight - not legislation or appropriations - that's most critical.

"I think one thing reporters miss about changes in elections is Congress's oversight function," says Johnson, who used to work in the Department of Labor under President Ronald Reagan, when Sen. Ted Kennedy, D-Mass., sat in the oversight chair. "I'm familiar with the pressure that can be brought to bear on an administration by Senate oversight, and believe me, it is significant."
Newsday
finished its series (
here
,
here
and
here
)on the Bush administrations regulatory failures with an article speculating about what a Kerry administration would mean for worker and environmental protections:
In the mid-1990s when Republicans in Congress were pushing to make regulations harder to enact, consumer, labor and environmental groups sought an ally committed to government oversight and capable of grasping the complexity of the rules.

Their choice was John Kerry. Since coming to Congress in 1985, Kerry had advocated the stricter regulatory agenda that liberal groups say will protect consumers, workers and the environment but that businesses charge hurt the economy.

Now as Kerry runs for president, many close advisers come from those special-interest groups, and his platform supports some of their causes. So would a Kerry presidency, advocates say.

That's what worries business groups that have supported the Bush presidency's drive to eliminate what it describes as burdensome regulation.
Labels: Ergonomics, Foxes Guarding The Chickencoop
---
Go To My Main Page
---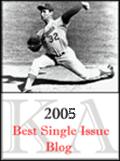 ---
Looking for
Confined Space Safety Information?
Click
Here
---
---
BP Texas City Explosion Stories
2006 Mine Disaster Stories
Popcorn Lung Stories
Speech on Receiving the APHA Lorin Kerr Award
by Jordan Barab, November 9, 2004


---
Acts of God, Acts of Man,"
by Jordan Barab, Working USA


Lies, Partisanship Caused Ergo Standard to Crumble,
by Jordan Barab, Safety + Health, February 2002


A Week of Death,
by Jordan Barab, Hazards, February 5, 2003
March 2003
April 2003
May 2003
June 2003
July 2003
August 2003
September 2003
October 2003
November 2003
December 2003
January 2004
February 2004
March 2004
April 2004
May 2004
June 2004
July 2004
August 2004
September 2004
October 2004
November 2004
December 2004
January 2005
February 2005
March 2005
April 2005
May 2005
June 2005
July 2005
August 2005
September 2005
October 2005
November 2005
December 2005
January 2006
February 2006
March 2006
April 2006
May 2006
June 2006
July 2006
August 2006
September 2006
October 2006
November 2006
December 2006
January 2007
---
---
FINALIST

Koufax Award

For Best Single Issue Blog of 2003 and 2004

---
---