Political and Labor Blogs
AFL-CIO Now
News From The AFL-CIO
Altercation
By the
Nation's
Eric Alterman
Blue Collar Blog
Firefighter, IAFF Member and CWA Staffer Sounds Off
Chris Mooney
The politics of science
Communicate or Die
American Labor Unions and the Internet
Crooks and Liars
Political hypocrisy n The small screen
Daily Kos

A must read for all political junkies
DMI Blog

Politics, Policy and the American Dream
Edwize

The blog of New York's United Federation of Teachers
Effect Measure
A forum for progressive public health discussion
FireDogLake
A Group Political Blog -- Always Something Interesting
GoozNews
Who's Watching Now That The Cameras Have Left?
Gulf Coast Reconstruction Watch
SHOCKED
that there's corporate influence on public health policy?
Impact Analysis
A portal for your adventure in environmental health
Liberal Oasis
On a mission to reclaim the good name of liberals because America was founded on liberal beliefs of freedom and justice for all.
MaxSpeak
Economics deciphered by "Max" Sawicky
Mine Safety Watch
Health and Safety in the Mines
Mother Jones
On Top Of The News
Nathan Newman
Politics, economics and labor issues
Political Animal
Keeping up on Washington Politics by veteran blogger Kevin Drum
The Pump Handle
A water cooler for the public health crowd
rawblogXport
Labor news
Seeing the Forest
...for the trees: A Political Blog
Sirotablog
David Sirota's online magazine of political news & commentary for those who
really
can't get enough politics
Stayin' Alive
Discussion of public health and health care policy, from a public health perspective.
Suburban Guerrilla
Wit, wisdom and politics by a reformed journalist
Talking Points
In-depth politics by Josh Marshall
Tapped
A group blog from the writers of the
American Prospect
Tom Tomorrow
Politics and passion from the cartoonist
Workers Comp Insider
Good and fairly enlighted resource
Working Immigrants
The business of immigrant work: employment, compensation, legal protections, education, mobility, and public policy.
Working Life
By a veteran labor and economics writer Jonathan Tasini
The Yorkshire Ranter
The scene from across the ocean
You Are Worth More
Labor issues in the retail trades
Health and Safety Websites and Resources
Hazards Magazine


Deceit and Denial


eLCOSH (Electronic Library of Safety & Health)


NYCOSH


COSH Network


UCLA-Labor Occupational Safety and Health Program (LOSH)


A Job To Die For


ILO Encyclopaedia of Occupational Health and Safety


Grist Magazine


Drum Major Institute For Public Policy


International Right To Know Campaign


Labor Occupational Health Program (UC Berkeley)


Maquiladora Healthand Safety Support Network


OSHA Worker Page


NIOSH


Canadian Center for Occupational Safety and Health


ACT Workcover (Australia)


Health & Safety Executive (Britain)


Worksafe British Columbia


United Support & Memorial For Workplace Fatalities


US Labor Against the War


LaborNotes


Labor Arts


The Occupational Safety and Health Act of 1970


The Mine Safety and Health Act of 1977



Union Health and Safety Websites
AFL-CIO


United Electrical Workers (UE)


AFSCME


AFSCME DC 37


United Auto Workers


Center to Protect Workers Rights


Communications Workers (CWA)


Laborers


LabourStart


ICEM

---
---
Sunday, April 10, 2005
PERMALINK Posted 11:29 PM by Jordan


BP Amoco Texas City Update: Plant Owners Aware of Venting and Trailer Location Hazards
We're learning more about some of the causes of the Texas City BP Amoco explosion that killed 15 workers last month. We're also learning that the plant had been warned previously about the same hazardous conditions.
Surviving witnesses report seeing a spout of liquid and vapors erupting from a 100-foot tower in an area of the refinery known as an isomerization unit just before the explosion. Investigators from the U.S. Chemical Safety Board are asking why the pressure relief system allowed flammable liquids and vapors to vent to a "vent stack," instead of a much safer and more commonly used flare system that burns the material.
Turns out
this was not the first time plant owners had been alerted to this problem
:
In 1992, the Occupational Safety and Health Administration cited BP predecessor Amoco Oil Co. for using equipment, including a splitter — the same type of machinery at the center of the current investigation — in a manner "that allowed toxic gases to vent to the atmosphere ... thus exposing employees to flammable or toxic gases." The four-month investigation was part of a broader initiative launched by OSHA after a string of fires at industrial facilities.

To correct the problem, OSHA recommended that Amoco reconfigure the unit so that liquids and vapors discharged go to a flare, or set up air monitors. The company settled the case, which cited 15 violations and fined the company initially $50,000 in 1994, according to OSHA records, but it is unclear whether they followed the agency's recommendation, since it is not required.

BP spokesman Bill Stephens said an initial review of the company's records "indicates that OSHA withdrew that alleged violation."

OSHA records suggest that the plant fixed the problem in May 1992, and the case was settled in August 1994. At some later date, the citation was deleted and the fine was withdrawn. Further details were unavailable late Thursday.

The OSHA violation is supported by anecdotal reports from former employees who worked on the isomerization unit over the years. The unit was constructed from another unit in the mid-1980s, according to state permits. The vent stack has been in place since the mid-50s, but BP said it replaced it in 1997.

Stephens said the stack and a collection tank at its base called the blow-down drum are part of an emergency pressure release system designed to redirect liquids and vent gases.

A longtime employee on the unit said the stack and drum has had problems over the years.

"All of that stuff should have been taken out of that blow-down drum and put to a flare system," said Wydell Dixon, an operator on the isom unit from 1975 to 1999. Dixon later sued and settled with Amoco over an employment dispute.
Facility Siting
Meanwhile, there was another serious problem about which plant owners had plenty of warning:
the location of a temporary office trailer only 100 to 150 feet away from the vent stack
that exploded, many of whom were inside the trailer. Other major refiners and BP Amoco guidelines call for trailers to be located far from refinery equipment as possible. Some also call for the evacuation of non-essential personnel before a hazardous unit is restarted, one of the most dangerous times of refinery work.
OSHA's
Process Safety Management standard
calls on companies to perform a "process safety analysis" that addresses "facility siting" issues, such as where office space and control rooms should be located and how blast-resistant they must be.
The
Center for Chemical Process Safety
published
Guidelines for Facility-Siting and Layout
in 2003, which also addresses the issue:
Offices and warehouses should be far enough away from ventilation stacks and process units to be "outside of vapor cloud explosion damage areas." Those guidelines also say the typical spacing requirement between offices and equipment is 200 feet.
Ten years ago, there was an explosion at a Pennzoil plant in Rouseville, PA in which three of the five workers killed were in in tool and break trailers near the explosion.
And the plot thickens:
Jacobs, the engineering firm that lost 11 employees in the Texas City explosion, was a contractor at the Rouseville plant. Jacobs executives refuse to comment on trailer placement or contract worker safety.

In the Rouseville case, a Jacobs safety manager filed a legal affidavit saying the "placement of trailers" at the Pennzoil plant was done "in conscious indifference and disregard to the safety and welfare of workers at the plant." Federal investigators castigated Pennzoil, saying lives could have been saved in Pennsylvania had the trailers been farther from the volatile area.

***

Two years later, Pennzoil said it had developed a trailer permitting process that would never again allow the mobile break rooms, offices, laundry facilities or clothing-changing stations to be put in the most dangerous areas of the plant.

Lawyers looking at the Texas City devastation find it hard to understand why trailers are again an issue a decade later.
Indeed.
***
Related Articles
Labels: BP, Chemical Safety Board
---
Go To My Main Page
---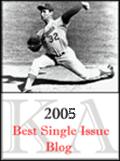 ---
Looking for
Confined Space Safety Information?
Click
Here
---
---
BP Texas City Explosion Stories
2006 Mine Disaster Stories
Popcorn Lung Stories
Speech on Receiving the APHA Lorin Kerr Award
by Jordan Barab, November 9, 2004


---
Acts of God, Acts of Man,"
by Jordan Barab, Working USA


Lies, Partisanship Caused Ergo Standard to Crumble,
by Jordan Barab, Safety + Health, February 2002


A Week of Death,
by Jordan Barab, Hazards, February 5, 2003
March 2003
April 2003
May 2003
June 2003
July 2003
August 2003
September 2003
October 2003
November 2003
December 2003
January 2004
February 2004
March 2004
April 2004
May 2004
June 2004
July 2004
August 2004
September 2004
October 2004
November 2004
December 2004
January 2005
February 2005
March 2005
April 2005
May 2005
June 2005
July 2005
August 2005
September 2005
October 2005
November 2005
December 2005
January 2006
February 2006
March 2006
April 2006
May 2006
June 2006
July 2006
August 2006
September 2006
October 2006
November 2006
December 2006
January 2007
---
---
FINALIST

Koufax Award

For Best Single Issue Blog of 2003 and 2004

---
---