Political and Labor Blogs
AFL-CIO Now
News From The AFL-CIO
Altercation
By the
Nation's
Eric Alterman
Blue Collar Blog
Firefighter, IAFF Member and CWA Staffer Sounds Off
Chris Mooney
The politics of science
Communicate or Die
American Labor Unions and the Internet
Crooks and Liars
Political hypocrisy n The small screen
Daily Kos

A must read for all political junkies
DMI Blog

Politics, Policy and the American Dream
Edwize

The blog of New York's United Federation of Teachers
Effect Measure
A forum for progressive public health discussion
FireDogLake
A Group Political Blog -- Always Something Interesting
GoozNews
Who's Watching Now That The Cameras Have Left?
Gulf Coast Reconstruction Watch
SHOCKED
that there's corporate influence on public health policy?
Impact Analysis
A portal for your adventure in environmental health
Liberal Oasis
On a mission to reclaim the good name of liberals because America was founded on liberal beliefs of freedom and justice for all.
MaxSpeak
Economics deciphered by "Max" Sawicky
Mine Safety Watch
Health and Safety in the Mines
Mother Jones
On Top Of The News
Nathan Newman
Politics, economics and labor issues
Political Animal
Keeping up on Washington Politics by veteran blogger Kevin Drum
The Pump Handle
A water cooler for the public health crowd
rawblogXport
Labor news
Seeing the Forest
...for the trees: A Political Blog
Sirotablog
David Sirota's online magazine of political news & commentary for those who
really
can't get enough politics
Stayin' Alive
Discussion of public health and health care policy, from a public health perspective.
Suburban Guerrilla
Wit, wisdom and politics by a reformed journalist
Talking Points
In-depth politics by Josh Marshall
Tapped
A group blog from the writers of the
American Prospect
Tom Tomorrow
Politics and passion from the cartoonist
Workers Comp Insider
Good and fairly enlighted resource
Working Immigrants
The business of immigrant work: employment, compensation, legal protections, education, mobility, and public policy.
Working Life
By a veteran labor and economics writer Jonathan Tasini
The Yorkshire Ranter
The scene from across the ocean
You Are Worth More
Labor issues in the retail trades
Health and Safety Websites and Resources
Hazards Magazine


Deceit and Denial


eLCOSH (Electronic Library of Safety & Health)


NYCOSH


COSH Network


UCLA-Labor Occupational Safety and Health Program (LOSH)


A Job To Die For


ILO Encyclopaedia of Occupational Health and Safety


Grist Magazine


Drum Major Institute For Public Policy


International Right To Know Campaign


Labor Occupational Health Program (UC Berkeley)


Maquiladora Healthand Safety Support Network


OSHA Worker Page


NIOSH


Canadian Center for Occupational Safety and Health


ACT Workcover (Australia)


Health & Safety Executive (Britain)


Worksafe British Columbia


United Support & Memorial For Workplace Fatalities


US Labor Against the War


LaborNotes


Labor Arts


The Occupational Safety and Health Act of 1970


The Mine Safety and Health Act of 1977



Union Health and Safety Websites
AFL-CIO


United Electrical Workers (UE)


AFSCME


AFSCME DC 37


United Auto Workers


Center to Protect Workers Rights


Communications Workers (CWA)


Laborers


LabourStart


ICEM

---
---
Friday, April 21, 2006
PERMALINK Posted 12:02 AM by Jordan


Ex-OSHA Director Settles Lawsuit Over Workplace Death Of His Son
Many of us workplace safety and health oldtimers (geezers) not-so-fondly remember Thorne Auchter, Ronald Reagan's first chief of OSHA. Auchter attempted to undo much of the work of Jimmy Carter's chief, Eula Bingham, who labored to make OSHA into an agency serious about preventing workplace death, injury, and particularly workplace illness, after years of neglect by Richard Nixon.
OSHA's "
official" history
, recounts Auchter's congressional testimony at his confirmation hearing:
The principal overall change that Auchter sought was the eradication of the "prevailing adversary spirit" among labor, management and government. Specifically, he intended to promote greater labor management cooperation and to involve both sides in the formulation of programs and policies at OSHA.
A week after his arrival, Auchter was shocked to find that the cover of an OSHA publication on Cotton Dust displayed a photograph by Earl Dotter of a cotton dust victim, Louis Harrell. Auchter, believing the cover to be inflammatory, ordered the remaining publications destroyed and reissued the document with no photo on the cover.
OSHA's staff was slashed from 3,015 in 1980 to 2,355 in 1984; one third of its field offices were closed; and its inspection staff reduced by 25 percent. Workplace inspections declined from 63,363 in 1980 to 59,452 in 1986. He was known for unilaterally dismissing citations against companies if he thought OSHA inspectors had been too aggressive. After a tumultuous few years, marked by open warfare between labor and OSHA, Auchter resigned in 1984.

That was about all we heard about Thorne Auchter until tragedy struck on Feb. 24, 2000 when his 22-year-old son, Kevin Campbell Auchter, a culinary student who worked as a demolition laborer, was killed on the job during the demolition of two silos at the Monterey Coal Co. in Missouri.
Auchter, 22, of Glen Arm, Md., was preparing one of the silos for implosion when a 40- to 70-ton chunk of concrete was jarred loose from within the silo and landed on Auchter, who was killed instantly.

On the morning of the accident, RBS Excavating was instructed by Ciminelli to bring in a larger excavating machine to speed up the chipping of a portion of the silo in preparation for implosion, according to the complaint.

The machine operator chipped away, causing the large piece of concrete to fall, the complaint alleged. No demolition engineering survey was prepared prior to the concrete's removal.
OSHA cited the contractor, Ciminelli Services Corp., for two serious citations and fined them $14,000 for the death of Kevin Auchter and another worker who died in the same accident.
A $14,000 OSHA citation isn't much for the loss of your son. Would a more aggressive agency have made a difference, maybe deterring employers from risking their workers' lives? Hmmm.
But in the meantime....
Auchter sued Ciminelli Services
and the subcontractor, RBS Excavating. Just before selecting a jury for the trial scheduled to begin on Monday, the case was settled for $2.3 million.
Related Story
Ronald Reagan's Workplace Safety Legacy
, June 15, 2004
---
Go To My Main Page
---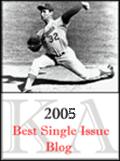 ---
Looking for
Confined Space Safety Information?
Click
Here
---
---
BP Texas City Explosion Stories
2006 Mine Disaster Stories
Popcorn Lung Stories
Speech on Receiving the APHA Lorin Kerr Award
by Jordan Barab, November 9, 2004


---
Acts of God, Acts of Man,"
by Jordan Barab, Working USA


Lies, Partisanship Caused Ergo Standard to Crumble,
by Jordan Barab, Safety + Health, February 2002


A Week of Death,
by Jordan Barab, Hazards, February 5, 2003
March 2003
April 2003
May 2003
June 2003
July 2003
August 2003
September 2003
October 2003
November 2003
December 2003
January 2004
February 2004
March 2004
April 2004
May 2004
June 2004
July 2004
August 2004
September 2004
October 2004
November 2004
December 2004
January 2005
February 2005
March 2005
April 2005
May 2005
June 2005
July 2005
August 2005
September 2005
October 2005
November 2005
December 2005
January 2006
February 2006
March 2006
April 2006
May 2006
June 2006
July 2006
August 2006
September 2006
October 2006
November 2006
December 2006
January 2007
---
---
FINALIST

Koufax Award

For Best Single Issue Blog of 2003 and 2004

---
---