Political and Labor Blogs
AFL-CIO Now
News From The AFL-CIO
Altercation
By the
Nation's
Eric Alterman
Blue Collar Blog
Firefighter, IAFF Member and CWA Staffer Sounds Off
Chris Mooney
The politics of science
Communicate or Die
American Labor Unions and the Internet
Crooks and Liars
Political hypocrisy n The small screen
Daily Kos

A must read for all political junkies
DMI Blog

Politics, Policy and the American Dream
Edwize

The blog of New York's United Federation of Teachers
Effect Measure
A forum for progressive public health discussion
FireDogLake
A Group Political Blog -- Always Something Interesting
GoozNews
Who's Watching Now That The Cameras Have Left?
Gulf Coast Reconstruction Watch
SHOCKED
that there's corporate influence on public health policy?
Impact Analysis
A portal for your adventure in environmental health
Liberal Oasis
On a mission to reclaim the good name of liberals because America was founded on liberal beliefs of freedom and justice for all.
MaxSpeak
Economics deciphered by "Max" Sawicky
Mine Safety Watch
Health and Safety in the Mines
Mother Jones
On Top Of The News
Nathan Newman
Politics, economics and labor issues
Political Animal
Keeping up on Washington Politics by veteran blogger Kevin Drum
The Pump Handle
A water cooler for the public health crowd
rawblogXport
Labor news
Seeing the Forest
...for the trees: A Political Blog
Sirotablog
David Sirota's online magazine of political news & commentary for those who
really
can't get enough politics
Stayin' Alive
Discussion of public health and health care policy, from a public health perspective.
Suburban Guerrilla
Wit, wisdom and politics by a reformed journalist
Talking Points
In-depth politics by Josh Marshall
Tapped
A group blog from the writers of the
American Prospect
Tom Tomorrow
Politics and passion from the cartoonist
Workers Comp Insider
Good and fairly enlighted resource
Working Immigrants
The business of immigrant work: employment, compensation, legal protections, education, mobility, and public policy.
Working Life
By a veteran labor and economics writer Jonathan Tasini
The Yorkshire Ranter
The scene from across the ocean
You Are Worth More
Labor issues in the retail trades
Health and Safety Websites and Resources
Hazards Magazine


Deceit and Denial


eLCOSH (Electronic Library of Safety & Health)


NYCOSH


COSH Network


UCLA-Labor Occupational Safety and Health Program (LOSH)


A Job To Die For


ILO Encyclopaedia of Occupational Health and Safety


Grist Magazine


Drum Major Institute For Public Policy


International Right To Know Campaign


Labor Occupational Health Program (UC Berkeley)


Maquiladora Healthand Safety Support Network


OSHA Worker Page


NIOSH


Canadian Center for Occupational Safety and Health


ACT Workcover (Australia)


Health & Safety Executive (Britain)


Worksafe British Columbia


United Support & Memorial For Workplace Fatalities


US Labor Against the War


LaborNotes


Labor Arts


The Occupational Safety and Health Act of 1970


The Mine Safety and Health Act of 1977



Union Health and Safety Websites
AFL-CIO


United Electrical Workers (UE)


AFSCME


AFSCME DC 37


United Auto Workers


Center to Protect Workers Rights


Communications Workers (CWA)


Laborers


LabourStart


ICEM

---
---
Wednesday, September 13, 2006
PERMALINK Posted 9:25 PM by Jordan


Susan Dudley And Bush's War On Public Safeguards
While the nation and its media are consumed with the 9/11 anniversary, the deterioriating situation in Iraq, Afghanistan and the Middle East, and the upcoming elections, the Bush administration is intensifying its war on workers, citizens and the environment.
Public Citizen and OMB Watch launched a
major campaign
today designed to scuttle the nomination of anti-regulatory zealot Susan Dudley to be director of the the Office of Information and Regulatory Affairs (OIRA). OIRA is part of the White House Office of Management and Budget that controls the issuance of all protective regulations issued by agencies such as OSHA, and EPA.
In a telephone press conference conducted by Public Citizen, OMB Watch, the Natural Resources Defense Council and the AFL-CIO, the public interest groups outlined why Dudley is unfit to be the nation's top regulatory czar. Throughout her career, Dudley has consistently fought against government safeguards and advocated a radical, hands-off approach to regulating corporations.

As director of regulatory studies at the industry-funded Mercatus Center, Dudley has sought to strike down countless environmental, health and safety rules. She has opposed such safeguards as the EPA's attempts to keep arsenic out of drinking water and lower levels of disease-causing smog. She has questioned NHTSA's life-saving air bag regulations and the Department of Transportation's hours-of-service rules to keep sleep-deprived truck drivers off the roads. She has championed energy deregulation, which has led to skyrocketing prices and little consumer relief during record-setting heat waves.

"If confirmed as OIRA administrator, Dudley would continue her anti-regulatory agenda from a position with enormous power over federal health, safety and environmental protections," said Robert Shull, Public Citizen's deputy director for auto safety and regulatory policy, and a principal author of the report. "She would come to this office with a radical agenda that would destroy the federal government's ability to protect the public. The public cannot afford to pay that price."
Dudley was the director of the Regulatory Studies Program at the Mercatus Center, an industry-funded, antiregulatory advocacy organization. Mercatus' funders have included companies with long records of opposing government safeguards such as BP Amoco, Exxon Mobil Corporation, General Motors, JP Morgan Chase, Merrill Lynch, Pfizer, and State Farm Insurance Companies.
But Public Citizen and OMB Watch don't just issue press releases, they also do their homework. The groups released a
68 page report
and a collection of fact sheets to support the campaign.
The report dismantles Dudley's arguments piece by piece, particularly the often circular and contradictory reasoning she uses to oppose every regulation she's ever met. For example, Dudley believes that regulations can only be justified to compensate for a "market failure." Other possible regulatory goals, suchas environmental justice, civil rights and fairness are not on her radar screen.
And how do you prove "market failure?"
You don't. If things like automobile safety or ergonomics protections were important, then the public would demand them and companies would supply them. The fact that companies aren't supplying them means the public isn't demanding them. Hence, the market works perfectly and no regulation is needed.
For example, EPA regulation require facilities that work with dangerous chemicals to create risk management plans for use in worst-case scenario disasters. Humbug! says Dudley.
"If there is a public demand for this information, as EPA's benefit assessment argues, nongovernmental organizations would find value in deriving it. The fact that they don't suggests that the value of the information to the public is less than the cost of the information. Certainly the public would value receiving a company's products and services as well, but the quantity and price of those goods and services is determined by the market; the federal government doesn't simply require companies give products away. Information is a good, and like other goods, has associated costs as well as benefits."
Companies have natural incentives to ensure their workers' safety.For example, ergonomics regulations designed to prevent workers from suffering from musculoskeletal disorders (MSDs):
"OSHA offers no evidence that employers and employees do not have adequate incentives to provide the optimal level of workplace protection against MSD hazards. On the contrary, OSHA provides evidence that (1) MSDs impose significant costs on employers, which should offer ample incentives to reduce their occurrence, (2) employers are, in fact, developing programs and other initiatives to reduce MSDs, and (3) MSDs are declining. Lack of knowledge on the causes of and remedies for MSDs, not lack of motivation, has hindered efforts to reduce MSDs."
And then there's my personal favorite -- pollution is good for you:
"Due to ozone's screening effect on harmful ultraviolet-B radiation, the proposed reduction in ozone levels would increase malignant and nonmelanoma skin cancers and cataracts, as well as other UV-B-related health-risks. This doesn't mean that more ozone is always better. It does mean that if the EPA really cares about public health it should take these trade-offs into account."
I could go on and on, but then I'd rob you of the pleasure of reading the report yourselves.

But when you get done tsk-tsking and chuckling and shaking your head, remember that the Bush administration is dead serious about appointing this person to control, limit and abolish the safeguards that protect us and our children from the otherwise unsafe products and uncontrolled hazards in our workplaces, air, water, automobiles and anywhere else that corporate America can make a profit by neglecting the harmful effects of its products.

Related Stories
Labels: Foxes Guarding The Chickencoop, Susan Dudley
---
Go To My Main Page
---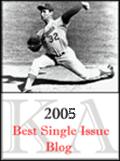 ---
Looking for
Confined Space Safety Information?
Click
Here
---
---
BP Texas City Explosion Stories
2006 Mine Disaster Stories
Popcorn Lung Stories
Speech on Receiving the APHA Lorin Kerr Award
by Jordan Barab, November 9, 2004


---
Acts of God, Acts of Man,"
by Jordan Barab, Working USA


Lies, Partisanship Caused Ergo Standard to Crumble,
by Jordan Barab, Safety + Health, February 2002


A Week of Death,
by Jordan Barab, Hazards, February 5, 2003
March 2003
April 2003
May 2003
June 2003
July 2003
August 2003
September 2003
October 2003
November 2003
December 2003
January 2004
February 2004
March 2004
April 2004
May 2004
June 2004
July 2004
August 2004
September 2004
October 2004
November 2004
December 2004
January 2005
February 2005
March 2005
April 2005
May 2005
June 2005
July 2005
August 2005
September 2005
October 2005
November 2005
December 2005
January 2006
February 2006
March 2006
April 2006
May 2006
June 2006
July 2006
August 2006
September 2006
October 2006
November 2006
December 2006
January 2007
---
---
FINALIST

Koufax Award

For Best Single Issue Blog of 2003 and 2004

---
---