Political and Labor Blogs
AFL-CIO Now
News From The AFL-CIO
Altercation
By the
Nation's
Eric Alterman
Blue Collar Blog
Firefighter, IAFF Member and CWA Staffer Sounds Off
Chris Mooney
The politics of science
Communicate or Die
American Labor Unions and the Internet
Crooks and Liars
Political hypocrisy n The small screen
Daily Kos

A must read for all political junkies
DMI Blog

Politics, Policy and the American Dream
Edwize

The blog of New York's United Federation of Teachers
Effect Measure
A forum for progressive public health discussion
FireDogLake
A Group Political Blog -- Always Something Interesting
GoozNews
Who's Watching Now That The Cameras Have Left?
Gulf Coast Reconstruction Watch
SHOCKED
that there's corporate influence on public health policy?
Impact Analysis
A portal for your adventure in environmental health
Liberal Oasis
On a mission to reclaim the good name of liberals because America was founded on liberal beliefs of freedom and justice for all.
MaxSpeak
Economics deciphered by "Max" Sawicky
Mine Safety Watch
Health and Safety in the Mines
Mother Jones
On Top Of The News
Nathan Newman
Politics, economics and labor issues
Political Animal
Keeping up on Washington Politics by veteran blogger Kevin Drum
The Pump Handle
A water cooler for the public health crowd
rawblogXport
Labor news
Seeing the Forest
...for the trees: A Political Blog
Sirotablog
David Sirota's online magazine of political news & commentary for those who
really
can't get enough politics
Stayin' Alive
Discussion of public health and health care policy, from a public health perspective.
Suburban Guerrilla
Wit, wisdom and politics by a reformed journalist
Talking Points
In-depth politics by Josh Marshall
Tapped
A group blog from the writers of the
American Prospect
Tom Tomorrow
Politics and passion from the cartoonist
Workers Comp Insider
Good and fairly enlighted resource
Working Immigrants
The business of immigrant work: employment, compensation, legal protections, education, mobility, and public policy.
Working Life
By a veteran labor and economics writer Jonathan Tasini
The Yorkshire Ranter
The scene from across the ocean
You Are Worth More
Labor issues in the retail trades
Health and Safety Websites and Resources
Hazards Magazine


Deceit and Denial


eLCOSH (Electronic Library of Safety & Health)


NYCOSH


COSH Network


UCLA-Labor Occupational Safety and Health Program (LOSH)


A Job To Die For


ILO Encyclopaedia of Occupational Health and Safety


Grist Magazine


Drum Major Institute For Public Policy


International Right To Know Campaign


Labor Occupational Health Program (UC Berkeley)


Maquiladora Healthand Safety Support Network


OSHA Worker Page


NIOSH


Canadian Center for Occupational Safety and Health


ACT Workcover (Australia)


Health & Safety Executive (Britain)


Worksafe British Columbia


United Support & Memorial For Workplace Fatalities


US Labor Against the War


LaborNotes


Labor Arts


The Occupational Safety and Health Act of 1970


The Mine Safety and Health Act of 1977



Union Health and Safety Websites
AFL-CIO


United Electrical Workers (UE)


AFSCME


AFSCME DC 37


United Auto Workers


Center to Protect Workers Rights


Communications Workers (CWA)


Laborers


LabourStart


ICEM

---
---
Tuesday, December 16, 2003
PERMALINK Posted 12:41 AM by Jordan


McWane a "Model Corporate Citizen?"....God Help Us All!
You may remember the
Frontline
and
NY Times
series earlier this year on the McWane corporation whose corporate strategy left a trail of dead and maimed workers in its wake.
Well, they're back in the news, as David Barstow continues the sad story in the
NY Times
....
Senior managers of a New Jersey foundry owned by McWane Inc., the nation's largest manufacturer of cast-iron pipe, conspired for years to violate workplace safety and environmental laws and then obstructed repeated government inquiries by lying, intimidating workers into silence and systematically altering accident scenes, according to a sweeping federal indictment unsealed here on Monday.

The motive, the indictment said, was to enrich the foundry, Atlantic States Cast Iron Pipe in Phillipsburg, N.J., and its managers by maximizing production "without concern to environmental pollution and worker safety risks."

The foundry's managers routinely dumped thousands of gallons of contaminated wastewater into the Delaware River, repeatedly exposed workers to unsafe conditions and regularly deceived environmental and workplace safety regulators, the indictment charges.

When one worker, Alfred E. Coxe, was struck and killed by a forklift with a history of brake problems, the indictment stated, the McWane managers "took steps to conceal facts" and instructed one employee to "provide a misleading account" to hide the plant's faulty forklifts from the federal Occupational Safety and Health Administration.

The managers took other steps to evade regulators, the indictment asserted. They falsified injury logs, submitted false pollution monitoring reports and burned incriminating evidence in the foundry's cupola, a furnace that turns scrap metal into molten iron.

"To Atlantic States' blue-collar work force, composed in large part of immigrants, some non-English speakers, all working in an area with few jobs that could support a family, these defendants routinely presented a harsh choice," Tara Donn, a special agent for the Environmental Protection Agency, wrote in an affidavit that accompanied the indictment. "Perform an unreasonably dangerous work task or lose your job; work injured or lose your job; lie to OSHA or lose your job; lie to environmental regulators or lose your job; forego filing workers compensation claims or lose your job."

In court on Monday, defense lawyers entered pleas of not guilty for Atlantic States and its managers, who were released on bail but ordered not to return to the plant without permission because of reports of witness intimidation.

Later, at a news conference, a lawyer for McWane, the former Whitewater prosecutor Robert Ray, called the company a "responsible corporate citizen" that has demonstrated a willingness to change its culture. While acknowledging "areas where the company has fallen short" in the past, Mr. Ray said that McWane had spent tens of millions of dollars on new safety equipment and pollution controls and remained committed to making all of its plants "model facilities for the 21st century."
Right, an this just in. Saddam Hussein's lawyers called the former dictator a "responsible world citizen" who has demonstrated a willingness to change his ways. While acknowledging "areas where his regime had fallen short..." Yadda, yadda, yadda.
Comment:
As usual, this is a great report that exposes one of the worst corporate actors in America today. But don't let this leave you with the impression that McWane is the only bad one out there. They may be larger than most bad actors, but check out the "Weekly Toll" that I publish every couple of weeks. Many of these companies treat their employees no better than McWane. And remember that generally only fatalities make the news (and not all of those). Many deaths and the vast majority of serious injuries are never known by anyone except witnesses and the families.
Thankfully, we have stories like these in the NY Times to reaveal some of the daily carnage in our workplaces. It's up to all of you to make sure that all of the others aren't forgotten.
Labels: McWane, Weekly Toll
---
Go To My Main Page
---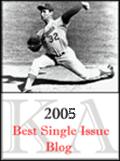 ---
Looking for
Confined Space Safety Information?
Click
Here
---
---
BP Texas City Explosion Stories
2006 Mine Disaster Stories
Popcorn Lung Stories
Speech on Receiving the APHA Lorin Kerr Award
by Jordan Barab, November 9, 2004


---
Acts of God, Acts of Man,"
by Jordan Barab, Working USA


Lies, Partisanship Caused Ergo Standard to Crumble,
by Jordan Barab, Safety + Health, February 2002


A Week of Death,
by Jordan Barab, Hazards, February 5, 2003
March 2003
April 2003
May 2003
June 2003
July 2003
August 2003
September 2003
October 2003
November 2003
December 2003
January 2004
February 2004
March 2004
April 2004
May 2004
June 2004
July 2004
August 2004
September 2004
October 2004
November 2004
December 2004
January 2005
February 2005
March 2005
April 2005
May 2005
June 2005
July 2005
August 2005
September 2005
October 2005
November 2005
December 2005
January 2006
February 2006
March 2006
April 2006
May 2006
June 2006
July 2006
August 2006
September 2006
October 2006
November 2006
December 2006
January 2007
---
---
FINALIST

Koufax Award

For Best Single Issue Blog of 2003 and 2004

---
---