Political and Labor Blogs
AFL-CIO Now
News From The AFL-CIO
Altercation
By the
Nation's
Eric Alterman
Blue Collar Blog
Firefighter, IAFF Member and CWA Staffer Sounds Off
Chris Mooney
The politics of science
Communicate or Die
American Labor Unions and the Internet
Crooks and Liars
Political hypocrisy n The small screen
Daily Kos

A must read for all political junkies
DMI Blog

Politics, Policy and the American Dream
Edwize

The blog of New York's United Federation of Teachers
Effect Measure
A forum for progressive public health discussion
FireDogLake
A Group Political Blog -- Always Something Interesting
GoozNews
Who's Watching Now That The Cameras Have Left?
Gulf Coast Reconstruction Watch
SHOCKED
that there's corporate influence on public health policy?
Impact Analysis
A portal for your adventure in environmental health
Liberal Oasis
On a mission to reclaim the good name of liberals because America was founded on liberal beliefs of freedom and justice for all.
MaxSpeak
Economics deciphered by "Max" Sawicky
Mine Safety Watch
Health and Safety in the Mines
Mother Jones
On Top Of The News
Nathan Newman
Politics, economics and labor issues
Political Animal
Keeping up on Washington Politics by veteran blogger Kevin Drum
The Pump Handle
A water cooler for the public health crowd
rawblogXport
Labor news
Seeing the Forest
...for the trees: A Political Blog
Sirotablog
David Sirota's online magazine of political news & commentary for those who
really
can't get enough politics
Stayin' Alive
Discussion of public health and health care policy, from a public health perspective.
Suburban Guerrilla
Wit, wisdom and politics by a reformed journalist
Talking Points
In-depth politics by Josh Marshall
Tapped
A group blog from the writers of the
American Prospect
Tom Tomorrow
Politics and passion from the cartoonist
Workers Comp Insider
Good and fairly enlighted resource
Working Immigrants
The business of immigrant work: employment, compensation, legal protections, education, mobility, and public policy.
Working Life
By a veteran labor and economics writer Jonathan Tasini
The Yorkshire Ranter
The scene from across the ocean
You Are Worth More
Labor issues in the retail trades
Health and Safety Websites and Resources
Hazards Magazine


Deceit and Denial


eLCOSH (Electronic Library of Safety & Health)


NYCOSH


COSH Network


UCLA-Labor Occupational Safety and Health Program (LOSH)


A Job To Die For


ILO Encyclopaedia of Occupational Health and Safety


Grist Magazine


Drum Major Institute For Public Policy


International Right To Know Campaign


Labor Occupational Health Program (UC Berkeley)


Maquiladora Healthand Safety Support Network


OSHA Worker Page


NIOSH


Canadian Center for Occupational Safety and Health


ACT Workcover (Australia)


Health & Safety Executive (Britain)


Worksafe British Columbia


United Support & Memorial For Workplace Fatalities


US Labor Against the War


LaborNotes


Labor Arts


The Occupational Safety and Health Act of 1970


The Mine Safety and Health Act of 1977



Union Health and Safety Websites
AFL-CIO


United Electrical Workers (UE)


AFSCME


AFSCME DC 37


United Auto Workers


Center to Protect Workers Rights


Communications Workers (CWA)


Laborers


LabourStart


ICEM

---
---
Wednesday, June 16, 2004
PERMALINK Posted 10:39 PM by Jordan


Workers are Canaries
While researching the article on Ronald Reagan's legacy, I ran across this excellent 1998 article from the
Houston Chronicle
about the almost insurmountable barriers to protecting workers against chemicals in this country.
What's the problem?
Constrained by politics and often overmatched by industry, OSHA has managed to tighten standards for only 26 of an estimated 650,000 chemicals and chemical mixtures to which U.S. workers are exposed. Some on this long list are known to be dangerous; others have not been studied.

Industry challenges of proposed limits, backed by industry-funded science, are the norm. Proof is demanded, then more proof. Years, maybe decades, pass.

***

Chemical industry leaders say it's not necessarily a bad thing for regulation to take time, given the costs and difficulties of compliance.

"It is slow and cumbersome, but that's the way our system of government was established," said C. T. "Kip" Howlett Jr., a vice president with the Chemical Manufacturers Association and executive director of the Chlorine Chemistry Council.
OSHA Director Eula Bingham tried to address the problem in the 1970's, but along came Ronald Reagan:
Carter brought in Eula Bingham, a university professor from Cincinnati, to run the agency, and Bingham was motivated. The 1970s already had seen two occupational health catastrophes, one involving asbestos, the other vinyl chloride.

Thousands of workers had developed cancers foretold by studies of the two substances. Warnings had been ignored, and more disease seemed inevitable if something wasn't done.

One of Bingham's main missions, as she saw it, was to adopt a workplace cancer policy that would enable OSHA to move quickly against a suspect chemical once a reasonable burden of proof had been met.

Supported by a young, aggressive staff - and a 1978 federal report estimating that 20 percent of all cancers were caused by on-the-job exposures - Bingham prevailed in January of 1980.

Under what became known as the OSHA generic carcinogen policy, companies that made or used toxic chemicals faced the prospect of swift, strict regulation. Gross epidemiological evidence - a body count - no longer would be necessary to elicit a government response. Convincing animal data would do.

"I took so much heat on that," Bingham, now back at the University of Cincinnati, recently recalled.

All for naught, as it happened. By 1981, Carter and Bingham were out, and so was the policy.

"It didn't go anywhere," Bingham said. "All activity stopped."
And, of course, workers are the first ones to suffer. Peter Infante, former director of OSHA's Office of Standards Review (also mentioned in the
Reagan article
below)
By and large, Infante believes, blue-collar workers - the men and women who develop most of the chronic diseases and suffer most of the traumatic injuries - generate little interest or sympathy.

"In the early 1900s," he wrote in a 1995 article, "canaries were routinely taken down into the mines. When the canaries passed out or died, the men knew that there was a problem with exposure to carbon monoxide and immediate action was needed. The analogy here is clear. Blue-collar workers appear to be the canaries in our society for identifying human chemical carcinogens in the general environment."

Infante noted in the article that 21 of 22 chemicals recognized as lung carcinogens by the International Agency for Research on Cancer were first identified through studies of workers. More than half of all IARC carcinogens were spotted in this fashion, he wrote, yet apathy persists.
The answer, of course is to stop treating all chemicals as if they're innocent until proven guilty by the illness or death of workers. This is the goal of the
European REACH initiative
.
But of course, to do that we need to elect a President and Congress that doesn't believe (or isn't beholden to) the crap spewing out of the chemical industry.
Anyway, it's a good article. Read it and save it.
Labels: Asbestos
---
Go To My Main Page
---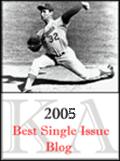 ---
Looking for
Confined Space Safety Information?
Click
Here
---
---
BP Texas City Explosion Stories
2006 Mine Disaster Stories
Popcorn Lung Stories
Speech on Receiving the APHA Lorin Kerr Award
by Jordan Barab, November 9, 2004


---
Acts of God, Acts of Man,"
by Jordan Barab, Working USA


Lies, Partisanship Caused Ergo Standard to Crumble,
by Jordan Barab, Safety + Health, February 2002


A Week of Death,
by Jordan Barab, Hazards, February 5, 2003
March 2003
April 2003
May 2003
June 2003
July 2003
August 2003
September 2003
October 2003
November 2003
December 2003
January 2004
February 2004
March 2004
April 2004
May 2004
June 2004
July 2004
August 2004
September 2004
October 2004
November 2004
December 2004
January 2005
February 2005
March 2005
April 2005
May 2005
June 2005
July 2005
August 2005
September 2005
October 2005
November 2005
December 2005
January 2006
February 2006
March 2006
April 2006
May 2006
June 2006
July 2006
August 2006
September 2006
October 2006
November 2006
December 2006
January 2007
---
---
FINALIST

Koufax Award

For Best Single Issue Blog of 2003 and 2004

---
---