Political and Labor Blogs
AFL-CIO Now
News From The AFL-CIO
Altercation
By the
Nation's
Eric Alterman
Blue Collar Blog
Firefighter, IAFF Member and CWA Staffer Sounds Off
Chris Mooney
The politics of science
Communicate or Die
American Labor Unions and the Internet
Crooks and Liars
Political hypocrisy n The small screen
Daily Kos

A must read for all political junkies
DMI Blog

Politics, Policy and the American Dream
Edwize

The blog of New York's United Federation of Teachers
Effect Measure
A forum for progressive public health discussion
FireDogLake
A Group Political Blog -- Always Something Interesting
GoozNews
Who's Watching Now That The Cameras Have Left?
Gulf Coast Reconstruction Watch
SHOCKED
that there's corporate influence on public health policy?
Impact Analysis
A portal for your adventure in environmental health
Liberal Oasis
On a mission to reclaim the good name of liberals because America was founded on liberal beliefs of freedom and justice for all.
MaxSpeak
Economics deciphered by "Max" Sawicky
Mine Safety Watch
Health and Safety in the Mines
Mother Jones
On Top Of The News
Nathan Newman
Politics, economics and labor issues
Political Animal
Keeping up on Washington Politics by veteran blogger Kevin Drum
The Pump Handle
A water cooler for the public health crowd
rawblogXport
Labor news
Seeing the Forest
...for the trees: A Political Blog
Sirotablog
David Sirota's online magazine of political news & commentary for those who
really
can't get enough politics
Stayin' Alive
Discussion of public health and health care policy, from a public health perspective.
Suburban Guerrilla
Wit, wisdom and politics by a reformed journalist
Talking Points
In-depth politics by Josh Marshall
Tapped
A group blog from the writers of the
American Prospect
Tom Tomorrow
Politics and passion from the cartoonist
Workers Comp Insider
Good and fairly enlighted resource
Working Immigrants
The business of immigrant work: employment, compensation, legal protections, education, mobility, and public policy.
Working Life
By a veteran labor and economics writer Jonathan Tasini
The Yorkshire Ranter
The scene from across the ocean
You Are Worth More
Labor issues in the retail trades
Health and Safety Websites and Resources
Hazards Magazine


Deceit and Denial


eLCOSH (Electronic Library of Safety & Health)


NYCOSH


COSH Network


UCLA-Labor Occupational Safety and Health Program (LOSH)


A Job To Die For


ILO Encyclopaedia of Occupational Health and Safety


Grist Magazine


Drum Major Institute For Public Policy


International Right To Know Campaign


Labor Occupational Health Program (UC Berkeley)


Maquiladora Healthand Safety Support Network


OSHA Worker Page


NIOSH


Canadian Center for Occupational Safety and Health


ACT Workcover (Australia)


Health & Safety Executive (Britain)


Worksafe British Columbia


United Support & Memorial For Workplace Fatalities


US Labor Against the War


LaborNotes


Labor Arts


The Occupational Safety and Health Act of 1970


The Mine Safety and Health Act of 1977



Union Health and Safety Websites
AFL-CIO


United Electrical Workers (UE)


AFSCME


AFSCME DC 37


United Auto Workers


Center to Protect Workers Rights


Communications Workers (CWA)


Laborers


LabourStart


ICEM

---
---
Sunday, February 20, 2005
PERMALINK Posted 5:32 PM by Jordan


"We can't protect ourselves if we are not part of the plan"
If there's one principle that seems to unite labor and management (at least rhetorically) it's the importance of encouraging employee participation in any matters dealing with workplace safety, health and security issues. All OSHA standards and the health and safety programs required by OSHA's voluntary protection program require worker participation. While debates often rage about the form such participation should take, how effective worker participation can be without a union, and how much influence employees should have in decision making, you would be hard-pressed to find any legitimate labor or management health & safety experts that would argue against the need for and usefulness of employee participation. Who knows better what happens on the plant floor than the workers who spend eight or ten hours a day there?
So you can imagine the disappointment of chemical industry unions in New Jersey when the state government moves forward on a post 9/11 chemical plant security management plan with the New Jersey Chemistry Council, but without any worker input.
A group of unions and environmental organizations
held a press conference last week
:
Demanding "security, not secrecy" environmental and labor groups Thursday asked acting Gov. Richard J. Codey to intervene in the drafting of rules designed to protect New Jersey industries using hazardous substances from accidents and attacks.

The state Department of Environmental Protection has teamed with the Chemical Council of New Jersey and other chemical industry trade groups to draft a plan to ensure Garden State chemical facilities remain secure, but Thursday others, including chemical industry workers, called for their own say in the process.

"We can't protect ourselves if we are not part of the plan," said Amy Goldsmith, executive director of the New Jersey Environmental Federation.

Union workers employed in the chemical field said they have not been consulted about the proposal. "Nobody understands the potential for hazards better than the worker," said John Shinn of the United Steelworkers District 4.
Rick Engler, director of the New Jersey Work Environment Council,
explained
that without worker participation, there was no way to verify what is being done for the public or emergency responders.
We have 400 facilities scattered across our state which can cause catastrophic risks to workers and communities or can pose serious environmental harm. We need to make sure the safety of these facilities is the best it can be, as well as the appropriate security precautions are taken.
An editorial in the
Press of Atlantic City
agrees:
We're pretty sure you don't need to be experts in chemical- plant safety to know this:

In our post-Sept 11, 2001, world, letting chemical plants regulate themselves, which has been the norm, can't be the wisest way to go.

And any plan for better regulation that has environmentalists and chemical workers complaining they have been left out of the process, which is what's happening right now in New Jersey, can't be a particularly wise move either.

New Jersey's Domestic Security Preparedness Task Force and the state Department of Environmental Protection are working on a chemical-plant security agreement that critics say relies too much on the industry's own guidelines. Though the agreement apparently does give the state the authority to require additional security measures, the New Jersey Work Environment Council and chemical-workers unions are demanding tougher rules -- and more input -- into the process.
Some state government officials seem to be seeing the error of their ways:
DEP Commissioner Bradley Campbell said the environmental groups and unions have raised relevant points.

The agreement has not been put into effect, in part because the state is looking at how it can increase public participation and provide a more significant role to labor, Campbell said.
But the NJ Chemistry Council is having none of it:
Hal Bozarth, executive director of Chemistry Council of New Jersey, an industry trade group, said Engler and the others were using the guise of security to press an environmental agenda.

Bozarth defended chemical industry's record on security and said the activists were also trying to advance provisions of U.S. Sen. Jon Corzine's unsuccessful federal legislation to regulate security at chemical plants. Corzine, D-N.J., is now running for New Jersey governor.
Corzine has introduced a bill into Congress calling for enforceable regulations that would force the chemical industry to implement better security measures and, where possible, to install inherently safer technologies. The American Chemistry Council spent millions of dollars to kill the bill.
An editorial in today's
New York Times
condemned the Bush administration's "lack of political will and failure to carry out the most effective policies":
After Sept. 11, the Environmental Protection Agency identified 123 chemical plants that could, in a worst-case attack, endanger one million or more people. There is an urgent need for greater action to protect them. But the chemical industry, a major Bush-Cheney campaign contributor, has bitterly fought needed safeguards. In her recent book "It's My Party Too," the former administrator of the E.P.A., Christie Whitman, said that chemical industry lobbyists thwarted the reasonable safety rules that she and the Department of Homeland Security tried to impose.
Related Stories
NY Chem Company Decides Terrorism Threat Is Over
, February 6, 2005

Department of Homeland Security: Buddy Can You Spare a Dime?
, September 27, 2004

Weapons of Mass Destruction Found -- In Our Backyards
, November 17, 2003

The War for Chemical Plant Safety
, May 4, 2003
Labels: Chemical Plant Security
---
Go To My Main Page
---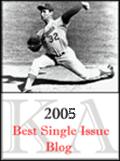 ---
Looking for
Confined Space Safety Information?
Click
Here
---
---
BP Texas City Explosion Stories
2006 Mine Disaster Stories
Popcorn Lung Stories
Speech on Receiving the APHA Lorin Kerr Award
by Jordan Barab, November 9, 2004


---
Acts of God, Acts of Man,"
by Jordan Barab, Working USA


Lies, Partisanship Caused Ergo Standard to Crumble,
by Jordan Barab, Safety + Health, February 2002


A Week of Death,
by Jordan Barab, Hazards, February 5, 2003
March 2003
April 2003
May 2003
June 2003
July 2003
August 2003
September 2003
October 2003
November 2003
December 2003
January 2004
February 2004
March 2004
April 2004
May 2004
June 2004
July 2004
August 2004
September 2004
October 2004
November 2004
December 2004
January 2005
February 2005
March 2005
April 2005
May 2005
June 2005
July 2005
August 2005
September 2005
October 2005
November 2005
December 2005
January 2006
February 2006
March 2006
April 2006
May 2006
June 2006
July 2006
August 2006
September 2006
October 2006
November 2006
December 2006
January 2007
---
---
FINALIST

Koufax Award

For Best Single Issue Blog of 2003 and 2004

---
---