Political and Labor Blogs
AFL-CIO Now
News From The AFL-CIO
Altercation
By the
Nation's
Eric Alterman
Blue Collar Blog
Firefighter, IAFF Member and CWA Staffer Sounds Off
Chris Mooney
The politics of science
Communicate or Die
American Labor Unions and the Internet
Crooks and Liars
Political hypocrisy n The small screen
Daily Kos

A must read for all political junkies
DMI Blog

Politics, Policy and the American Dream
Edwize

The blog of New York's United Federation of Teachers
Effect Measure
A forum for progressive public health discussion
FireDogLake
A Group Political Blog -- Always Something Interesting
GoozNews
Who's Watching Now That The Cameras Have Left?
Gulf Coast Reconstruction Watch
SHOCKED
that there's corporate influence on public health policy?
Impact Analysis
A portal for your adventure in environmental health
Liberal Oasis
On a mission to reclaim the good name of liberals because America was founded on liberal beliefs of freedom and justice for all.
MaxSpeak
Economics deciphered by "Max" Sawicky
Mine Safety Watch
Health and Safety in the Mines
Mother Jones
On Top Of The News
Nathan Newman
Politics, economics and labor issues
Political Animal
Keeping up on Washington Politics by veteran blogger Kevin Drum
The Pump Handle
A water cooler for the public health crowd
rawblogXport
Labor news
Seeing the Forest
...for the trees: A Political Blog
Sirotablog
David Sirota's online magazine of political news & commentary for those who
really
can't get enough politics
Stayin' Alive
Discussion of public health and health care policy, from a public health perspective.
Suburban Guerrilla
Wit, wisdom and politics by a reformed journalist
Talking Points
In-depth politics by Josh Marshall
Tapped
A group blog from the writers of the
American Prospect
Tom Tomorrow
Politics and passion from the cartoonist
Workers Comp Insider
Good and fairly enlighted resource
Working Immigrants
The business of immigrant work: employment, compensation, legal protections, education, mobility, and public policy.
Working Life
By a veteran labor and economics writer Jonathan Tasini
The Yorkshire Ranter
The scene from across the ocean
You Are Worth More
Labor issues in the retail trades
Health and Safety Websites and Resources
Hazards Magazine


Deceit and Denial


eLCOSH (Electronic Library of Safety & Health)


NYCOSH


COSH Network


UCLA-Labor Occupational Safety and Health Program (LOSH)


A Job To Die For


ILO Encyclopaedia of Occupational Health and Safety


Grist Magazine


Drum Major Institute For Public Policy


International Right To Know Campaign


Labor Occupational Health Program (UC Berkeley)


Maquiladora Healthand Safety Support Network


OSHA Worker Page


NIOSH


Canadian Center for Occupational Safety and Health


ACT Workcover (Australia)


Health & Safety Executive (Britain)


Worksafe British Columbia


United Support & Memorial For Workplace Fatalities


US Labor Against the War


LaborNotes


Labor Arts


The Occupational Safety and Health Act of 1970


The Mine Safety and Health Act of 1977



Union Health and Safety Websites
AFL-CIO


United Electrical Workers (UE)


AFSCME


AFSCME DC 37


United Auto Workers


Center to Protect Workers Rights


Communications Workers (CWA)


Laborers


LabourStart


ICEM

---
---
Thursday, February 24, 2005
PERMALINK Posted 8:30 PM by Jordan


Deaths and Injuries at US Steel: Blame the Workers?
Accidents continue to happen -- more and more frequently -- at US Steel.
Three workers have died at U.S. Steel mills since September, according to United Steelworkers Union officials: a crane operator at the Gary, Ind., Works in September; a management employee at Gary who died of carbon monoxide poisoning in December; and a union worker who was crushed by a slow-moving train this month at the Granite City (Ill.) Works.

Union workers at U.S, Steel's Clairton Works held a protest rally over safety in August after a 44-year-old union worker lost his legs in a train accident.
I've
written
a
couple
of times about safety problems in the steel industry and the root causes, also discussed in this
Pittsburgh Post-Gazette article
:
Favorable business conditions have spurred speculation that the pressure on workers to produce may be making mills less safe. A 2003 labor agreement with the USW that radically altered the makeup of the work force and their job responsibilities is also being blamed.

"I'm not sure you can put it all on [the labor agreement]. I think it plays a part in it," said Michael Mitchell, president of USW Local 1014 at U.S. Steel's Gary Works.

Mitchell believes pressure to produce, increased overtime because of work force reductions and lack of training are other possible causes.

"Until all those things are looked at ... [accidents] are going to continue to happen," he said. "We have a terrible safety record as far as accidents and fatalities."

***

Union officials say what they are concerned about is the new labor agreement they signed with the company in May 2003.

The agreement, patterned after other contracts used to resurrect bankrupt steelmakers, rewrote the book on how dozens of mills jobs are performed and who must perform them. Simultaneously, many of the industry's most experienced workers were given incentives to retire in order to reduce labor costs.

Consequently, workers who remained are being asked to do new jobs, and seasoned workers are not around to help them.

"We need more training," said Steve Tunello, president of USW Local 1013 at U.S. Steel's Fairfield (Ala.) Works. "I imagine we're a lot like Clairton. We need more people."
U.S. Steel, however, seems to believe it's all the employees' fault and punishing them is the answer:
Mike Wright, the union's top health and safety officer, said U.S. Steel is more concerned about making safety a disciplinary problem than getting at the root cause of the accidents.

"U.S. Steel is stuck on this idea that their problems are based on employee misconduct," Wright said. "The way to get after safety problems is to comprehensively analyze the safety of every job in the plant"
Blame The Worker?
Like many employers, US Steel is buying into the classic "blame the worker" theory and relying on "behavioral safety" as the solution. Behavioral safety theories say that worker carelessness or misconduct is the cause of most accidents, and disciplining workers is the answer. But behavioral theories don't hold up to a closer look at the causes of most workplace accidents
Ultimately, of course, most accidents are caused by someone doing something "wrong." That's generally known as the "direct cause." And, of course, if that's where your analysis of the accident stops, the obvious answer is to find out who made the mistake and fire his ass. Problem solved. Right?
Wrong. If you really want to prevent future similar accidents, you need to go further and look for the
root causes
. The simplest way to do that is to keep asking "why?" Someone used the wrong equipment, or pressed the wrong button. Why? Were they told to do it by a supervisor who had a quota to fill? Did they feel rushed by the constant drive for more productivity? Were they not well trained for the job? Were they tired from too much overtime? Were the controls on the machine unnecessarily complicated or not logically located? Was there an unexpected confluence of unexpected problems caused somewhere else in the system that no one knew how to handle?
If you answer "yes" to any of those questions, you ask "why" again and keep asking why -- until you run out of clear answers and you've reached the root cause. Generally, the closer you get to finding the root cause, the more likely you are to finding solutions that will prevent similar accidents.
In other words, if an accident was caused by someone using the wrong equipment because they were being pressured to rush and the correct equipment would have have taken too long to locate and set up, then firing that worker isn't going to solve the problem because the next guy will be in exactly the same situation. Which is why Wright is insisting that every job be thoroughly analyzed.
US Steel's answer is to schedule mandatory safety meetings led by top executives for hourly and management workers that will feature a videotaped message from U.S. Steel President John P. Surma.
According to the USWA's Wright, "If the meetings indicate they're going to start [comprehensively analyzing the safety of every job], that's fine."
.
Labels: Behavioral Safety, Blame the Worker
---
Go To My Main Page
---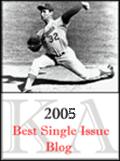 ---
Looking for
Confined Space Safety Information?
Click
Here
---
---
BP Texas City Explosion Stories
2006 Mine Disaster Stories
Popcorn Lung Stories
Speech on Receiving the APHA Lorin Kerr Award
by Jordan Barab, November 9, 2004


---
Acts of God, Acts of Man,"
by Jordan Barab, Working USA


Lies, Partisanship Caused Ergo Standard to Crumble,
by Jordan Barab, Safety + Health, February 2002


A Week of Death,
by Jordan Barab, Hazards, February 5, 2003
March 2003
April 2003
May 2003
June 2003
July 2003
August 2003
September 2003
October 2003
November 2003
December 2003
January 2004
February 2004
March 2004
April 2004
May 2004
June 2004
July 2004
August 2004
September 2004
October 2004
November 2004
December 2004
January 2005
February 2005
March 2005
April 2005
May 2005
June 2005
July 2005
August 2005
September 2005
October 2005
November 2005
December 2005
January 2006
February 2006
March 2006
April 2006
May 2006
June 2006
July 2006
August 2006
September 2006
October 2006
November 2006
December 2006
January 2007
---
---
FINALIST

Koufax Award

For Best Single Issue Blog of 2003 and 2004

---
---