Political and Labor Blogs
AFL-CIO Now
News From The AFL-CIO
Altercation
By the
Nation's
Eric Alterman
Blue Collar Blog
Firefighter, IAFF Member and CWA Staffer Sounds Off
Chris Mooney
The politics of science
Communicate or Die
American Labor Unions and the Internet
Crooks and Liars
Political hypocrisy n The small screen
Daily Kos

A must read for all political junkies
DMI Blog

Politics, Policy and the American Dream
Edwize

The blog of New York's United Federation of Teachers
Effect Measure
A forum for progressive public health discussion
FireDogLake
A Group Political Blog -- Always Something Interesting
GoozNews
Who's Watching Now That The Cameras Have Left?
Gulf Coast Reconstruction Watch
SHOCKED
that there's corporate influence on public health policy?
Impact Analysis
A portal for your adventure in environmental health
Liberal Oasis
On a mission to reclaim the good name of liberals because America was founded on liberal beliefs of freedom and justice for all.
MaxSpeak
Economics deciphered by "Max" Sawicky
Mine Safety Watch
Health and Safety in the Mines
Mother Jones
On Top Of The News
Nathan Newman
Politics, economics and labor issues
Political Animal
Keeping up on Washington Politics by veteran blogger Kevin Drum
The Pump Handle
A water cooler for the public health crowd
rawblogXport
Labor news
Seeing the Forest
...for the trees: A Political Blog
Sirotablog
David Sirota's online magazine of political news & commentary for those who
really
can't get enough politics
Stayin' Alive
Discussion of public health and health care policy, from a public health perspective.
Suburban Guerrilla
Wit, wisdom and politics by a reformed journalist
Talking Points
In-depth politics by Josh Marshall
Tapped
A group blog from the writers of the
American Prospect
Tom Tomorrow
Politics and passion from the cartoonist
Workers Comp Insider
Good and fairly enlighted resource
Working Immigrants
The business of immigrant work: employment, compensation, legal protections, education, mobility, and public policy.
Working Life
By a veteran labor and economics writer Jonathan Tasini
The Yorkshire Ranter
The scene from across the ocean
You Are Worth More
Labor issues in the retail trades
Health and Safety Websites and Resources
Hazards Magazine


Deceit and Denial


eLCOSH (Electronic Library of Safety & Health)


NYCOSH


COSH Network


UCLA-Labor Occupational Safety and Health Program (LOSH)


A Job To Die For


ILO Encyclopaedia of Occupational Health and Safety


Grist Magazine


Drum Major Institute For Public Policy


International Right To Know Campaign


Labor Occupational Health Program (UC Berkeley)


Maquiladora Healthand Safety Support Network


OSHA Worker Page


NIOSH


Canadian Center for Occupational Safety and Health


ACT Workcover (Australia)


Health & Safety Executive (Britain)


Worksafe British Columbia


United Support & Memorial For Workplace Fatalities


US Labor Against the War


LaborNotes


Labor Arts


The Occupational Safety and Health Act of 1970


The Mine Safety and Health Act of 1977



Union Health and Safety Websites
AFL-CIO


United Electrical Workers (UE)


AFSCME


AFSCME DC 37


United Auto Workers


Center to Protect Workers Rights


Communications Workers (CWA)


Laborers


LabourStart


ICEM

---
---
Thursday, July 14, 2005
PERMALINK Posted 9:09 PM by Jordan


Betrayal in North Carolina: Unions Condemn OSHA Impersonators
Through the miracle of the blogosphere, the story of the Immigration and Customs Enforcement (ICE) agency sting on undocumented immigrants in North Carolina is finally making its way through Washington D.C. As
Confined Space
reported earlier this week
, ICE agents, impersonating OSHA staff, sent out a flyer announcing a mandatory safety training to lure undocumented immigrant workers into arrest at the Seymour Johnson Air Force Base in Goldsboro, North Carolina.
Today, the
AFL-CIO
and the
United Food and Commercial Workers
union issued press releases condemning the ICE for impersonating OSHA trainers.
AFL-CIO Executive Vice President Linda Chavez Thompson
stated
:
Not only do such tactics scare workers away, making it less likely that workplace dangers will be exposed, but these tactics don't comply with the government's own policies. It is OSHA's policy to keep the identity of those who file complaints confidential and not to collect data concerning citizenship status. The reason for these policies is simple:

if workers believe that they or their families are at risk of being deported, they will not speak out about dangerous or unhealthful conditions. ICE's actions not only undermine OSHA's mission, but they also seriously erode the trust between agencies charged with protecting workers and the immigrant

community.



Instead of scaring workers into silence by these types of immigration enforcement actions, the Bush Administration should be focusing on crafting real solutions to our broken immigration system. We have long advocated for a solution that includes a path to citizenship for undocumented workers who have been working hard, paying their taxes and contributing to their communities, and guarantees that all workers—whether US or foreign born—have enforceable rights and decent work.
UFCW President Joe Hansen also issued a
statement
calling on the Bush Administration to "denounce the kind of trickery that undermines safety on
the job."
"OSHA is responsible for worker safety and health," said UFCW International President Joe Hansen.

"For ICE to stage a sham OSHA meeting in order to round up and arrest people undermines OSHA's mission, and is a step backwards for state and federal efforts to reduce worker injuries and death. Furthermore, that kind of action minimizes OSHA's ability to do the critical work of protecting America's labor force."



"This unscrupulous action has shattered the trust between OSHA and the workers who depend on the agency the most," said Hansen. "More and more often, it is immigrants who work in the most dangerous industries such as construction or meatpacking. How can OSHA reach these at-risk workers with safety information now?

To these workers, OSHA no longer means safety, but betrayal."
Meanwhile, the
Raleigh News Observer
called the ICE's tactics an "unfortunate way to lure suspected illegal immigrants to a sting operation."
North Carolina's labor department has faced a difficult task in trying to reduce the number of Hispanics being hurt or killed on the job. But it has been making headway by seeking out Latino crews and offering safety courses. By using the safety meeting ruse, the federal agency risked undercutting the state's efforts.
I thought you might also be interested in hearing
what other bloggers are saying
:
Effect Measure
Whoever in the ICE thought this one up, approved it, and issued the orders for it SHOULD BE FIRED FOR INCOMPETENCE, STUPIDITY, CALLOUSNESS, NEGLIGENCE, INCREDIBLE LACK OF JUDGMENT AND IRRESPONSIBLE BEHAVIOR.

This kind of thing is beyond the pale.
Majikthise
Jordan of

Confined Space

reports that immigration authorities posed as OSHA agents to capture illegal aliens. OSHA has been striving to win the trust of undocumented workers for decades. Now the feds have thoughtlessly shattered that trust. The stakes are high because immigrants are more likely to work in dangerous jobs and less likely to get the safety training they need.
Tbogg
: "This is sad and stupid."
Amptoons
:
Federal Immigration Officers think up a policy guaranteed to kill immigrants - a sting operation disguised as an OSHA (occupational safety and health administration) meeting, putting the lie to decades of effort by OSHA to convince illegal immigrants that they can talk to OSHA without fear. These racist, evil fucks deserve to be shot - no, to be buried alive in an industrial accident - but since the Bush administration is in charge, probably they'll be given raises.
Upper Left
:
This is just so wrong in so many ways.

There's a federal agency stomping in without coordinating with the relevant state agencies, upending years of work to nab a few dozen low wage workers. Should those workers have been in the US, let alone on the job? Probably not. Are our borders more secure because North Carolina workplaces may be more dangerous? Not hardly.

There's the matter of a federal agency using fraud and entrapment in pursuit of its mission. Not to foil some spy movie scheme to destroy the world. Just to nab a few dozen mostly Central American laborers. Did the INS get, or even bother to seek, some kind of authority to pose as OSHA workers? If so, what other agencies are they using for cover? Can we be sure that any interaction with a federal worker isn't an interview with the INS?
Crooked Timber
:
[Undocumented workers] rarely know their rights, are reluctant to complain about abuses for fear of deportation, and as a result are killed or maimed far more frequently in workplace accidents than they should be. This utterly, utterly shameful operation will make undocumented workers even less likely to contact OSHA about workplace safety than in the past – and as a result will lead to more cripplings and deaths.
Finally, we're still waiting to hear from Capitol Hill and the White House. Any day now....
.
---
Go To My Main Page
---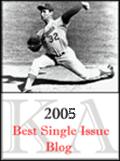 ---
Looking for
Confined Space Safety Information?
Click
Here
---
---
BP Texas City Explosion Stories
2006 Mine Disaster Stories
Popcorn Lung Stories
Speech on Receiving the APHA Lorin Kerr Award
by Jordan Barab, November 9, 2004


---
Acts of God, Acts of Man,"
by Jordan Barab, Working USA


Lies, Partisanship Caused Ergo Standard to Crumble,
by Jordan Barab, Safety + Health, February 2002


A Week of Death,
by Jordan Barab, Hazards, February 5, 2003
March 2003
April 2003
May 2003
June 2003
July 2003
August 2003
September 2003
October 2003
November 2003
December 2003
January 2004
February 2004
March 2004
April 2004
May 2004
June 2004
July 2004
August 2004
September 2004
October 2004
November 2004
December 2004
January 2005
February 2005
March 2005
April 2005
May 2005
June 2005
July 2005
August 2005
September 2005
October 2005
November 2005
December 2005
January 2006
February 2006
March 2006
April 2006
May 2006
June 2006
July 2006
August 2006
September 2006
October 2006
November 2006
December 2006
January 2007
---
---
FINALIST

Koufax Award

For Best Single Issue Blog of 2003 and 2004

---
---