Political and Labor Blogs
AFL-CIO Now
News From The AFL-CIO
Altercation
By the
Nation's
Eric Alterman
Blue Collar Blog
Firefighter, IAFF Member and CWA Staffer Sounds Off
Chris Mooney
The politics of science
Communicate or Die
American Labor Unions and the Internet
Crooks and Liars
Political hypocrisy n The small screen
Daily Kos

A must read for all political junkies
DMI Blog

Politics, Policy and the American Dream
Edwize

The blog of New York's United Federation of Teachers
Effect Measure
A forum for progressive public health discussion
FireDogLake
A Group Political Blog -- Always Something Interesting
GoozNews
Who's Watching Now That The Cameras Have Left?
Gulf Coast Reconstruction Watch
SHOCKED
that there's corporate influence on public health policy?
Impact Analysis
A portal for your adventure in environmental health
Liberal Oasis
On a mission to reclaim the good name of liberals because America was founded on liberal beliefs of freedom and justice for all.
MaxSpeak
Economics deciphered by "Max" Sawicky
Mine Safety Watch
Health and Safety in the Mines
Mother Jones
On Top Of The News
Nathan Newman
Politics, economics and labor issues
Political Animal
Keeping up on Washington Politics by veteran blogger Kevin Drum
The Pump Handle
A water cooler for the public health crowd
rawblogXport
Labor news
Seeing the Forest
...for the trees: A Political Blog
Sirotablog
David Sirota's online magazine of political news & commentary for those who
really
can't get enough politics
Stayin' Alive
Discussion of public health and health care policy, from a public health perspective.
Suburban Guerrilla
Wit, wisdom and politics by a reformed journalist
Talking Points
In-depth politics by Josh Marshall
Tapped
A group blog from the writers of the
American Prospect
Tom Tomorrow
Politics and passion from the cartoonist
Workers Comp Insider
Good and fairly enlighted resource
Working Immigrants
The business of immigrant work: employment, compensation, legal protections, education, mobility, and public policy.
Working Life
By a veteran labor and economics writer Jonathan Tasini
The Yorkshire Ranter
The scene from across the ocean
You Are Worth More
Labor issues in the retail trades
Health and Safety Websites and Resources
Hazards Magazine


Deceit and Denial


eLCOSH (Electronic Library of Safety & Health)


NYCOSH


COSH Network


UCLA-Labor Occupational Safety and Health Program (LOSH)


A Job To Die For


ILO Encyclopaedia of Occupational Health and Safety


Grist Magazine


Drum Major Institute For Public Policy


International Right To Know Campaign


Labor Occupational Health Program (UC Berkeley)


Maquiladora Healthand Safety Support Network


OSHA Worker Page


NIOSH


Canadian Center for Occupational Safety and Health


ACT Workcover (Australia)


Health & Safety Executive (Britain)


Worksafe British Columbia


United Support & Memorial For Workplace Fatalities


US Labor Against the War


LaborNotes


Labor Arts


The Occupational Safety and Health Act of 1970


The Mine Safety and Health Act of 1977



Union Health and Safety Websites
AFL-CIO


United Electrical Workers (UE)


AFSCME


AFSCME DC 37


United Auto Workers


Center to Protect Workers Rights


Communications Workers (CWA)


Laborers


LabourStart


ICEM

---
---
Wednesday, July 27, 2005
PERMALINK Posted 9:29 PM by Jordan


MSHA Makes The "Wrong Decision" To Blame Workers For Accidents
That management likes to blame worker behavior for accidents will come as no surprise to American workers. That this "blame the worker" theory is not consistent with the facts, that it doesn't get to the root causes of workplace incidents is also not a surprise to American workers.
So this new
Mine Safety and Health Administration program
comes as a great surprise to all of us.
MSHA Launches New Safety and Health Initiative


ARLINGTON, Va.- The U.S. Department of Labor's Mine Safety and Health Administration (MSHA) today launched "

Make the Right Decision

," a safety and health initiative that helps miners and mine operators

focus on human factors, such as decision-making

, when at work. The campaign encourages miners and mine management to work together on safety and health issues.

"MSHA will increase its focus on safety decisions during this campaign, which is not a limited-time initiative," said David G. Dye, deputy assistant secretary of labor for mine safety and health. "We want miners and management to

make the right decisions

to ensure the safety and health of America's miners."

Through "Make the Right Decision," miners and mine management will receive tools to help them recognize hazards and take appropriate action to correct or avoid risks. As part of the educational initiative, MSHA officials will conduct safety talks with miners and mine operators at mine sites nationwide and distribute posters, stickers and fliers with campaign messages.

Agency representatives plan to incorporate two programs in the "Make-the-Right-Decision" campaign. The first program is SLAM, an acronym for stop, look, analyze and manage. The second is SMART, an acronym for stop, measure, act, review and train. Together, these programs address the spectrum of safety decisions made in the mining workplace, from risk assessment at the miner level to risk management at the operator level.
So what's the problem with encouraging workers to make the right decision?
First, the assumption of this program is that most accident happen because workers make the
wrong
decisions. In other words, all you need is a little education, training and enlightenment and all will be well. If accidents continue to happen, they're caused by worker carelessness, incompetence, stupidity, suicidal tendencies -- and just plain dumb decisions.
In other words, "Make the Right Decision" is just your same old "behavioral safety" program under a new name. Behavioral safety theories say that worker carelessness or misconduct is the cause of most accidents, and disciplining workers is the answer. But behavioral theories don't hold up to a closer look at the root causes of most workplace accidents: generally management system and organizational problems that lead to unsafe conditions.
(Confined Space
has covered the issue numerous times before --
Here
,
here
,
here
,
here
, and
here
to name just a few)
So what about these two "unavoidable accidents" reported
last year
? Would they be alive today if they had just made the right decision?
Two miners killed in pair of incidents

After badly burning his hands in a coal-mining accident earlier this year in Perry County, Edwin Pennington said he was finished with mining work, but he returned for the money, his father said yesterday.

On Wednesday night, Pennington, 25, of Harlan County, was

crushed to death in a rock fall

at a Bell County Coal Corp. mine — one of two underground mining deaths hours apart in Eastern Kentucky.

Eric Chaney, 26, of Pike County, was crushed

in a roof collapse

early yesterday at a Dags Branch Coal Corp. mine in Fedscreek in Pike County, officials said.

The deaths were the second and third fatal mining accidents in Kentucky this year, and the first underground fatalities. Nationally, 14 miners have died in accidents this year.

***

Bill Caylor, president of the Kentucky Coal Association, an industry group, said

the two deaths were unavoidable accidents

. "We don't want things like this to happen, but they will," Caylor said. "Mining is very safe, but you have to be careful because you're working around big pieces of equipment."
Or maybe Kevin Lupardus died because he made a bad decision:
Investigation of fatal accident at Boone mine continues

CHARLESTON, W.Va.- State and federal authorities are trying to determine what caused a section of high wall to fall onto an excavator at a Boone County surface mine, killing the machine's operator. The accident occurred at about 2 a.m. Saturday November 21, at Independence Coal's Red Cedar Surface Mine near Clothier. Independence Coal, a subsidiary of Richmond, Va.-based Massey Energy, operates the mine as Endurance Mining, according to federal Mine Safety and Health Administration records. Kevin Lee Lupardus, 41, of Mabscott, was operating the excavator when a "large section" of the highwall fell onto the machine's cab, said Terry Farley, an administrator with the state Office of Miners' Health Safety and Training.
It is somewhat ironic that this program is starting now. Clearly acting Assistant Secretary Dye hasn't read the June 2005 issue of
Occupational Health & Safety
which contains an article by Fred Manuele entitled "Serious Injury Prevention."
Manuele cites experts who point out that what may look like "human error" are actually system errors:
R. B. Whittingham, in his book

The Blame Machine: Why Human Error Causes Accidents

, describes how disasters and serious accidents result from recurring, but potentially avoidable, human errors. He shows that such errors are preventable because they result from defective systems within a company.

Whittingham identifies the common causes of human error and the typical system deficiencies that lead to those errors. They are principally organizational, cultural, and management system deficiencies. Whittingham says that in some organizations, a "blame culture" exists whereby the focus in incident investigation is on individual human error, and the corrective action is limited to that level. He writes: "Organizations, and sometimes whole industries, become unwilling to look too closely at the system faults which caused the error"

He notes that although humans may be involved in the errors that lead to accidents, James Reason and Alan Hobbs, in
Managing Maintenance Error: A Practical Guide
point out that one needs to look deeper
:
Errors are consequences not just causes. They are shaped by local circumstances: by the task, the tools and equipment and the workplace in general. If we are to understand the significance of these factors, we have to stand back from what went on in the error maker's head and consider the nature of the system as a whole . . . this book has a constant theme . . . that situations and systems are easier to change than the human condition
In other words, look at the safety systems and find the root causes. If managers (and MSHA)continue to attempt to prevent accidents by focusing on human errors and "wrong decisions," the same accidents, injuries and deaths will continue to happen.
.
Labels: Behavioral Safety, Blame the Worker
---
Go To My Main Page
---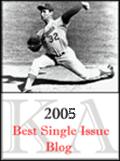 ---
Looking for
Confined Space Safety Information?
Click
Here
---
---
BP Texas City Explosion Stories
2006 Mine Disaster Stories
Popcorn Lung Stories
Speech on Receiving the APHA Lorin Kerr Award
by Jordan Barab, November 9, 2004


---
Acts of God, Acts of Man,"
by Jordan Barab, Working USA


Lies, Partisanship Caused Ergo Standard to Crumble,
by Jordan Barab, Safety + Health, February 2002


A Week of Death,
by Jordan Barab, Hazards, February 5, 2003
March 2003
April 2003
May 2003
June 2003
July 2003
August 2003
September 2003
October 2003
November 2003
December 2003
January 2004
February 2004
March 2004
April 2004
May 2004
June 2004
July 2004
August 2004
September 2004
October 2004
November 2004
December 2004
January 2005
February 2005
March 2005
April 2005
May 2005
June 2005
July 2005
August 2005
September 2005
October 2005
November 2005
December 2005
January 2006
February 2006
March 2006
April 2006
May 2006
June 2006
July 2006
August 2006
September 2006
October 2006
November 2006
December 2006
January 2007
---
---
FINALIST

Koufax Award

For Best Single Issue Blog of 2003 and 2004

---
---