Political and Labor Blogs
AFL-CIO Now
News From The AFL-CIO
Altercation
By the
Nation's
Eric Alterman
Blue Collar Blog
Firefighter, IAFF Member and CWA Staffer Sounds Off
Chris Mooney
The politics of science
Communicate or Die
American Labor Unions and the Internet
Crooks and Liars
Political hypocrisy n The small screen
Daily Kos

A must read for all political junkies
DMI Blog

Politics, Policy and the American Dream
Edwize

The blog of New York's United Federation of Teachers
Effect Measure
A forum for progressive public health discussion
FireDogLake
A Group Political Blog -- Always Something Interesting
GoozNews
Who's Watching Now That The Cameras Have Left?
Gulf Coast Reconstruction Watch
SHOCKED
that there's corporate influence on public health policy?
Impact Analysis
A portal for your adventure in environmental health
Liberal Oasis
On a mission to reclaim the good name of liberals because America was founded on liberal beliefs of freedom and justice for all.
MaxSpeak
Economics deciphered by "Max" Sawicky
Mine Safety Watch
Health and Safety in the Mines
Mother Jones
On Top Of The News
Nathan Newman
Politics, economics and labor issues
Political Animal
Keeping up on Washington Politics by veteran blogger Kevin Drum
The Pump Handle
A water cooler for the public health crowd
rawblogXport
Labor news
Seeing the Forest
...for the trees: A Political Blog
Sirotablog
David Sirota's online magazine of political news & commentary for those who
really
can't get enough politics
Stayin' Alive
Discussion of public health and health care policy, from a public health perspective.
Suburban Guerrilla
Wit, wisdom and politics by a reformed journalist
Talking Points
In-depth politics by Josh Marshall
Tapped
A group blog from the writers of the
American Prospect
Tom Tomorrow
Politics and passion from the cartoonist
Workers Comp Insider
Good and fairly enlighted resource
Working Immigrants
The business of immigrant work: employment, compensation, legal protections, education, mobility, and public policy.
Working Life
By a veteran labor and economics writer Jonathan Tasini
The Yorkshire Ranter
The scene from across the ocean
You Are Worth More
Labor issues in the retail trades
Health and Safety Websites and Resources
Hazards Magazine


Deceit and Denial


eLCOSH (Electronic Library of Safety & Health)


NYCOSH


COSH Network


UCLA-Labor Occupational Safety and Health Program (LOSH)


A Job To Die For


ILO Encyclopaedia of Occupational Health and Safety


Grist Magazine


Drum Major Institute For Public Policy


International Right To Know Campaign


Labor Occupational Health Program (UC Berkeley)


Maquiladora Healthand Safety Support Network


OSHA Worker Page


NIOSH


Canadian Center for Occupational Safety and Health


ACT Workcover (Australia)


Health & Safety Executive (Britain)


Worksafe British Columbia


United Support & Memorial For Workplace Fatalities


US Labor Against the War


LaborNotes


Labor Arts


The Occupational Safety and Health Act of 1970


The Mine Safety and Health Act of 1977



Union Health and Safety Websites
AFL-CIO


United Electrical Workers (UE)


AFSCME


AFSCME DC 37


United Auto Workers


Center to Protect Workers Rights


Communications Workers (CWA)


Laborers


LabourStart


ICEM

---
---
Monday, July 17, 2006
PERMALINK Posted 9:11 PM by Jordan


BP: Haunted By The Effects Of Short-Term Profit Maximization?
Every time I sit down to write something about the
continuing trials and tribulations of poor BP
, something else befalls the poor company (That would be "poor" as in "unfortunate," not "poor" as in "lacking money.)
Readers of
Confined Space
are well aware of the
explosion at BP's Texas City plan
t last year that took the lives of 15 workers and injured 170, resulting in
a record $21.4 million OSHA fine
and possible civil and criminal prosecution. And the Chemical Safety Boards findings that BP's problems go way beyond the screw-ups at the Texas City plant which resulted in an unprecedented "urgent" recommendation that the company establish an
independent panel
to look into the safety "culture" at all of its North American plants. And let's not forget the
$2.4 million OSHA fine
against BP's Ohio plant for unsafe conditions.
And last May it was
revealed tha
t
BP's Texas City refinery released three times as much pollution in 2004 as it did in 2003, according to the most recent data from the Environmental Protection Agency.

The increase at BP was so large that it accounted for the bulk of a 15 percent increase in refinery emissions nationwide in 2004, the highest level since 2000.
Last months disaster came in the form of a little
267,000 gallon oil spill
at BP's Prudhoe Bay field, the largest ever on Alaska's North Slope region. That spill may also bring criminal charges against BP.
Even Mother Nature seems to be angry at BP as Hurricane Dennis seriously damaged BP's new Thunder Horse offshore oil drilling platform. And after spending $250 million to repair it, there are still problems.
The latest news was that BP traders were accused of manipulating the price of propane two years ago by cornering the market, not good news to Americans who are facing record high energy costs.
Then there was this:
Earlier this month, the company said that its second-quarter production had fallen 2.5 percent from the period last year, to four million barrels a day of oil equivalent, its fourth consecutive quarterly decline. Also, BP said it would take a further $500 million charge for compensation claims for the Texas City blast, in addition to the $700 million it set aside last year.
Oy. While this hasn't quite affected the
income of BP's CEO Lord Brown
e, something needs to be done. But what?
Find someone new to run BP's US operations, in the person of Robert A. Malone, a 32-year company veteran who until recently oversaw BP's worldwide fleet of tankers. And what a challenge he has:
While he was not responsible for the problems, Mr. Malone will have to answer criticism that BP neglected basic safety rules, fostered a culture of excessive risk-taking and failed to invest enough in critical infrastructure. He also faces the challenge of restoring BP's credibility not just with the public but also with regulators from the Justice Department and the Labor Department, among others.

The misfortunes already have led to lengthy delays in production, hundreds of millions of dollars in repairs and settlements, and civil and criminal investigations by state and federal agencies. The paradox is that BP — known for navigating successfully in much more challenging places like Siberia, the Caspian and Africa — has faltered in the most open of economic environments.
Mr. Malone is known for his good safety record and we wish him good luck (and well we should considering that BP employees 40,000 American workers and produces 10% of American oil output).
BP's spokesman Ronnie Chappel still insists that "These are unrelated incidents," but lest anything thing BP is just having a string of bad luck, the financial analysts know better:
"It is difficult to say if this is a BP-wide issue," said Craig Pennington, the director of the global energy group at Schroders in London. "But they appear to cut corners for the sake of short-term profit maximization. If you are a serial underspender in a refinery, it will come back to haunt you."
Indeed.
Labels: BP, Chemical Safety Board
---
Go To My Main Page
---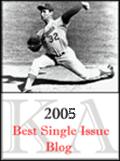 ---
Looking for
Confined Space Safety Information?
Click
Here
---
---
BP Texas City Explosion Stories
2006 Mine Disaster Stories
Popcorn Lung Stories
Speech on Receiving the APHA Lorin Kerr Award
by Jordan Barab, November 9, 2004


---
Acts of God, Acts of Man,"
by Jordan Barab, Working USA


Lies, Partisanship Caused Ergo Standard to Crumble,
by Jordan Barab, Safety + Health, February 2002


A Week of Death,
by Jordan Barab, Hazards, February 5, 2003
March 2003
April 2003
May 2003
June 2003
July 2003
August 2003
September 2003
October 2003
November 2003
December 2003
January 2004
February 2004
March 2004
April 2004
May 2004
June 2004
July 2004
August 2004
September 2004
October 2004
November 2004
December 2004
January 2005
February 2005
March 2005
April 2005
May 2005
June 2005
July 2005
August 2005
September 2005
October 2005
November 2005
December 2005
January 2006
February 2006
March 2006
April 2006
May 2006
June 2006
July 2006
August 2006
September 2006
October 2006
November 2006
December 2006
January 2007
---
---
FINALIST

Koufax Award

For Best Single Issue Blog of 2003 and 2004

---
---