Political and Labor Blogs
AFL-CIO Now
News From The AFL-CIO
Altercation
By the
Nation's
Eric Alterman
Blue Collar Blog
Firefighter, IAFF Member and CWA Staffer Sounds Off
Chris Mooney
The politics of science
Communicate or Die
American Labor Unions and the Internet
Crooks and Liars
Political hypocrisy n The small screen
Daily Kos

A must read for all political junkies
DMI Blog

Politics, Policy and the American Dream
Edwize

The blog of New York's United Federation of Teachers
Effect Measure
A forum for progressive public health discussion
FireDogLake
A Group Political Blog -- Always Something Interesting
GoozNews
Who's Watching Now That The Cameras Have Left?
Gulf Coast Reconstruction Watch
SHOCKED
that there's corporate influence on public health policy?
Impact Analysis
A portal for your adventure in environmental health
Liberal Oasis
On a mission to reclaim the good name of liberals because America was founded on liberal beliefs of freedom and justice for all.
MaxSpeak
Economics deciphered by "Max" Sawicky
Mine Safety Watch
Health and Safety in the Mines
Mother Jones
On Top Of The News
Nathan Newman
Politics, economics and labor issues
Political Animal
Keeping up on Washington Politics by veteran blogger Kevin Drum
The Pump Handle
A water cooler for the public health crowd
rawblogXport
Labor news
Seeing the Forest
...for the trees: A Political Blog
Sirotablog
David Sirota's online magazine of political news & commentary for those who
really
can't get enough politics
Stayin' Alive
Discussion of public health and health care policy, from a public health perspective.
Suburban Guerrilla
Wit, wisdom and politics by a reformed journalist
Talking Points
In-depth politics by Josh Marshall
Tapped
A group blog from the writers of the
American Prospect
Tom Tomorrow
Politics and passion from the cartoonist
Workers Comp Insider
Good and fairly enlighted resource
Working Immigrants
The business of immigrant work: employment, compensation, legal protections, education, mobility, and public policy.
Working Life
By a veteran labor and economics writer Jonathan Tasini
The Yorkshire Ranter
The scene from across the ocean
You Are Worth More
Labor issues in the retail trades
Health and Safety Websites and Resources
Hazards Magazine


Deceit and Denial


eLCOSH (Electronic Library of Safety & Health)


NYCOSH


COSH Network


UCLA-Labor Occupational Safety and Health Program (LOSH)


A Job To Die For


ILO Encyclopaedia of Occupational Health and Safety


Grist Magazine


Drum Major Institute For Public Policy


International Right To Know Campaign


Labor Occupational Health Program (UC Berkeley)


Maquiladora Healthand Safety Support Network


OSHA Worker Page


NIOSH


Canadian Center for Occupational Safety and Health


ACT Workcover (Australia)


Health & Safety Executive (Britain)


Worksafe British Columbia


United Support & Memorial For Workplace Fatalities


US Labor Against the War


LaborNotes


Labor Arts


The Occupational Safety and Health Act of 1970


The Mine Safety and Health Act of 1977



Union Health and Safety Websites
AFL-CIO


United Electrical Workers (UE)


AFSCME


AFSCME DC 37


United Auto Workers


Center to Protect Workers Rights


Communications Workers (CWA)


Laborers


LabourStart


ICEM

---
---
Sunday, January 09, 2005
PERMALINK Posted 12:33 AM by Jordan


As If That Wasn't Bad Enough...More on Rail Safety
New York Times reporter Walt Bogdanich who has been following the safety problems of the rail industry and weakened oversight by the Bush administration is
giving us even more to worry about
in the wake of the South Carolina rail accident and chlorine leak that has killed
eight
nine (or more?)
.
First, more than half of the nation's 60,000 pressurized rail tank cars did not meet industry standards:
Just how ruptured tank cars can endanger a community was underscored three years ago when a Canadian Pacific Railway freight train derailed just outside Minot, N.D. Five tank cars carrying a liquefied type of ammonia gas broke open, releasing toxic fumes that killed one resident and injured more than 300.

The National Transportation Safety Board, in a report on the accident released last year, said the steel shells on the five ruptured tank cars had become brittle, causing a "catastrophic fracture" that released clouds of toxic vapors. Those cars, the safety board found, were built before 1989 using steel that did not - as it does now - undergo a special heat treatment to make it stronger and less brittle. Tank cars built after 1989 use this specially treated steel.


***


The safety board warned that of the 60,000 pressurized tank cars in operation, more than half were older cars that were not built according to current industry standards, leaving them susceptible to rupture. And because these cars may remain in service for up to 50 years, some older ones could still be hauling hazardous materials until 2039.

Among the hazardous materials carried by the tank cars are liquefied ammonia, chlorine, propane and vinyl chloride. In most cases, the cars are owned by chemical or leasing companies, not the railroads.
And if that wasn't reassuring, it seems that more than three years after 9/11, the security of rail cars carrying highly hazardous chemicals is not much better than
the security of chemical plants
:
Federal authorities have been working with railroads and the chemical industry to improve security for trains. But there is still much to be done, particularly given the structural weaknesses of many tank cars, current and former federal officials say. George Gavalla, a former associate administrator for safety at the Federal Railroad Administration, said railroads had promised to beef up security when there was a credible terrorist threat.

So when such a threat arose a year ago in Las Vegas, Mr. Gavalla said, he sent an inspector there on New Year's Eve to assess the security measures in place. Those measures, he said, were virtually nonexistent.

When the inspector visited a rail yard 13 miles from the airport, he found no one watching over six tank cars with markings indicating that they might contain chlorine gas, according to a memorandum that he wrote about his visit. Two hours later, he visited another rail yard with four tank cars possibly carrying poisonous gas and they, too, were unguarded, the memorandum stated.
Finally, if all that's not bad enough, John Lowe over at
Impact Analysis
reveals that a
request for comments
on "the need for enhanced security requirements for the rail transportation of hazardous materials that pose a toxic inhalation hazard (TIH)," presented by the Departments of Transportation and Homeland Security last summer states that the agencies are considering whether to require the removal from rail tank cars used to transport TIH materials of identifying marks, names, stenciling, placards, or other markings that could help a terrorist or criminal identify a target.
Great idea, if you want every emergency responder in America to resign. The key to addressing hazardous materials accidents safely -- to protecting the lives of the emergency responders and the surrounding community -- is swift and accurate identification (preferably from a distance) of the material that has been released. Nothing would undermine the safety of the American people more than hiding the identify of the contents of the fleets of trucks and railcars carrying hazardous materials through our towns and cities every day.
Can the safety of rail cars be improved? Who's going to make sure its done and that it's effective. Is it really possible to have safe transport of highly hazardous substances? The best solution is, of course, right under our noses:
Rick Hind, a toxics specialist at Greenpeace, the environmental group, said that the best answer would be for industrial plants to substitute less toxic substances for chlorine and other hazardous materials.

Safer technologies have emerged in some areas, Mr. Hind said, and switching to them would reduce the sense that the plants and trains are "a target-rich environment."
Labels: National Transportation Safety Board (NTSB), Railroad Hazards
---
Go To My Main Page
---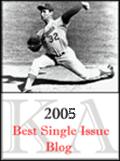 ---
Looking for
Confined Space Safety Information?
Click
Here
---
---
BP Texas City Explosion Stories
2006 Mine Disaster Stories
Popcorn Lung Stories
Speech on Receiving the APHA Lorin Kerr Award
by Jordan Barab, November 9, 2004


---
Acts of God, Acts of Man,"
by Jordan Barab, Working USA


Lies, Partisanship Caused Ergo Standard to Crumble,
by Jordan Barab, Safety + Health, February 2002


A Week of Death,
by Jordan Barab, Hazards, February 5, 2003
March 2003
April 2003
May 2003
June 2003
July 2003
August 2003
September 2003
October 2003
November 2003
December 2003
January 2004
February 2004
March 2004
April 2004
May 2004
June 2004
July 2004
August 2004
September 2004
October 2004
November 2004
December 2004
January 2005
February 2005
March 2005
April 2005
May 2005
June 2005
July 2005
August 2005
September 2005
October 2005
November 2005
December 2005
January 2006
February 2006
March 2006
April 2006
May 2006
June 2006
July 2006
August 2006
September 2006
October 2006
November 2006
December 2006
January 2007
---
---
FINALIST

Koufax Award

For Best Single Issue Blog of 2003 and 2004

---
---