Political and Labor Blogs
AFL-CIO Now
News From The AFL-CIO
Altercation
By the
Nation's
Eric Alterman
Blue Collar Blog
Firefighter, IAFF Member and CWA Staffer Sounds Off
Chris Mooney
The politics of science
Communicate or Die
American Labor Unions and the Internet
Crooks and Liars
Political hypocrisy n The small screen
Daily Kos

A must read for all political junkies
DMI Blog

Politics, Policy and the American Dream
Edwize

The blog of New York's United Federation of Teachers
Effect Measure
A forum for progressive public health discussion
FireDogLake
A Group Political Blog -- Always Something Interesting
GoozNews
Who's Watching Now That The Cameras Have Left?
Gulf Coast Reconstruction Watch
SHOCKED
that there's corporate influence on public health policy?
Impact Analysis
A portal for your adventure in environmental health
Liberal Oasis
On a mission to reclaim the good name of liberals because America was founded on liberal beliefs of freedom and justice for all.
MaxSpeak
Economics deciphered by "Max" Sawicky
Mine Safety Watch
Health and Safety in the Mines
Mother Jones
On Top Of The News
Nathan Newman
Politics, economics and labor issues
Political Animal
Keeping up on Washington Politics by veteran blogger Kevin Drum
The Pump Handle
A water cooler for the public health crowd
rawblogXport
Labor news
Seeing the Forest
...for the trees: A Political Blog
Sirotablog
David Sirota's online magazine of political news & commentary for those who
really
can't get enough politics
Stayin' Alive
Discussion of public health and health care policy, from a public health perspective.
Suburban Guerrilla
Wit, wisdom and politics by a reformed journalist
Talking Points
In-depth politics by Josh Marshall
Tapped
A group blog from the writers of the
American Prospect
Tom Tomorrow
Politics and passion from the cartoonist
Workers Comp Insider
Good and fairly enlighted resource
Working Immigrants
The business of immigrant work: employment, compensation, legal protections, education, mobility, and public policy.
Working Life
By a veteran labor and economics writer Jonathan Tasini
The Yorkshire Ranter
The scene from across the ocean
You Are Worth More
Labor issues in the retail trades
Health and Safety Websites and Resources
Hazards Magazine


Deceit and Denial


eLCOSH (Electronic Library of Safety & Health)


NYCOSH


COSH Network


UCLA-Labor Occupational Safety and Health Program (LOSH)


A Job To Die For


ILO Encyclopaedia of Occupational Health and Safety


Grist Magazine


Drum Major Institute For Public Policy


International Right To Know Campaign


Labor Occupational Health Program (UC Berkeley)


Maquiladora Healthand Safety Support Network


OSHA Worker Page


NIOSH


Canadian Center for Occupational Safety and Health


ACT Workcover (Australia)


Health & Safety Executive (Britain)


Worksafe British Columbia


United Support & Memorial For Workplace Fatalities


US Labor Against the War


LaborNotes


Labor Arts


The Occupational Safety and Health Act of 1970


The Mine Safety and Health Act of 1977



Union Health and Safety Websites
AFL-CIO


United Electrical Workers (UE)


AFSCME


AFSCME DC 37


United Auto Workers


Center to Protect Workers Rights


Communications Workers (CWA)


Laborers


LabourStart


ICEM

---
---
Saturday, January 29, 2005
PERMALINK Posted 2:35 PM by Jordan


Steelworker Deaths and Injuries on the Rise
Velma Burnette, 47, of Lorain, Ohio, a steelworker at Republic Engineered Products Inc., was
killed Wednesday
after being trapped by a load of steel. Ironically, that same day, an article appeared in the
Wall St. Journal
(subscription required) discussing the recent rise in fatalities and accidents in the steel industry after a decade of declining injuries and deaths.
The United Steelworkers of America says at least 15 deaths, compared with four deaths in 2003, were reported for 2004 in union and nonunion steel-related operations. Another safety gauge -- injuries per man hour worked -- also increased last year after a four-year decline, according to figures supplied by the American Iron and Steel Institute, which represents North American steelmakers, including U.S. Steel.
Observers cite a number of factors. The steel companies and the United Steelworkers have signed new contracts recently giving the companies more flexibility to move workers around to different jobs where they may have less experience. Meanwhile, many experienced workers took advantage of early retirement offers at the same time the demand for steel has been increasing.
"With the turnover in the steel industry, there are a lot of people doing jobs they have never done before," says Mike Wright, director of safety and health for the steelworkers union.

Those less-experienced workers arrived just as steel demand picked up, prompting steelmakers to ramp up production quickly. U.S. steel production rose 7% in 2004 to 104 million tons, according to the American Iron and Steel Institute.

Economists say higher production means more hours worked and more chances for accidents and fatalities.
Some company responses have been appropriate.
Bayou Steel Corp. in LaPlace, La., added a laser-activated, automatic rail car shut-off after worker Ed Theriot, 50 years old, was crushed to death by a moving rail car in April. After a fatality in June, International Steel Group gathered 40 safety representatives from unions and salaried staff and came up with new procedures, safety videos and a quarterly newsletter.
On the other hand, some companies continue to fall back on the same old "blame the worker" philosopy for the rise in incidents.
Herbert Tolman III was killed Sept. 21 at U.S. Steel's Gary works plant, when his crew was replacing a 28-inch, 800-pound steel wheel on an overhead crane. The jack slipped, and the crane dropped, sending the wheel into Mr. Tolman, 39, according to a U.S. Steel report on the accident.

The company says the crew failed to follow correct procedures, including standing clear of the jack and using blocks under the crane to stabilize it. Two of the six-member crew were fired, one received a five-day suspension and another resigned rather than face disciplinary action.

The union is filing grievances on behalf of some of those employees. People within the union say Mr. Tolman was relatively inexperienced as a crew chief and had been told to work faster. Mr. Tolman also was working 20 to 30 hours of overtime each week as a motor inspector, according to his wife.

U.S. Steel spokesman John Armstrong says in most accidents, workers are experienced and are aware of safety procedures but don't follow them.
Meanwhile, according to an investigation by
Occupational Hazards
magazine, "the number of steel facilities reporting [to OSHA] a lost workday injury and illness rate of zero jumped from just two in 1999 to 23 in 2001."
Increasing automation and safety improvements may account for the rise in facilities with a zero LWDII rate, but according to Mike Wright, director of health, safety and environment for the United Steelworkers of America, inaccurate recordkeeping also could be a factor. In an interview, Wright said that the underreporting of injuries and illnesses is a problem he "runs into every day and it afflicts even our best programs."
Labels: Recordkeeping
---
Go To My Main Page
---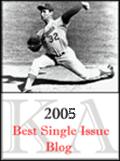 ---
Looking for
Confined Space Safety Information?
Click
Here
---
---
BP Texas City Explosion Stories
2006 Mine Disaster Stories
Popcorn Lung Stories
Speech on Receiving the APHA Lorin Kerr Award
by Jordan Barab, November 9, 2004


---
Acts of God, Acts of Man,"
by Jordan Barab, Working USA


Lies, Partisanship Caused Ergo Standard to Crumble,
by Jordan Barab, Safety + Health, February 2002


A Week of Death,
by Jordan Barab, Hazards, February 5, 2003
March 2003
April 2003
May 2003
June 2003
July 2003
August 2003
September 2003
October 2003
November 2003
December 2003
January 2004
February 2004
March 2004
April 2004
May 2004
June 2004
July 2004
August 2004
September 2004
October 2004
November 2004
December 2004
January 2005
February 2005
March 2005
April 2005
May 2005
June 2005
July 2005
August 2005
September 2005
October 2005
November 2005
December 2005
January 2006
February 2006
March 2006
April 2006
May 2006
June 2006
July 2006
August 2006
September 2006
October 2006
November 2006
December 2006
January 2007
---
---
FINALIST

Koufax Award

For Best Single Issue Blog of 2003 and 2004

---
---