This is
pretty damn scary
:
Graniteville, S.C. — A freight train carrying chlorine gas struck a parked train early Thursday, killing eight people and injuring at least 200 others,

nearly all of them sickened by a toxic cloud that persisted over a small South Carolina textile town at nightfall.



Authorities ordered all 5,400 people within two kilometres of the crash to evacuate in the afternoon because chlorine was continuing to leak and the gas was settling near the ground as temperatures dropped. They were unsure when the gas leak might be sealed.

State Senator Tommy Moore said Thursday night officials at Avondale Mill, the textile plant where the crash happened, told him

eight people were found dead following the accident, including five inside the mill.



Eight people were in critical condition Thursday night after the wreck of Norfolk Southern trains, in which 16 cars derailed.

Mr. Moore said he was told all the deaths were caused by inhaling chlorine fumes, except for the engineer of the moving train, who died in the crash. Sheriff's Lieut. Michael Frank said

one person was found dead in a home and another was found in a vehicle.
This is depressingly reminiscent of a
train derailment involving chlorine
last summer that killed two people in their home over a mile away.
Unfortunately, this seems to be the kind of thing that we can expect more frequently as
federal oversight over the railroads is weakened
and the foxes take more control over our national chicken coops.
Is this what people voted for on November 2?
Anyway, I'm sure glad it can't happen in my neighborhood: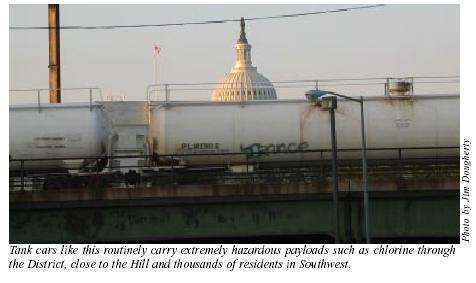 Thanks to a reader for the heads up on this.
UPDATE:
They've been having a bad time with trains in Graniteville lately and especially at Avondale Mills.
This
is from November 11:
GRANITEVILLE, S.C.

Five textile mill workers were killed Wednesday morning when their car collided with a Norfolk Southern research train about 12 miles from the Georgia-South Carolina state line.

The train, which consisted of a locomotive and two cars, was traveling 45 mph in a 49 mph zone and collided with the four-door Buick at Ascauga Lake Road Crossing in Graniteville around 8:15 a.m.....The five victims had just finished an 8 p.m. to 8 a.m. shift at an Avondale Mills Inc. plant nearby.

***

Working the late-night shift can be tiring, said Lucy Padgett, a lab technician and 15-year employee who now works an earlier shift. Padgett said she would be extremely tired going home after the 12-hour shift when she hadn't gotten much sleep the night before.

"I have drifted off" at the wheel, she said

***

Some residents complained about the lack of crossing arms at the crash site, which is at the intersection of two state roads. The site's flashing lights were working, officials said.

"If you ask me, the state ought to put those bars there," said Christopher Davis, a former mill worker who lives a few miles from the accident site.

***

"Anytime you got a railroad crossing and you got all these mills here ... changing shifts at the same time, and you got all these people rushing to get to work and you got a bad railroad crossing, you got a recipe for disaster, and you're going to get one," Tom Ryan, [a mill retiree] said.