According to this
article
, "A Poplar Bluff man is counting his blessings today after a close call mishap Tuesday at a work site on PP Highway."
Looking at the photo, it seems more like
three
Poplar Bluff men should be counting their blessings. Generally, one wants to shore up the walls of a trench
before
climbing down to rescue someone.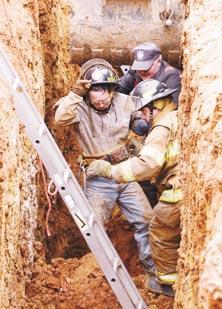 This guy, unfortunately, wasn't so lucky:

MELVIN, IL -- A rural Melvin man died Tuesday morning when a trench in which he was working collapsed on him.

William W. Glenn, 66, of 1170 North 1400 East Road, was pronounced dead at Gibson Area Hospital in Gibson City shortly after the 11:25 a.m. accident.

Ford County Coroner Doug Wallace said Glenn was digging a trench to work on a septic line at the Saul Fores residence, 312 E. Third St. in Melvin, when the 6-foot trench walls collapsed.