Political and Labor Blogs
AFL-CIO Now
News From The AFL-CIO
Altercation
By the
Nation's
Eric Alterman
Blue Collar Blog
Firefighter, IAFF Member and CWA Staffer Sounds Off
Chris Mooney
The politics of science
Communicate or Die
American Labor Unions and the Internet
Crooks and Liars
Political hypocrisy n The small screen
Daily Kos

A must read for all political junkies
DMI Blog

Politics, Policy and the American Dream
Edwize

The blog of New York's United Federation of Teachers
Effect Measure
A forum for progressive public health discussion
FireDogLake
A Group Political Blog -- Always Something Interesting
GoozNews
Who's Watching Now That The Cameras Have Left?
Gulf Coast Reconstruction Watch
SHOCKED
that there's corporate influence on public health policy?
Impact Analysis
A portal for your adventure in environmental health
Liberal Oasis
On a mission to reclaim the good name of liberals because America was founded on liberal beliefs of freedom and justice for all.
MaxSpeak
Economics deciphered by "Max" Sawicky
Mine Safety Watch
Health and Safety in the Mines
Mother Jones
On Top Of The News
Nathan Newman
Politics, economics and labor issues
Political Animal
Keeping up on Washington Politics by veteran blogger Kevin Drum
The Pump Handle
A water cooler for the public health crowd
rawblogXport
Labor news
Seeing the Forest
...for the trees: A Political Blog
Sirotablog
David Sirota's online magazine of political news & commentary for those who
really
can't get enough politics
Stayin' Alive
Discussion of public health and health care policy, from a public health perspective.
Suburban Guerrilla
Wit, wisdom and politics by a reformed journalist
Talking Points
In-depth politics by Josh Marshall
Tapped
A group blog from the writers of the
American Prospect
Tom Tomorrow
Politics and passion from the cartoonist
Workers Comp Insider
Good and fairly enlighted resource
Working Immigrants
The business of immigrant work: employment, compensation, legal protections, education, mobility, and public policy.
Working Life
By a veteran labor and economics writer Jonathan Tasini
The Yorkshire Ranter
The scene from across the ocean
You Are Worth More
Labor issues in the retail trades
Health and Safety Websites and Resources
Hazards Magazine


Deceit and Denial


eLCOSH (Electronic Library of Safety & Health)


NYCOSH


COSH Network


UCLA-Labor Occupational Safety and Health Program (LOSH)


A Job To Die For


ILO Encyclopaedia of Occupational Health and Safety


Grist Magazine


Drum Major Institute For Public Policy


International Right To Know Campaign


Labor Occupational Health Program (UC Berkeley)


Maquiladora Healthand Safety Support Network


OSHA Worker Page


NIOSH


Canadian Center for Occupational Safety and Health


ACT Workcover (Australia)


Health & Safety Executive (Britain)


Worksafe British Columbia


United Support & Memorial For Workplace Fatalities


US Labor Against the War


LaborNotes


Labor Arts


The Occupational Safety and Health Act of 1970


The Mine Safety and Health Act of 1977



Union Health and Safety Websites
AFL-CIO


United Electrical Workers (UE)


AFSCME


AFSCME DC 37


United Auto Workers


Center to Protect Workers Rights


Communications Workers (CWA)


Laborers


LabourStart


ICEM

---
---
Saturday, March 05, 2005
PERMALINK Posted 11:40 AM by Jordan


First Kill The Responders
You come over the rise, looking down on the disaster spreading out below you -- a multi-car collision involving a chemical tanker car on a derailed train, crumpled cars, bleeding, crying passengers and a tanker on its side leaking...something. You pull out the binoculars, train them on the railcar looking for the placard and find...nothing. No placard, no indication of what's spewing out of the tanker.
What do you do? Drive on down to help people, putting your own life, and the life of the rescue crew in danger? Evacuate the community? Or wait until someone can contact the company to find out what might be in the train?
This is a delemma that first responders once faced decades ago before train cars were required to have placards identifying any hazardous contents. Now, however, the Homeland Security and Transportation Departments have been
considering whether to remove the placards
:
For decades, emergency-response teams approaching train wrecks have peered at the signs through binoculars to see what dangerous chemicals might be leaking. But federal officials will soon decide on a proposal to remove the placards from all tank cars. Their fear is that terrorists could use them to lock in on targets for highly toxic attacks.

The idea has sparked an outcry from firefighters and rail workers, who say removing the signs could endanger their lives. They say federal officials seem more focused on guarding against a terrorist attack than on the daily threat of accidents.

"There's this feeling that you have to secure everything possible in every way possible for every possible kind of terrorist attack," Garry L. Briese, executive director of the International Association of Fire Chiefs, said.

The dispute illustrates a growing push to mask sensitive data about the nation's industrial base from the prying eyes of potential terrorists. In the tug of war over tank cars and other industrial information, critics question whether the move toward secrecy is overwhelming safety concerns and even chilling debates over how to eliminate the vulnerabilities.

People who live near chemical and nuclear plants, dams and oil and gas pipelines complain that it has become harder to find out about disaster plans and environmental hazards, and some have sued for more information. Engineering reports have been stripped from government Web sites, and several agencies are creating new controls on sensitive information that go far beyond the wide-ranging classification system built in the cold war.
First responders are particularly concerned since the recent railway catastrophe in South Carolina where leaking chlorine killed nine and injured hundreds last month.
Firefighters, railroad workers and large chemical companies are adamant about keeping the placards. Statistics show that chemicals leak from dozens of rail cars a year and that deaths occur periodically.

The chlorine placard is black and white. It has a skull and crossbones and the number 1017, the chlorine code. Without placards, "we'd be completely in the dark" at many crashes, said Joe Ashbaker, a supervisor in the San Bernardino County Fire Department in California.
The drive for secrecy is even shutting workers out of the chemical security planning process as
we saw last month
when unions and environmentalists protested a New Jersey chemical plant security plan that was developed without the input of the unions that represent the workers that work inside the plants.
Some doubt whether all the secrecy is really helping anyone and what other alternatives might exist:
"You can hide the information, but if the vulnerability still exists, the bad guys will find it," said Gary D. Bass, executive director of OMB Watch, a group in Washington that supports more openness. "So let's reduce the vulnerability instead."

Mr. Bass said similar debates had prompted some complexes like a sprawling sewage plant in Washington to switch to less-toxic chemicals.
The Association of American Railroads is looking for alternatives to placards, but the computerized, eletronic satellite based systems have been proven expensive, cumbersome and less effective. The railway industry, under attack by communities like Washington DC that are seeking to restrict hazardous materials through the city, may be more interested in keeping communities in the dark than in keeping terrorists guessing:
On Tuesday, the District of Columbia Council extended a ban on shipping hazardous cargo through Washington.

Even as it opposed the ban, the CSX railroad company quietly re-routed some cargo away from Capitol Hill last spring. But citing security, railroad and security officials refused for months to tell the Council about the rerouting. It turns out that the railroad simply shifted the cargoes to tracks in other neighborhoods. Federal and railroad officials said the other tracks seemed less likely to be targets.
Related Articles
"We can't protect ourselves if we are not part of the plan"
February 20, 2005

As If That Wasn't Bad Enough...More on Rail Safety
, January 9, 2005

"The uninterrupted flow of hazardous materials is necessary for the health and safety of the U.S"
, January 8, 2005

Just Be Careful Not To Breathe
, January 6, 2005

Weapons of Mass Destruction Found -- In Our Backyards
, November 17, 2003

The War for Chemical Plant Safety
, May 4, 2003
.
Labels: Chemical Plant Security
---
Go To My Main Page
---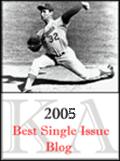 ---
Looking for
Confined Space Safety Information?
Click
Here
---
---
BP Texas City Explosion Stories
2006 Mine Disaster Stories
Popcorn Lung Stories
Speech on Receiving the APHA Lorin Kerr Award
by Jordan Barab, November 9, 2004


---
Acts of God, Acts of Man,"
by Jordan Barab, Working USA


Lies, Partisanship Caused Ergo Standard to Crumble,
by Jordan Barab, Safety + Health, February 2002


A Week of Death,
by Jordan Barab, Hazards, February 5, 2003
March 2003
April 2003
May 2003
June 2003
July 2003
August 2003
September 2003
October 2003
November 2003
December 2003
January 2004
February 2004
March 2004
April 2004
May 2004
June 2004
July 2004
August 2004
September 2004
October 2004
November 2004
December 2004
January 2005
February 2005
March 2005
April 2005
May 2005
June 2005
July 2005
August 2005
September 2005
October 2005
November 2005
December 2005
January 2006
February 2006
March 2006
April 2006
May 2006
June 2006
July 2006
August 2006
September 2006
October 2006
November 2006
December 2006
January 2007
---
---
FINALIST

Koufax Award

For Best Single Issue Blog of 2003 and 2004

---
---