Political and Labor Blogs
AFL-CIO Now
News From The AFL-CIO
Altercation
By the
Nation's
Eric Alterman
Blue Collar Blog
Firefighter, IAFF Member and CWA Staffer Sounds Off
Chris Mooney
The politics of science
Communicate or Die
American Labor Unions and the Internet
Crooks and Liars
Political hypocrisy n The small screen
Daily Kos

A must read for all political junkies
DMI Blog

Politics, Policy and the American Dream
Edwize

The blog of New York's United Federation of Teachers
Effect Measure
A forum for progressive public health discussion
FireDogLake
A Group Political Blog -- Always Something Interesting
GoozNews
Who's Watching Now That The Cameras Have Left?
Gulf Coast Reconstruction Watch
SHOCKED
that there's corporate influence on public health policy?
Impact Analysis
A portal for your adventure in environmental health
Liberal Oasis
On a mission to reclaim the good name of liberals because America was founded on liberal beliefs of freedom and justice for all.
MaxSpeak
Economics deciphered by "Max" Sawicky
Mine Safety Watch
Health and Safety in the Mines
Mother Jones
On Top Of The News
Nathan Newman
Politics, economics and labor issues
Political Animal
Keeping up on Washington Politics by veteran blogger Kevin Drum
The Pump Handle
A water cooler for the public health crowd
rawblogXport
Labor news
Seeing the Forest
...for the trees: A Political Blog
Sirotablog
David Sirota's online magazine of political news & commentary for those who
really
can't get enough politics
Stayin' Alive
Discussion of public health and health care policy, from a public health perspective.
Suburban Guerrilla
Wit, wisdom and politics by a reformed journalist
Talking Points
In-depth politics by Josh Marshall
Tapped
A group blog from the writers of the
American Prospect
Tom Tomorrow
Politics and passion from the cartoonist
Workers Comp Insider
Good and fairly enlighted resource
Working Immigrants
The business of immigrant work: employment, compensation, legal protections, education, mobility, and public policy.
Working Life
By a veteran labor and economics writer Jonathan Tasini
The Yorkshire Ranter
The scene from across the ocean
You Are Worth More
Labor issues in the retail trades
Health and Safety Websites and Resources
Hazards Magazine


Deceit and Denial


eLCOSH (Electronic Library of Safety & Health)


NYCOSH


COSH Network


UCLA-Labor Occupational Safety and Health Program (LOSH)


A Job To Die For


ILO Encyclopaedia of Occupational Health and Safety


Grist Magazine


Drum Major Institute For Public Policy


International Right To Know Campaign


Labor Occupational Health Program (UC Berkeley)


Maquiladora Healthand Safety Support Network


OSHA Worker Page


NIOSH


Canadian Center for Occupational Safety and Health


ACT Workcover (Australia)


Health & Safety Executive (Britain)


Worksafe British Columbia


United Support & Memorial For Workplace Fatalities


US Labor Against the War


LaborNotes


Labor Arts


The Occupational Safety and Health Act of 1970


The Mine Safety and Health Act of 1977



Union Health and Safety Websites
AFL-CIO


United Electrical Workers (UE)


AFSCME


AFSCME DC 37


United Auto Workers


Center to Protect Workers Rights


Communications Workers (CWA)


Laborers


LabourStart


ICEM

---
---
Sunday, February 12, 2006
PERMALINK Posted 11:38 PM by Jordan


Massachusetts Teens Awarded for Workplace Safety Efforts
As a parent of multiple teenagers, I observe with amusement as well as some sadness parents with young children who have all kinds of lofty aspirations and hopes for their future teenagers. Because by the time you actually have teenagers, everything is reduced to a prayer that they'll emerge at the other end alive, and preferably without becoming pregnant, addicted or arrested.
Too much free time tends to multiply the chances of dangerous encounters with drugs and sex, so we're generally quite happy when our kids get jobs. Until we hear of things like these:
In Boston, 18-year-old Cristian Ribeiro was stabbed and killed in February, 2004 as he pursued a shoplifter who had stolen from the CVS where he was working. One Girls Inc. member shared her friend's story: while working at a retail establishment in Lynn, she was raped by a pair of men and then locked inside, leaving her helpless and alone. These incidents have been tragic motivators that keep youth at Girls Inc. and MassCOSH's teen leaders hard at work developing policy and trainings to protect young workers.
Happily, there are people working on preventing these incidents. The Massachusetts Coalition on Occupational Safety and Health (
MassCOSH
) has recruited team of youth organizers to conduct workshops and other forums for peers to make them aware of hazards on the job and their rights to a safe and healthy working environment.
They produced a report on
Workplace Violence Affecting Teens
, and faced with the fact that teens in Massachusetts are injured on the job at approximately twice the rate of adults, they are also attacking the problem through the political process, supporting the passage of the
Child Labor Reform Bill
(House Bill 3790/Senate Bill 1094), meeting with community members and elected officials to draw attention to the bill's importance.
Frustrated by the serious lack of safety protections for young people, the MassCOSH peer leaders worked with Senator John Hart and Senator Patricia Jehlen to file a bill strengthening the enforcement authority of the Attorney General. The bill would enable the AG to fine employers who violate the Child Labor Laws through a civil process. The bill also requires that teens working after 8:00 PM be provided with adult supervision on site.
For their efforts, the MassCOSH peer leaders, along with the Youth from Girls Inc. Career Path Program were honored for their efforts to protect young workers at the
North Shore Labor Council's Annual Dinner
last week.
"I don't want to hear about another teen life being taken away when the situation could have been prevented," said Raquel Lamons, a 14-year-old Teens Lead at Work peer leader. "We want young people to be safe when they work."

***

"I thought this was all grown-up business, I didn't know we could actually pass a bill," said Kamaya Ray from Lynn's Girl's Inc. Belkys Perez added "I feel empowered, in charge, I don't feel like they look at us like we are just kids to them – but that we actually matter."
Sounds like the type of program we should be promoting in every community.
Labels: COSH Groups, Workplace Violence, Young Workers
---
Go To My Main Page
---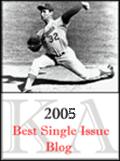 ---
Looking for
Confined Space Safety Information?
Click
Here
---
---
BP Texas City Explosion Stories
2006 Mine Disaster Stories
Popcorn Lung Stories
Speech on Receiving the APHA Lorin Kerr Award
by Jordan Barab, November 9, 2004


---
Acts of God, Acts of Man,"
by Jordan Barab, Working USA


Lies, Partisanship Caused Ergo Standard to Crumble,
by Jordan Barab, Safety + Health, February 2002


A Week of Death,
by Jordan Barab, Hazards, February 5, 2003
March 2003
April 2003
May 2003
June 2003
July 2003
August 2003
September 2003
October 2003
November 2003
December 2003
January 2004
February 2004
March 2004
April 2004
May 2004
June 2004
July 2004
August 2004
September 2004
October 2004
November 2004
December 2004
January 2005
February 2005
March 2005
April 2005
May 2005
June 2005
July 2005
August 2005
September 2005
October 2005
November 2005
December 2005
January 2006
February 2006
March 2006
April 2006
May 2006
June 2006
July 2006
August 2006
September 2006
October 2006
November 2006
December 2006
January 2007
---
---
FINALIST

Koufax Award

For Best Single Issue Blog of 2003 and 2004

---
---