Political and Labor Blogs
AFL-CIO Now
News From The AFL-CIO
Altercation
By the
Nation's
Eric Alterman
Blue Collar Blog
Firefighter, IAFF Member and CWA Staffer Sounds Off
Chris Mooney
The politics of science
Communicate or Die
American Labor Unions and the Internet
Crooks and Liars
Political hypocrisy n The small screen
Daily Kos

A must read for all political junkies
DMI Blog

Politics, Policy and the American Dream
Edwize

The blog of New York's United Federation of Teachers
Effect Measure
A forum for progressive public health discussion
FireDogLake
A Group Political Blog -- Always Something Interesting
GoozNews
Who's Watching Now That The Cameras Have Left?
Gulf Coast Reconstruction Watch
SHOCKED
that there's corporate influence on public health policy?
Impact Analysis
A portal for your adventure in environmental health
Liberal Oasis
On a mission to reclaim the good name of liberals because America was founded on liberal beliefs of freedom and justice for all.
MaxSpeak
Economics deciphered by "Max" Sawicky
Mine Safety Watch
Health and Safety in the Mines
Mother Jones
On Top Of The News
Nathan Newman
Politics, economics and labor issues
Political Animal
Keeping up on Washington Politics by veteran blogger Kevin Drum
The Pump Handle
A water cooler for the public health crowd
rawblogXport
Labor news
Seeing the Forest
...for the trees: A Political Blog
Sirotablog
David Sirota's online magazine of political news & commentary for those who
really
can't get enough politics
Stayin' Alive
Discussion of public health and health care policy, from a public health perspective.
Suburban Guerrilla
Wit, wisdom and politics by a reformed journalist
Talking Points
In-depth politics by Josh Marshall
Tapped
A group blog from the writers of the
American Prospect
Tom Tomorrow
Politics and passion from the cartoonist
Workers Comp Insider
Good and fairly enlighted resource
Working Immigrants
The business of immigrant work: employment, compensation, legal protections, education, mobility, and public policy.
Working Life
By a veteran labor and economics writer Jonathan Tasini
The Yorkshire Ranter
The scene from across the ocean
You Are Worth More
Labor issues in the retail trades
Health and Safety Websites and Resources
Hazards Magazine


Deceit and Denial


eLCOSH (Electronic Library of Safety & Health)


NYCOSH


COSH Network


UCLA-Labor Occupational Safety and Health Program (LOSH)


A Job To Die For


ILO Encyclopaedia of Occupational Health and Safety


Grist Magazine


Drum Major Institute For Public Policy


International Right To Know Campaign


Labor Occupational Health Program (UC Berkeley)


Maquiladora Healthand Safety Support Network


OSHA Worker Page


NIOSH


Canadian Center for Occupational Safety and Health


ACT Workcover (Australia)


Health & Safety Executive (Britain)


Worksafe British Columbia


United Support & Memorial For Workplace Fatalities


US Labor Against the War


LaborNotes


Labor Arts


The Occupational Safety and Health Act of 1970


The Mine Safety and Health Act of 1977



Union Health and Safety Websites
AFL-CIO


United Electrical Workers (UE)


AFSCME


AFSCME DC 37


United Auto Workers


Center to Protect Workers Rights


Communications Workers (CWA)


Laborers


LabourStart


ICEM

---
---
Monday, February 13, 2006
PERMALINK Posted 9:08 PM by Jordan


Smithfield Packing Tries To Be Funny: "First Concern Is Safety of Our Employees"
"Our first concern in setting line speeds is the safety and health of our employees."
-- Smithfield Packing Company spokesman Jerry Hostetter
As you might imagine from the above quote, I wasn't sure whether to laugh or cry after reading this article by
NY Times labor reporter Steven Greenhouse
about a UFCW organizing campaign at Smithfield pork-processing plant in Tar Heel, NC. This campaign is no small deal. The Tar Heel plant is the nation's largest pork processing plant, killing 32,000 hogs a day and employing nearly 5,500 workers.
Here's the first part you can't decide whether to laugh or cry about.
Instead of calling for an election, the union is putting together a coalition of churches, civil rights groups and colleges students to press the company for neutrality in the unionization fight. Not surprisingly, the company opposes those tactics, boasting about how well management and employees work together, that they don't need a "third party", that neutrality would "bar the company from telling employees about the downside of unionization," workers would be "shielded from the facts," and wouldn't learn the "full story."
And then the punch line:
[Smithfield spokesman Jerry] Hostetter said nothing was stopping the union from seeking a new election tomorrow. "If our employees want an election at Tar Heel,

we know of no reason why it would not be fair and free for all concerned," he said.
He knows of no reason? How about this?
In 1997, the United Food and Commercial Workers Union lost a unionization election at the sprawling plant, built in this rural town 75 miles south of Raleigh. But it was not until 2004 that the National Labor Relations Board upheld an administrative law judge's decision that threw out the election results.

The labor board found that the Smithfield Packing Company not only had prevented a fair election by illegally intimidating, firing, threatening and spying on workers but also had a union supporter beaten up the night of the vote count.
Need another example?
Lorena Ramos, 29, an immigrant from Honduras, said Smithfield's managers and consultants often told the workers that the union only wanted employees' dues money and would cause strikes that could lead to violence, job losses and even closing the plant.

Her right arm was badly injured when it got caught in a conveyer belt as she was scooping dry ice into packing boxes. She and her husband were outspoken union supporters, and they said they were shocked and embarrassed when the plant's internal police force arrested them, handcuffed them and paraded them through the plant, accusing them of setting a fire in one of the plant's cafeterias. The county's district attorney dropped the charges for lack of evidence.

Ms. Ramos quit the plant after the arrest, too scared to return. The union hired her as an organizer because of her popularity, courage and communications skills.

"Right now if the workers want something to change at the plant, the plant's not going to listen to them," she said. "If the workers have a union, then they will be listened to."
Finally, it's good to see that health and safety conditions are a major part of this campaign (
attention John Sweeney
)
"A union would help reduce all the injuries — people are getting hurt left and right," said Edward Morrison, 42, an Army veteran who quit his job on the kill floor in October after tearing his knee while straining to push a rack that had five hogs hanging from it. "A union would also give the workers a say-so."
Ergonomics is one of the major issues in the campaign (
Thanks George Bush
):
For workers, line speed is one of the biggest issues. On each processing line on the kill floor, a hog passes about every three and a half seconds, translating into about 1,000 hogs an hour, 8,000 a shift. Many workers complain that injuries are caused by the line speed and by having to do the same task thousands of times daily. Workers sometimes even stab one another or themselves by mistake.

Smithfield officials said the plant's injury rate was no worse than the industry average. "Our first concern in setting line speeds is the safety and health of our employees," Mr. Hostetter said.
Yeah, I'll bet. Anyway, at least Hostetter has a sense of humor.
If it's not already obvious, the reason I'm rolling on the floor laughing and crying is that this is a plant that's notorious for its serious health and safety problems, highlighted last March in a
Raleigh News Observer
article , and a report of
the human toll in the meatpacking industry
issued by Human Rights Watch last year.
Related Articles
Labels: Ergonomics, Workplace Violence
---
Go To My Main Page
---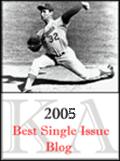 ---
Looking for
Confined Space Safety Information?
Click
Here
---
---
BP Texas City Explosion Stories
2006 Mine Disaster Stories
Popcorn Lung Stories
Speech on Receiving the APHA Lorin Kerr Award
by Jordan Barab, November 9, 2004


---
Acts of God, Acts of Man,"
by Jordan Barab, Working USA


Lies, Partisanship Caused Ergo Standard to Crumble,
by Jordan Barab, Safety + Health, February 2002


A Week of Death,
by Jordan Barab, Hazards, February 5, 2003
March 2003
April 2003
May 2003
June 2003
July 2003
August 2003
September 2003
October 2003
November 2003
December 2003
January 2004
February 2004
March 2004
April 2004
May 2004
June 2004
July 2004
August 2004
September 2004
October 2004
November 2004
December 2004
January 2005
February 2005
March 2005
April 2005
May 2005
June 2005
July 2005
August 2005
September 2005
October 2005
November 2005
December 2005
January 2006
February 2006
March 2006
April 2006
May 2006
June 2006
July 2006
August 2006
September 2006
October 2006
November 2006
December 2006
January 2007
---
---
FINALIST

Koufax Award

For Best Single Issue Blog of 2003 and 2004

---
---