Political and Labor Blogs
AFL-CIO Now
News From The AFL-CIO
Altercation
By the
Nation's
Eric Alterman
Blue Collar Blog
Firefighter, IAFF Member and CWA Staffer Sounds Off
Chris Mooney
The politics of science
Communicate or Die
American Labor Unions and the Internet
Crooks and Liars
Political hypocrisy n The small screen
Daily Kos

A must read for all political junkies
DMI Blog

Politics, Policy and the American Dream
Edwize

The blog of New York's United Federation of Teachers
Effect Measure
A forum for progressive public health discussion
FireDogLake
A Group Political Blog -- Always Something Interesting
GoozNews
Who's Watching Now That The Cameras Have Left?
Gulf Coast Reconstruction Watch
SHOCKED
that there's corporate influence on public health policy?
Impact Analysis
A portal for your adventure in environmental health
Liberal Oasis
On a mission to reclaim the good name of liberals because America was founded on liberal beliefs of freedom and justice for all.
MaxSpeak
Economics deciphered by "Max" Sawicky
Mine Safety Watch
Health and Safety in the Mines
Mother Jones
On Top Of The News
Nathan Newman
Politics, economics and labor issues
Political Animal
Keeping up on Washington Politics by veteran blogger Kevin Drum
The Pump Handle
A water cooler for the public health crowd
rawblogXport
Labor news
Seeing the Forest
...for the trees: A Political Blog
Sirotablog
David Sirota's online magazine of political news & commentary for those who
really
can't get enough politics
Stayin' Alive
Discussion of public health and health care policy, from a public health perspective.
Suburban Guerrilla
Wit, wisdom and politics by a reformed journalist
Talking Points
In-depth politics by Josh Marshall
Tapped
A group blog from the writers of the
American Prospect
Tom Tomorrow
Politics and passion from the cartoonist
Workers Comp Insider
Good and fairly enlighted resource
Working Immigrants
The business of immigrant work: employment, compensation, legal protections, education, mobility, and public policy.
Working Life
By a veteran labor and economics writer Jonathan Tasini
The Yorkshire Ranter
The scene from across the ocean
You Are Worth More
Labor issues in the retail trades
Health and Safety Websites and Resources
Hazards Magazine


Deceit and Denial


eLCOSH (Electronic Library of Safety & Health)


NYCOSH


COSH Network


UCLA-Labor Occupational Safety and Health Program (LOSH)


A Job To Die For


ILO Encyclopaedia of Occupational Health and Safety


Grist Magazine


Drum Major Institute For Public Policy


International Right To Know Campaign


Labor Occupational Health Program (UC Berkeley)


Maquiladora Healthand Safety Support Network


OSHA Worker Page


NIOSH


Canadian Center for Occupational Safety and Health


ACT Workcover (Australia)


Health & Safety Executive (Britain)


Worksafe British Columbia


United Support & Memorial For Workplace Fatalities


US Labor Against the War


LaborNotes


Labor Arts


The Occupational Safety and Health Act of 1970


The Mine Safety and Health Act of 1977



Union Health and Safety Websites
AFL-CIO


United Electrical Workers (UE)


AFSCME


AFSCME DC 37


United Auto Workers


Center to Protect Workers Rights


Communications Workers (CWA)


Laborers


LabourStart


ICEM

---
---
Tuesday, May 09, 2006
PERMALINK Posted 10:25 PM by Jordan


Happy Ending To Australian Mine Collapse
But Questions Remain: Was Collapse an Act of God or Act of Man?
Two Australian gold miners, Todd Russell and Brant Webb, were rescued from a mine shaft in Tasmania, yesterday after 13 days trapped 3,000 feet underground. The collapse was caused by an earthquake on April 25. 14 miners managed to escape but one miner, Larry Knight, was killed in the rock fall.
Russell and Webb were in a 4-foot tall safety cage that was sheltered by a fallen slab of rock that formed a roof over the cage. They lived off a single cereal bar and water they licked from rocks for five days until rescuers located them and bored a hole through which food and other supplies were provided.
News reports blame the initial collapse on an earthquake. One of those mother nature, Act-of-God things, right? But of course,
nothing is as simple as it first seems
.
Several miners from the Beaconsfield goldmine — including some who were involved in the dramatic rescue -- said that mine managers had failed to leave enough of the deeper levels unexploited to provide support.

"There were simply not enough pillars left in the whole mine because of the value of the ore," one miner told The Australian. If they found an ore body, they'd just take it out."
Some believe that the earthquake may have been linked to the mine blasting.
The Australian Miners Union
blamed the collapse
on a law passed in 1998 that allowed a self-regulatory approach to safety regulations in the Tasmanian mining industry.
Miners have told The Australian and the AWU that the accident could have been prevented if a basic safety measure - the retention of unmined levels and areas, known as pillars - had been sufficiently followed.

They believe pillars were not left where they should have been in the mine because of the richness of the vein of gold found in the ore.

There have also been suggestions management had come under intense pressure from elements of the mine's joint venture company to reduce the high cost of taking a conservative approach to mine safety.

Former Beaconsfield Gold NL director John Miedecke has told The Australian Mr Gill had in the past been criticised by elements of the joint venture for taking a cautious approach to safe extraction of the ore.
The union is calling for an independent investigation.
The situation recalls this country's "miracle" rescue of the Quecreek miners trapped below ground in a flood in 2002. As Indiana University of Pennsylvania Professor
Charles McCollester
wrote about that near disaster:
God may well have had a hand in the rescue, but the flooding can't be pinned on the deity. Human avarice and more than a century of fierce manipulation and corporate struggle for profit and control were behind the wall of water that swept into the Quecreek mine.
---
Go To My Main Page
---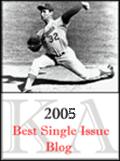 ---
Looking for
Confined Space Safety Information?
Click
Here
---
---
BP Texas City Explosion Stories
2006 Mine Disaster Stories
Popcorn Lung Stories
Speech on Receiving the APHA Lorin Kerr Award
by Jordan Barab, November 9, 2004


---
Acts of God, Acts of Man,"
by Jordan Barab, Working USA


Lies, Partisanship Caused Ergo Standard to Crumble,
by Jordan Barab, Safety + Health, February 2002


A Week of Death,
by Jordan Barab, Hazards, February 5, 2003
March 2003
April 2003
May 2003
June 2003
July 2003
August 2003
September 2003
October 2003
November 2003
December 2003
January 2004
February 2004
March 2004
April 2004
May 2004
June 2004
July 2004
August 2004
September 2004
October 2004
November 2004
December 2004
January 2005
February 2005
March 2005
April 2005
May 2005
June 2005
July 2005
August 2005
September 2005
October 2005
November 2005
December 2005
January 2006
February 2006
March 2006
April 2006
May 2006
June 2006
July 2006
August 2006
September 2006
October 2006
November 2006
December 2006
January 2007
---
---
FINALIST

Koufax Award

For Best Single Issue Blog of 2003 and 2004

---
---