Political and Labor Blogs
AFL-CIO Now
News From The AFL-CIO
Altercation
By the
Nation's
Eric Alterman
Blue Collar Blog
Firefighter, IAFF Member and CWA Staffer Sounds Off
Chris Mooney
The politics of science
Communicate or Die
American Labor Unions and the Internet
Crooks and Liars
Political hypocrisy n The small screen
Daily Kos

A must read for all political junkies
DMI Blog

Politics, Policy and the American Dream
Edwize

The blog of New York's United Federation of Teachers
Effect Measure
A forum for progressive public health discussion
FireDogLake
A Group Political Blog -- Always Something Interesting
GoozNews
Who's Watching Now That The Cameras Have Left?
Gulf Coast Reconstruction Watch
SHOCKED
that there's corporate influence on public health policy?
Impact Analysis
A portal for your adventure in environmental health
Liberal Oasis
On a mission to reclaim the good name of liberals because America was founded on liberal beliefs of freedom and justice for all.
MaxSpeak
Economics deciphered by "Max" Sawicky
Mine Safety Watch
Health and Safety in the Mines
Mother Jones
On Top Of The News
Nathan Newman
Politics, economics and labor issues
Political Animal
Keeping up on Washington Politics by veteran blogger Kevin Drum
The Pump Handle
A water cooler for the public health crowd
rawblogXport
Labor news
Seeing the Forest
...for the trees: A Political Blog
Sirotablog
David Sirota's online magazine of political news & commentary for those who
really
can't get enough politics
Stayin' Alive
Discussion of public health and health care policy, from a public health perspective.
Suburban Guerrilla
Wit, wisdom and politics by a reformed journalist
Talking Points
In-depth politics by Josh Marshall
Tapped
A group blog from the writers of the
American Prospect
Tom Tomorrow
Politics and passion from the cartoonist
Workers Comp Insider
Good and fairly enlighted resource
Working Immigrants
The business of immigrant work: employment, compensation, legal protections, education, mobility, and public policy.
Working Life
By a veteran labor and economics writer Jonathan Tasini
The Yorkshire Ranter
The scene from across the ocean
You Are Worth More
Labor issues in the retail trades
Health and Safety Websites and Resources
Hazards Magazine


Deceit and Denial


eLCOSH (Electronic Library of Safety & Health)


NYCOSH


COSH Network


UCLA-Labor Occupational Safety and Health Program (LOSH)


A Job To Die For


ILO Encyclopaedia of Occupational Health and Safety


Grist Magazine


Drum Major Institute For Public Policy


International Right To Know Campaign


Labor Occupational Health Program (UC Berkeley)


Maquiladora Healthand Safety Support Network


OSHA Worker Page


NIOSH


Canadian Center for Occupational Safety and Health


ACT Workcover (Australia)


Health & Safety Executive (Britain)


Worksafe British Columbia


United Support & Memorial For Workplace Fatalities


US Labor Against the War


LaborNotes


Labor Arts


The Occupational Safety and Health Act of 1970


The Mine Safety and Health Act of 1977



Union Health and Safety Websites
AFL-CIO


United Electrical Workers (UE)


AFSCME


AFSCME DC 37


United Auto Workers


Center to Protect Workers Rights


Communications Workers (CWA)


Laborers


LabourStart


ICEM

---
---
Wednesday, May 10, 2006
PERMALINK Posted 10:41 PM by Jordan


The New Jungle: They Don't Kill Cows. They Kill People
The good news is that conditions in meatpacking plants have gotten better since Upton Sinclair published
The Jungle
100 years ago.
The bad news is that things are
still pretty bad.
He works in a world of long knives and huge saws, blood and bone, arctic chill and sweltering heat. For Martin Cortez, this is life on the line as a meatpacker.

It's no place for the squeamish. Some workers can't stomach the gore - chopping up the meat and bones of hundreds of cattle, day after day. Cortez has been at it more than 30 years. It also can be very dangerous. Some workers have been slashed, burned or scarred. He has not.

Even so, Martin Cortez, a soft-spoken man with sad eyes, doesn't recommend the work. The thrashing animals, the heavy lifting ... all that goes into putting steak and hamburger on America's dinner tables, he said, makes for a backbreaking day on the killing floor.

"You know what I like to say to newcomers?" he said. "They don't kill cows. They kill people."
Now we have Mexican and Central Americans,along with immigrants from Somalia, Sudan and Vietnam, whereas 100 years ago the immigrants working in the plants were from Eastern Europe.
And although things have gotten better over the past 100 years, they're not where they should be in 21st century America:
"It's not as bad as it was in the sense of the sheer brutality of 100 years ago - before labor laws and food safety laws," said Lance Compa, a Cornell University labor law expert who wrote a stinging Human Rights Watch report on the meat and poultry industry last year. "But for the times we're in now, the situation is much in line with what it was 100 years ago."

"It's extremely dangerous when it shouldn't be," he said. "Workers are exploited when they shouldn't be. The companies know it."

Others also say even with better regulation, if the meatpacking industry is judged against other workplace progress, it falls short.

"It's a new "Jungle," measured not against the standard of yesterday, but the standard of today," said Lourdes Gouveia, director of the Office for Latino/Latin American Studies at the University of Nebraska at Omaha.
Many of the safety problems are still there. According to a recent
Government Accountablity Office
report,
The industry still is plenty dangerous with knife-wielding workers standing long hours on fast-moving lines, chemicals, animal waste and factory floors that can be dark, loud, slippery or unbearably hot or bitter cold.

The risks are many: cuts and stabbings, burns, repetitive stress injuries, amputations and worse. Knife accidents blinded one meat worker and disfigured the face of another, the GAO said, citing OSHA records.
And other things are getting worse as well.
In the new meatpacking capitals, he said, paychecks have been shrinking. In 2004, the average annual wage for a worker in a slaughtering plant was about $25,000 - compared with $34,000 for manufacturing, according to federal figures.

It wasn't always that way.

The workers had their heyday in the 1950s and 1960s, when the union flexed its muscle and helped push up wages, turning meatpacking into a stable, middle-class job.

"For blue-collar people without much education, packinghouse workers were able to have second homes, send their kids to college so they don't have to do (the same job)," Horowitz said. "It became the American success story."

It didn't last.

In the late 1970s into the 1980s, big changes came. A new tough breed of competitors, mostly nonunion, led by Iowa Beef Processors - now part of Tyson Foods - emerged. Old-line companies went bankrupt. The master contract, one that covered several plants with a standard wage, vanished.

Meatpacking wages that were 15 percent above the average manufacturing salary in 1960 dropped to 20 percent below by 1990, said Don Stull, a University of Kansas anthropology professor and industry expert.
Related Stories
---
Go To My Main Page
---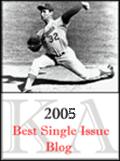 ---
Looking for
Confined Space Safety Information?
Click
Here
---
---
BP Texas City Explosion Stories
2006 Mine Disaster Stories
Popcorn Lung Stories
Speech on Receiving the APHA Lorin Kerr Award
by Jordan Barab, November 9, 2004


---
Acts of God, Acts of Man,"
by Jordan Barab, Working USA


Lies, Partisanship Caused Ergo Standard to Crumble,
by Jordan Barab, Safety + Health, February 2002


A Week of Death,
by Jordan Barab, Hazards, February 5, 2003
March 2003
April 2003
May 2003
June 2003
July 2003
August 2003
September 2003
October 2003
November 2003
December 2003
January 2004
February 2004
March 2004
April 2004
May 2004
June 2004
July 2004
August 2004
September 2004
October 2004
November 2004
December 2004
January 2005
February 2005
March 2005
April 2005
May 2005
June 2005
July 2005
August 2005
September 2005
October 2005
November 2005
December 2005
January 2006
February 2006
March 2006
April 2006
May 2006
June 2006
July 2006
August 2006
September 2006
October 2006
November 2006
December 2006
January 2007
---
---
FINALIST

Koufax Award

For Best Single Issue Blog of 2003 and 2004

---
---