Political and Labor Blogs
AFL-CIO Now
News From The AFL-CIO
Altercation
By the
Nation's
Eric Alterman
Blue Collar Blog
Firefighter, IAFF Member and CWA Staffer Sounds Off
Chris Mooney
The politics of science
Communicate or Die
American Labor Unions and the Internet
Crooks and Liars
Political hypocrisy n The small screen
Daily Kos

A must read for all political junkies
DMI Blog

Politics, Policy and the American Dream
Edwize

The blog of New York's United Federation of Teachers
Effect Measure
A forum for progressive public health discussion
FireDogLake
A Group Political Blog -- Always Something Interesting
GoozNews
Who's Watching Now That The Cameras Have Left?
Gulf Coast Reconstruction Watch
SHOCKED
that there's corporate influence on public health policy?
Impact Analysis
A portal for your adventure in environmental health
Liberal Oasis
On a mission to reclaim the good name of liberals because America was founded on liberal beliefs of freedom and justice for all.
MaxSpeak
Economics deciphered by "Max" Sawicky
Mine Safety Watch
Health and Safety in the Mines
Mother Jones
On Top Of The News
Nathan Newman
Politics, economics and labor issues
Political Animal
Keeping up on Washington Politics by veteran blogger Kevin Drum
The Pump Handle
A water cooler for the public health crowd
rawblogXport
Labor news
Seeing the Forest
...for the trees: A Political Blog
Sirotablog
David Sirota's online magazine of political news & commentary for those who
really
can't get enough politics
Stayin' Alive
Discussion of public health and health care policy, from a public health perspective.
Suburban Guerrilla
Wit, wisdom and politics by a reformed journalist
Talking Points
In-depth politics by Josh Marshall
Tapped
A group blog from the writers of the
American Prospect
Tom Tomorrow
Politics and passion from the cartoonist
Workers Comp Insider
Good and fairly enlighted resource
Working Immigrants
The business of immigrant work: employment, compensation, legal protections, education, mobility, and public policy.
Working Life
By a veteran labor and economics writer Jonathan Tasini
The Yorkshire Ranter
The scene from across the ocean
You Are Worth More
Labor issues in the retail trades
Health and Safety Websites and Resources
Hazards Magazine


Deceit and Denial


eLCOSH (Electronic Library of Safety & Health)


NYCOSH


COSH Network


UCLA-Labor Occupational Safety and Health Program (LOSH)


A Job To Die For


ILO Encyclopaedia of Occupational Health and Safety


Grist Magazine


Drum Major Institute For Public Policy


International Right To Know Campaign


Labor Occupational Health Program (UC Berkeley)


Maquiladora Healthand Safety Support Network


OSHA Worker Page


NIOSH


Canadian Center for Occupational Safety and Health


ACT Workcover (Australia)


Health & Safety Executive (Britain)


Worksafe British Columbia


United Support & Memorial For Workplace Fatalities


US Labor Against the War


LaborNotes


Labor Arts


The Occupational Safety and Health Act of 1970


The Mine Safety and Health Act of 1977



Union Health and Safety Websites
AFL-CIO


United Electrical Workers (UE)


AFSCME


AFSCME DC 37


United Auto Workers


Center to Protect Workers Rights


Communications Workers (CWA)


Laborers


LabourStart


ICEM

---
---
Wednesday, May 03, 2006
PERMALINK Posted 8:54 PM by Jordan


Popcorn Lung Victim Dies: "Knowing That It Could Have been Avoided"
Linda Redman, 57,
died Sunday
from died after a long lung illness caused by her exposure to the popcorn butter flavoring chemical diacetyl. Redman was among thirty employes at a Missouri popcorn plant who sued International Flavors & Fragrances Inc. and its subsidiary, Bush Boake Allen Inc. for failing to warn the workers at the plant where the chemical was used of its dangers, even though they had information that it caused deadly lung damage.
In other words, Redman was but the latest victim of this nation's failure to overcome the power of the chemical industry and protect workers from hazardous chemicals.
Studies had shown since the early 1990's that diacetyl could cause severe lung damage and that information was known to the Flavor and Extract Manufacturers Association. Yet the
Material Safety Data Sheet
that the International Flavors and Bush Boake Allen provided to Redman's employer stated that the chemical had "no known health hazards" and that respirators are "not normally required" for its butter flavoring, unless vapor concentrations were 'high.' "
I
described her case
over two years ago when the first lawsuits were filed:
Linda Redman started working as a packer at the Jasper popcorn plant in 1995, two years after the original study[that identified diacetyl's health effects]. Within two years, her breathing was so bad that she had to quit.

Redman used to work 12 hours a day and then come home to garden, cook dinner, and do her family's laundry. Now, she lives alone in Joplin, relying on home health nurses four days a week to help with basic chores around the house.

Redman, 55, doesn't have the stamina to change her bedsheets or cook herself dinner, unless it's something out of a can.

Only 15 percent of her lung capacity remains. Redman bides her time while waiting for a lung transplant by taking breathing treatments every four hours. She is constantly tethered to an oxygen tank, but she still gets exhausted walking from the bedroom to the couch.
Redman's sister, Donna Crampton, described the last year of her life:
"She said so many times she would give every penny of it for her health," Crampton said.

Redman worked at the plant for 18 months, starting in 1994 and leaving in 1996.

Crampton said Redman was in and out of the hospital "countless times" during the last year of her life, was bedridden for the last two months, and required round-the-clock nursing care for the last three weeks.



"The hardest thing of all to accept is knowing that it could have been avoided," Crampton said. "We're all pretty bitter."



Ken McClain, the attorney who represented the former and current popcorn workers, said Redman was one of the clients who had the most severe health problems at the time of her trial.

"We knew she would need a double lung transplant, but she continued to decline and was never healthy enough to go through the procedure," he said.
There are no government regulations to prevent exposure to diacetyl and
Baltimore Sun
journalist Andrew Schneider revealed a couple of weeks ago that OSHA has refused to consider regulating exposure to the chemical despite recommendations by the agency's scientists.
More popcorn lung articles
here
.
Labels: Diacetyl, Popcorn Lung
---
Go To My Main Page
---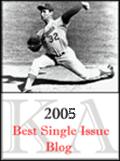 ---
Looking for
Confined Space Safety Information?
Click
Here
---
---
BP Texas City Explosion Stories
2006 Mine Disaster Stories
Popcorn Lung Stories
Speech on Receiving the APHA Lorin Kerr Award
by Jordan Barab, November 9, 2004


---
Acts of God, Acts of Man,"
by Jordan Barab, Working USA


Lies, Partisanship Caused Ergo Standard to Crumble,
by Jordan Barab, Safety + Health, February 2002


A Week of Death,
by Jordan Barab, Hazards, February 5, 2003
March 2003
April 2003
May 2003
June 2003
July 2003
August 2003
September 2003
October 2003
November 2003
December 2003
January 2004
February 2004
March 2004
April 2004
May 2004
June 2004
July 2004
August 2004
September 2004
October 2004
November 2004
December 2004
January 2005
February 2005
March 2005
April 2005
May 2005
June 2005
July 2005
August 2005
September 2005
October 2005
November 2005
December 2005
January 2006
February 2006
March 2006
April 2006
May 2006
June 2006
July 2006
August 2006
September 2006
October 2006
November 2006
December 2006
January 2007
---
---
FINALIST

Koufax Award

For Best Single Issue Blog of 2003 and 2004

---
---