Political and Labor Blogs
AFL-CIO Now
News From The AFL-CIO
Altercation
By the
Nation's
Eric Alterman
Blue Collar Blog
Firefighter, IAFF Member and CWA Staffer Sounds Off
Chris Mooney
The politics of science
Communicate or Die
American Labor Unions and the Internet
Crooks and Liars
Political hypocrisy n The small screen
Daily Kos

A must read for all political junkies
DMI Blog

Politics, Policy and the American Dream
Edwize

The blog of New York's United Federation of Teachers
Effect Measure
A forum for progressive public health discussion
FireDogLake
A Group Political Blog -- Always Something Interesting
GoozNews
Who's Watching Now That The Cameras Have Left?
Gulf Coast Reconstruction Watch
SHOCKED
that there's corporate influence on public health policy?
Impact Analysis
A portal for your adventure in environmental health
Liberal Oasis
On a mission to reclaim the good name of liberals because America was founded on liberal beliefs of freedom and justice for all.
MaxSpeak
Economics deciphered by "Max" Sawicky
Mine Safety Watch
Health and Safety in the Mines
Mother Jones
On Top Of The News
Nathan Newman
Politics, economics and labor issues
Political Animal
Keeping up on Washington Politics by veteran blogger Kevin Drum
The Pump Handle
A water cooler for the public health crowd
rawblogXport
Labor news
Seeing the Forest
...for the trees: A Political Blog
Sirotablog
David Sirota's online magazine of political news & commentary for those who
really
can't get enough politics
Stayin' Alive
Discussion of public health and health care policy, from a public health perspective.
Suburban Guerrilla
Wit, wisdom and politics by a reformed journalist
Talking Points
In-depth politics by Josh Marshall
Tapped
A group blog from the writers of the
American Prospect
Tom Tomorrow
Politics and passion from the cartoonist
Workers Comp Insider
Good and fairly enlighted resource
Working Immigrants
The business of immigrant work: employment, compensation, legal protections, education, mobility, and public policy.
Working Life
By a veteran labor and economics writer Jonathan Tasini
The Yorkshire Ranter
The scene from across the ocean
You Are Worth More
Labor issues in the retail trades
Health and Safety Websites and Resources
Hazards Magazine


Deceit and Denial


eLCOSH (Electronic Library of Safety & Health)


NYCOSH


COSH Network


UCLA-Labor Occupational Safety and Health Program (LOSH)


A Job To Die For


ILO Encyclopaedia of Occupational Health and Safety


Grist Magazine


Drum Major Institute For Public Policy


International Right To Know Campaign


Labor Occupational Health Program (UC Berkeley)


Maquiladora Healthand Safety Support Network


OSHA Worker Page


NIOSH


Canadian Center for Occupational Safety and Health


ACT Workcover (Australia)


Health & Safety Executive (Britain)


Worksafe British Columbia


United Support & Memorial For Workplace Fatalities


US Labor Against the War


LaborNotes


Labor Arts


The Occupational Safety and Health Act of 1970


The Mine Safety and Health Act of 1977



Union Health and Safety Websites
AFL-CIO


United Electrical Workers (UE)


AFSCME


AFSCME DC 37


United Auto Workers


Center to Protect Workers Rights


Communications Workers (CWA)


Laborers


LabourStart


ICEM

---
---
Tuesday, June 06, 2006
PERMALINK Posted 10:17 PM by Jordan


NIOSH, Congress Investigate Popcorn Lung
Andrew Schneider in the Baltimore Sun has
another interesting story
about popcorn lung -- the deadly lung disease caused by exposure to a popcorn butter flavoring called diacetyl.
The The National Institute of Occupational Safety and Health (NIOSH), which has done extensive work on popcorn lung, is greatly expanding its investigation into the potential hazards of the chemical.
The National Institute of Occupational Safety and Health has assigned additional teams of physicians, toxicologists and industrial hygienists to work with the industry and with state and local health departments that have identified workers who might have contracted the disease, bronchiolitis obliterans, which can destroy lungs.

Last week, more than 60 physicians, toxicologists and other medical specialists from a dozen states, Baltimore and NIOSH took part in a conference call to discuss ways they can track and assess the health of workers exposed to the flavoring chemicals.

The call, organized by the Council of State and Territorial Epidemiologists and the California health department, was initiated "because we fear that this disease will be found in workplaces across the country," said Dr. Robert Harrison, chief of California's division of occupational surveillance and president-elect of the national council.
Meanwhile, members of Congress are finally getting involved.
In Washington, investigators from the Democratic side of the House Committee on Education and the Workforce are collecting information on diacetyl, the flavoring industry and the way NIOSH and other agencies are handling worker illness.

"Workers are dying preventable deaths from these flavorings," said Rep. George Miller, a California Democrat and ranking member of the committee. "This is inexcusable, and it must stop."
In April, Schneider
wrote an article
revealing that Scientists at NIOSH and the Occupational Safety and Health Administration wanted to intensify investigations into illness caused by flavorings and issue federal regulations to protect workers. But top officials would rather let the flavoring industry's association -- The Food Extract Manufacturer's Association (FEMA) -- take care of the problem and police itself.
Earlier this week, Schneider reported that:
Interviews with California occupational medicine personnel and e-mail obtained from NIOSH under the Freedom of Information Act indicate that state officials told federal experts they were barred from the investigation because the flavoring industry trade association wanted it that way. The Flavor and Extract Manufacturing Association denied that.
FEMA claims that NIOSH declined to particpate due to lack of resources. NIOSH officials argue, however, that they said that due to resource issues, they would have to partner with CalOSHA. The California health department, meanwhile, says that the companies would not allow its investigators into the plants.
Meanwhile, Dr. David Egilman, a specialist in occupational and internal medicine at Brown University, who has testified in a number of trials resulting from lawsuits filed by workers aganist the flavoring companies has obtained a number of documents that NIOSHA would like to see, but with FEMA is refusing to release, claiming confidentiality.
"It would be unethical not to provide information to government agencies that they need to save lives," Egilman said. "There is too much secrecy shrouding the issue of who knew diacetyl was dangerous and when."
Egilman has
campaigned aggressively
against companies suppressing evidence that their product may harm workers and consumers in an effort to protect sales and shield themselves from liability suits.
Related Stories
More Popcorn Lung stories here.
Labels: Diacetyl, Popcorn Lung
---
Go To My Main Page
---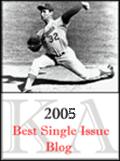 ---
Looking for
Confined Space Safety Information?
Click
Here
---
---
BP Texas City Explosion Stories
2006 Mine Disaster Stories
Popcorn Lung Stories
Speech on Receiving the APHA Lorin Kerr Award
by Jordan Barab, November 9, 2004


---
Acts of God, Acts of Man,"
by Jordan Barab, Working USA


Lies, Partisanship Caused Ergo Standard to Crumble,
by Jordan Barab, Safety + Health, February 2002


A Week of Death,
by Jordan Barab, Hazards, February 5, 2003
March 2003
April 2003
May 2003
June 2003
July 2003
August 2003
September 2003
October 2003
November 2003
December 2003
January 2004
February 2004
March 2004
April 2004
May 2004
June 2004
July 2004
August 2004
September 2004
October 2004
November 2004
December 2004
January 2005
February 2005
March 2005
April 2005
May 2005
June 2005
July 2005
August 2005
September 2005
October 2005
November 2005
December 2005
January 2006
February 2006
March 2006
April 2006
May 2006
June 2006
July 2006
August 2006
September 2006
October 2006
November 2006
December 2006
January 2007
---
---
FINALIST

Koufax Award

For Best Single Issue Blog of 2003 and 2004

---
---