Political and Labor Blogs
AFL-CIO Now
News From The AFL-CIO
Altercation
By the
Nation's
Eric Alterman
Blue Collar Blog
Firefighter, IAFF Member and CWA Staffer Sounds Off
Chris Mooney
The politics of science
Communicate or Die
American Labor Unions and the Internet
Crooks and Liars
Political hypocrisy n The small screen
Daily Kos

A must read for all political junkies
DMI Blog

Politics, Policy and the American Dream
Edwize

The blog of New York's United Federation of Teachers
Effect Measure
A forum for progressive public health discussion
FireDogLake
A Group Political Blog -- Always Something Interesting
GoozNews
Who's Watching Now That The Cameras Have Left?
Gulf Coast Reconstruction Watch
SHOCKED
that there's corporate influence on public health policy?
Impact Analysis
A portal for your adventure in environmental health
Liberal Oasis
On a mission to reclaim the good name of liberals because America was founded on liberal beliefs of freedom and justice for all.
MaxSpeak
Economics deciphered by "Max" Sawicky
Mine Safety Watch
Health and Safety in the Mines
Mother Jones
On Top Of The News
Nathan Newman
Politics, economics and labor issues
Political Animal
Keeping up on Washington Politics by veteran blogger Kevin Drum
The Pump Handle
A water cooler for the public health crowd
rawblogXport
Labor news
Seeing the Forest
...for the trees: A Political Blog
Sirotablog
David Sirota's online magazine of political news & commentary for those who
really
can't get enough politics
Stayin' Alive
Discussion of public health and health care policy, from a public health perspective.
Suburban Guerrilla
Wit, wisdom and politics by a reformed journalist
Talking Points
In-depth politics by Josh Marshall
Tapped
A group blog from the writers of the
American Prospect
Tom Tomorrow
Politics and passion from the cartoonist
Workers Comp Insider
Good and fairly enlighted resource
Working Immigrants
The business of immigrant work: employment, compensation, legal protections, education, mobility, and public policy.
Working Life
By a veteran labor and economics writer Jonathan Tasini
The Yorkshire Ranter
The scene from across the ocean
You Are Worth More
Labor issues in the retail trades
Health and Safety Websites and Resources
Hazards Magazine


Deceit and Denial


eLCOSH (Electronic Library of Safety & Health)


NYCOSH


COSH Network


UCLA-Labor Occupational Safety and Health Program (LOSH)


A Job To Die For


ILO Encyclopaedia of Occupational Health and Safety


Grist Magazine


Drum Major Institute For Public Policy


International Right To Know Campaign


Labor Occupational Health Program (UC Berkeley)


Maquiladora Healthand Safety Support Network


OSHA Worker Page


NIOSH


Canadian Center for Occupational Safety and Health


ACT Workcover (Australia)


Health & Safety Executive (Britain)


Worksafe British Columbia


United Support & Memorial For Workplace Fatalities


US Labor Against the War


LaborNotes


Labor Arts


The Occupational Safety and Health Act of 1970


The Mine Safety and Health Act of 1977



Union Health and Safety Websites
AFL-CIO


United Electrical Workers (UE)


AFSCME


AFSCME DC 37


United Auto Workers


Center to Protect Workers Rights


Communications Workers (CWA)


Laborers


LabourStart


ICEM

---
---
Sunday, September 26, 2004
PERMALINK Posted 9:24 PM by Jordan


Chem Board Blames Deadly West Pharmaceutical Explosion on Dust
The U.S. Chemical Safety and Hazard Investigation Board (CSB) issued its
final report
on the January 26, 2003 explosion at West Pharmaceutical Kinston (NC) Plant that killed six employees. West Pharmaceutical made rubber stoppers and other medical equipment at its plant in Kinston.
The CSB found that the explosion was caused by a combustible polyethylene powder called ACcumist, that had accumulated above a drop ceiling. Some unknown event caused the accumulated dust to loft into the air where it was ignited, causing a huge explosion felt 25 miles away that destroyed the building and burned for days.
Accumist had been applied in a wet, slurry form, called "AC Slabdip," purchased from a company named Crystal, Inc, to rubber sheets to keep them from sticking together. The solution was then dried, using fans, and some of the dust was blown through the air. Although the main room was cleaned constantly, dust accumulated above the drop ceiling. Workers were aware of the dust accumulation above the ceiling, but had not been trained about the explosive properties of the dust.
West claimed that there was no way to know that the dust from the "Slabdip" slurry was explosive because the Crystal "Slabdip" MSDS did not contain warnings or refer users to NFPA 654, which provides guidance for preventing combustible dust explosions. The CSB investigation found, however, that West had in its possession MSDSs from the producer of ACcumist that contained cumbustible dust warnings, and that West had actually supplied the original batch of ACcumist to Crystal, formulated the first batch of Slabdip, and contracted with Crystal to manufacture the slurry. West claims that "Slabdip" and ACcumist are two unrelated products.
The CSB report determined four root causes of the accident at West: the company's inadequate engineering assessment for combustible powders, inadequate consultation with fire safety standards, lack of appropriate review of material safety data sheets (MSDSs), and inadequate communication of dust hazards to workers.
"If the good safety practices described in the National Fire Code and elsewhere had been followed at West, this tragic accident would likely have been avoided," said CSB lead investigator Steve Selk. "We will therefore be recommending that the State of North Carolina make compliance with the dust code mandatory."

***

In addition to recommending that North Carolina's Building Code Council adopt NFPA 654, the report calls on the state Department of Labor to identify the industries at risk for combustible dust explosions and conduct an educational outreach program to help prevent future accidents. The report urges increased training of North Carolina fire and building code officials on combustible dust hazards. It also recommends that West improve its material safety review procedures, revise its project engineering practices, communicate with its workers about combustible dust hazards, and follow safety practices contained in NFPA 654 at all company facilities that use combustible powders.
West CEO Don Morel
stated that the company concluded, after a study of its own, that the explosion was a "result of a combination of unforeseen factors."
CSB investigators, disagree:
"If the good safety practices described in the National Fire Code and elsewhere had been followed at West, this tragic accident would likely have been avoided," said CSB lead investigator Steve Selk. "We will therefore be recommending that the State of North Carolina make compliance with the dust code mandatory."
The CSB is also investigating two other fatal dust explosions, including a 2003 explosion at CTA Enterprises in Corbin, Kentucky that killed seven employees and injured 42. The CSB will spend the next year and a half conducting a comprehensive study of combustible dust hazards and what can be done to prevent them. There is currently no OSHA standard covering combustible dust in industry, with the exception of grain dust. NFPA 654 is a good preventive standard, although other fire codes are not as comprehensive and state enforcement of NFPA 654 is generally weak.
More
here
and
here
.
Labels: Chemical Safety Board
---
Go To My Main Page
---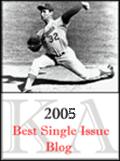 ---
Looking for
Confined Space Safety Information?
Click
Here
---
---
BP Texas City Explosion Stories
2006 Mine Disaster Stories
Popcorn Lung Stories
Speech on Receiving the APHA Lorin Kerr Award
by Jordan Barab, November 9, 2004


---
Acts of God, Acts of Man,"
by Jordan Barab, Working USA


Lies, Partisanship Caused Ergo Standard to Crumble,
by Jordan Barab, Safety + Health, February 2002


A Week of Death,
by Jordan Barab, Hazards, February 5, 2003
March 2003
April 2003
May 2003
June 2003
July 2003
August 2003
September 2003
October 2003
November 2003
December 2003
January 2004
February 2004
March 2004
April 2004
May 2004
June 2004
July 2004
August 2004
September 2004
October 2004
November 2004
December 2004
January 2005
February 2005
March 2005
April 2005
May 2005
June 2005
July 2005
August 2005
September 2005
October 2005
November 2005
December 2005
January 2006
February 2006
March 2006
April 2006
May 2006
June 2006
July 2006
August 2006
September 2006
October 2006
November 2006
December 2006
January 2007
---
---
FINALIST

Koufax Award

For Best Single Issue Blog of 2003 and 2004

---
---