Political and Labor Blogs
AFL-CIO Now
News From The AFL-CIO
Altercation
By the
Nation's
Eric Alterman
Blue Collar Blog
Firefighter, IAFF Member and CWA Staffer Sounds Off
Chris Mooney
The politics of science
Communicate or Die
American Labor Unions and the Internet
Crooks and Liars
Political hypocrisy n The small screen
Daily Kos

A must read for all political junkies
DMI Blog

Politics, Policy and the American Dream
Edwize

The blog of New York's United Federation of Teachers
Effect Measure
A forum for progressive public health discussion
FireDogLake
A Group Political Blog -- Always Something Interesting
GoozNews
Who's Watching Now That The Cameras Have Left?
Gulf Coast Reconstruction Watch
SHOCKED
that there's corporate influence on public health policy?
Impact Analysis
A portal for your adventure in environmental health
Liberal Oasis
On a mission to reclaim the good name of liberals because America was founded on liberal beliefs of freedom and justice for all.
MaxSpeak
Economics deciphered by "Max" Sawicky
Mine Safety Watch
Health and Safety in the Mines
Mother Jones
On Top Of The News
Nathan Newman
Politics, economics and labor issues
Political Animal
Keeping up on Washington Politics by veteran blogger Kevin Drum
The Pump Handle
A water cooler for the public health crowd
rawblogXport
Labor news
Seeing the Forest
...for the trees: A Political Blog
Sirotablog
David Sirota's online magazine of political news & commentary for those who
really
can't get enough politics
Stayin' Alive
Discussion of public health and health care policy, from a public health perspective.
Suburban Guerrilla
Wit, wisdom and politics by a reformed journalist
Talking Points
In-depth politics by Josh Marshall
Tapped
A group blog from the writers of the
American Prospect
Tom Tomorrow
Politics and passion from the cartoonist
Workers Comp Insider
Good and fairly enlighted resource
Working Immigrants
The business of immigrant work: employment, compensation, legal protections, education, mobility, and public policy.
Working Life
By a veteran labor and economics writer Jonathan Tasini
The Yorkshire Ranter
The scene from across the ocean
You Are Worth More
Labor issues in the retail trades
Health and Safety Websites and Resources
Hazards Magazine


Deceit and Denial


eLCOSH (Electronic Library of Safety & Health)


NYCOSH


COSH Network


UCLA-Labor Occupational Safety and Health Program (LOSH)


A Job To Die For


ILO Encyclopaedia of Occupational Health and Safety


Grist Magazine


Drum Major Institute For Public Policy


International Right To Know Campaign


Labor Occupational Health Program (UC Berkeley)


Maquiladora Healthand Safety Support Network


OSHA Worker Page


NIOSH


Canadian Center for Occupational Safety and Health


ACT Workcover (Australia)


Health & Safety Executive (Britain)


Worksafe British Columbia


United Support & Memorial For Workplace Fatalities


US Labor Against the War


LaborNotes


Labor Arts


The Occupational Safety and Health Act of 1970


The Mine Safety and Health Act of 1977



Union Health and Safety Websites
AFL-CIO


United Electrical Workers (UE)


AFSCME


AFSCME DC 37


United Auto Workers


Center to Protect Workers Rights


Communications Workers (CWA)


Laborers


LabourStart


ICEM

---
---
Thursday, September 09, 2004
PERMALINK Posted 11:29 PM by Jordan


House Passes TB Restrictions
The House of Representatives voted today, in an amendment to the Labor Department FY 2005 Appropriations bill to order the Labor Department to
rescind its new overtime rules
that would take away overtime from millions of workers.
That's the good news.
The bad news is that the Labor Appropriations bill also included a "
rider
," introduced by Congressman Roger Wicker (R-MS) that would prohibit OSHA from enforcing fit testing for respirators designed to protect health care workers against tuberculosis.
A little background. Regular
Confined Space
readers may remember (and for those with bad memories, check
here
) that OSHA had not covered health care workers exposed to tuberculosis in the new respirator standard issued in 2000 because they were going to be covered in the new tuberculosis standard. When Bush's OSHA
killed the tuberculosis standard
at the end of 2003, the agency (correctly) decided that health care workers who may be exposed to TB would be covered under the general respirator standard (like every other worker who wears a respirator) and required to have annual respirator fit tests.. The American Hospital Association and the Association of Profesionals in Infection Control (APIC) were aghast that they would be forced to fit test health care workers and appealed to Congressman Wicker for help. Wicker sent a
letter to OSHA
, protesting the respirator requirements. After considering a six-month delay, OSHA finally decided to do the right thing and start enforcing the reqirement on July 1. In a letter to APIC, Assistant Secretary John Henshaw rebuked the association for opposing fit testing when it was already required for hospital workers exposed to ethylene oxide or formaldehyde.
Now Wicker, whose life seems to revolve around making sure that OSHA is not able to protect health care workers against tuberculosis, has succeeded in adding language to the House appropriations bill.
As mentioned above, APIC has been active in urging its members to
call their Congressional representatives
and remind them that:
"Congressman Roger Wicker added an amendment to the Labor-HHS-Education appropriations bill at the Full Committee Mark-Up in July. Mr. Wicker's amendment will keep hospitals from being forced to implement a costly and unnecessary OSHA regulation related to tuberculosis that is not supported by science or the CDC. I would like to ask Rep. ___________ to protect this important provision and to OPPOSE any amendment that may be offered on the Floor to strip the Wicker OSHA TB language from the bill."
In response to APIC's lobbying, SEIU Health and Safety Director Bill Borwegen wrote an "open letter" to APIC members detailing the problems with the Wicker amendment:
Let's look at the facts:

1) Last year TB rates had their smallest decline in years; rates increased in twenty states.

2) Without annual fit testing, respirator face seals will erode over time, respirators will leak, and more healthcare workers will experience TB conversions. Respirator manufacturers recommend annual fit testing for their products to work properly.

3) The APIC leadership is misleading you when they say that the Wicker amendment is supported by CDC. This is not true. The official CDC position has never differed from OSHA's position either verbally or in writing.

4) The official position of the Bush Administration in supporting annual fit testing, was articulated in the December 30, 2003 Federal Register OSHA notice, stating that fit testing is crucial to a proper face seal, and that over time that 5% to 50% of all workers will lose a proper face seal each year if annual fit testing is not performed.

5) As far as the argument that there is "no difference" between a surgical mask vs. a properly fitted N95 respirator, a study conducted by Nelson Laboratories in Salt Lake City last year found that a surgical mask filtered out 61.9%-62.3% of particles in the respirable 0.3 micron range vs. 97.9%-99.7% for a properly fitted N95 respirator.

Many of you may recall the clamor of opposition against the bloodborne pathogens standard in the late 1980s. Many dentists claimed that if they wore gloves, that patients wouldn't see them. Today the opposite is the case, while the CDC reports that since the standard took effect, that hepatitis B cases among health care workers have plummeted from 17,000 a year to 400.
The amendment has not been introduced in the Senate which has not yet considered the Labor Department appropriations bill.
We'll keep you posted.
---
Go To My Main Page
---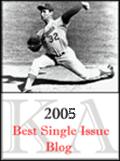 ---
Looking for
Confined Space Safety Information?
Click
Here
---
---
BP Texas City Explosion Stories
2006 Mine Disaster Stories
Popcorn Lung Stories
Speech on Receiving the APHA Lorin Kerr Award
by Jordan Barab, November 9, 2004


---
Acts of God, Acts of Man,"
by Jordan Barab, Working USA


Lies, Partisanship Caused Ergo Standard to Crumble,
by Jordan Barab, Safety + Health, February 2002


A Week of Death,
by Jordan Barab, Hazards, February 5, 2003
March 2003
April 2003
May 2003
June 2003
July 2003
August 2003
September 2003
October 2003
November 2003
December 2003
January 2004
February 2004
March 2004
April 2004
May 2004
June 2004
July 2004
August 2004
September 2004
October 2004
November 2004
December 2004
January 2005
February 2005
March 2005
April 2005
May 2005
June 2005
July 2005
August 2005
September 2005
October 2005
November 2005
December 2005
January 2006
February 2006
March 2006
April 2006
May 2006
June 2006
July 2006
August 2006
September 2006
October 2006
November 2006
December 2006
January 2007
---
---
FINALIST

Koufax Award

For Best Single Issue Blog of 2003 and 2004

---
---