Political and Labor Blogs
AFL-CIO Now
News From The AFL-CIO
Altercation
By the
Nation's
Eric Alterman
Blue Collar Blog
Firefighter, IAFF Member and CWA Staffer Sounds Off
Chris Mooney
The politics of science
Communicate or Die
American Labor Unions and the Internet
Crooks and Liars
Political hypocrisy n The small screen
Daily Kos

A must read for all political junkies
DMI Blog

Politics, Policy and the American Dream
Edwize

The blog of New York's United Federation of Teachers
Effect Measure
A forum for progressive public health discussion
FireDogLake
A Group Political Blog -- Always Something Interesting
GoozNews
Who's Watching Now That The Cameras Have Left?
Gulf Coast Reconstruction Watch
SHOCKED
that there's corporate influence on public health policy?
Impact Analysis
A portal for your adventure in environmental health
Liberal Oasis
On a mission to reclaim the good name of liberals because America was founded on liberal beliefs of freedom and justice for all.
MaxSpeak
Economics deciphered by "Max" Sawicky
Mine Safety Watch
Health and Safety in the Mines
Mother Jones
On Top Of The News
Nathan Newman
Politics, economics and labor issues
Political Animal
Keeping up on Washington Politics by veteran blogger Kevin Drum
The Pump Handle
A water cooler for the public health crowd
rawblogXport
Labor news
Seeing the Forest
...for the trees: A Political Blog
Sirotablog
David Sirota's online magazine of political news & commentary for those who
really
can't get enough politics
Stayin' Alive
Discussion of public health and health care policy, from a public health perspective.
Suburban Guerrilla
Wit, wisdom and politics by a reformed journalist
Talking Points
In-depth politics by Josh Marshall
Tapped
A group blog from the writers of the
American Prospect
Tom Tomorrow
Politics and passion from the cartoonist
Workers Comp Insider
Good and fairly enlighted resource
Working Immigrants
The business of immigrant work: employment, compensation, legal protections, education, mobility, and public policy.
Working Life
By a veteran labor and economics writer Jonathan Tasini
The Yorkshire Ranter
The scene from across the ocean
You Are Worth More
Labor issues in the retail trades
Health and Safety Websites and Resources
Hazards Magazine


Deceit and Denial


eLCOSH (Electronic Library of Safety & Health)


NYCOSH


COSH Network


UCLA-Labor Occupational Safety and Health Program (LOSH)


A Job To Die For


ILO Encyclopaedia of Occupational Health and Safety


Grist Magazine


Drum Major Institute For Public Policy


International Right To Know Campaign


Labor Occupational Health Program (UC Berkeley)


Maquiladora Healthand Safety Support Network


OSHA Worker Page


NIOSH


Canadian Center for Occupational Safety and Health


ACT Workcover (Australia)


Health & Safety Executive (Britain)


Worksafe British Columbia


United Support & Memorial For Workplace Fatalities


US Labor Against the War


LaborNotes


Labor Arts


The Occupational Safety and Health Act of 1970


The Mine Safety and Health Act of 1977



Union Health and Safety Websites
AFL-CIO


United Electrical Workers (UE)


AFSCME


AFSCME DC 37


United Auto Workers


Center to Protect Workers Rights


Communications Workers (CWA)


Laborers


LabourStart


ICEM

---
---
Thursday, November 11, 2004
PERMALINK Posted 10:30 PM by Jordan


Blood On (and near) The Tracks
Despite all the talk about the election being won because of "values voters" or maybe "fear (of terrorism)" voters, no one should make the mistake of forgetting what the Republican campaign was was really about: behind the curtain was the same old corporate attacks on workers, consumers and the environment; corporate America's traditional campaign to increase its profit margins and control over American society. Tens of millions of Americans were manipulated by gay marriage, abortion, fear of terrorists taking over every small town in America -- all for the benefit of Bush's Rangers and Pioneers.
Left wing rantings you say? Sour grapes perhaps? Go back to Russia, or France or wherever people like me belong?
I wonder what Roger Bruening thinks. Or thought. He's dead. So are Gene Hale and her daughter, Lois Koerber. What were they? On the surface they were all "innocent bystanders" killed in railway "accidents." The root cause of their demise, however, is the selling of worker and public safety to the highest bidder by the oh-so-moral Bush administration.
Bruening was killed this past Wednesday
:
Man Killed in Fifth Train Derailment in San Antonio Since May

By THE ASSOCIATED PRESS

SAN ANTONIO, Nov. 10 (AP)-- One man was killed and another injured Wednesday when a train car smashed into a cold-storage warehouse where they were working, city officials said.

The derailment was the fifth in San Antonio since May, all involving Union Pacific Railroad trains. It was the second with fatalities.

Roger Bruening, 39, was killed in an office at Crystal Cold Storage when the train car crashed into the corrugated metal building. Another employee was taken to a hospital with injuries that the authorities said were not life-threatening.

Sgt. Gabe Trevino, a police department spokesman, said, "It appears that the train was backing up to hook onto cars, but it pushed them too far back and they went over the rail stop and into the wall."
Hale and Korber were
killed last June
after two trains collided, releasing a deadly cloud of chlorine gas which also killed the engineer. Hale and Korber weren't killed by the collision, however. Their bodies were found in their home over a mile away, killed by inhaling chlorine gas.
Hey, accidents happen, what are you going to do? Right? Wrong.
Just three days before Bruening's death, a
NY Times investigation
revealed that the Federal Railroad Administration has become so intertwined with the railway industry that rail safety is suffering -- and rail workers and bystanders are dying.
Does this sound
familiar
, OSHA watchers?
Federal inspectors were clearly troubled by what they had been seeing in recent years at Union Pacific. According to their written accounts, track defects repeatedly went uncorrected; passenger trains were sent down defective tracks at speeds more than four times faster than were deemed safe; and engines and rail cars were dispatched in substandard condition.

Soon, the inspectors from the Federal Railroad Administration began talking tough: bigger fines and more of them. But as they began to crack down on the railroad, they found themselves under fire from an unexpected quarter: their boss, the agency's deputy administrator, Betty Monro.



Ms. Monro demanded to know why agency officials had not pursued the less punitive "partnership" approach that she favored

, according to a July 2002 memo from her and the agency's chief at the time, Allan Rutter. A year later, in a senior staff meeting, Ms. Monro rebuked her subordinates as being "overly aggressive" toward Union Pacific, according to one person present.

Ms. Monro, who now runs the railroad agency, was in a position to know just how unhappy her inspectors were making officials at Union Pacific. She and the railroad's chief Washington lobbyist, Mary E. McAuliffe, are longtime friends and have vacationed together on Nantucket several times since Ms. Monro joined the agency in 2001.

The railroad industry and its federal overseer have long been closely intertwined. And increasingly, like many other federal regulators, the Federal Railroad Administration has emphasized partnership as the best, quickest way to identify, and fix, safety problems from the roots up. But the story of its recent oversight of Union Pacific - spelled out in a series of internal memorandums from agency officials and inspectors - raises questions about whether this closeness has actually served to dull the agency's enforcement edge.

Critics of the agency say that it has, over the years, bred an attitude of tolerance toward safety problems, and that fines are too rare, too small and too slowly collected. Those concerns have been underscored recently by a number of major Union Pacific derailments in Texas and California, including one in which the release of poisonous chlorine gas killed a woman and her daughter in their home near San Antonio.
Read on, it gets better.
CSX, one of the largest railroad company's offered the FRA's chief safety official a job potentially worth $324,000 a year while he was visiting CSX headquarter to discuss safety problems.


The industry is a rich source of campaign contributions, mostly to the Republicans, with Union Pacific as the biggest giver. Its corporate political action committee was among the top 10 donors to Republican candidates for this election cycle


The FRA's associate administrator for safety resigned recently after complaining that he felt pressured by superiors to go easier on Union Pacific.


The FRA acknowledges that it levies fines for only about 2 percent of all violations that it finds. The New York Times recently reported that the F.R.A. last year investigated fully just 4 of about 3,000 grade crossing accidents and that the agency had failed to enforce its own rules requiring that railroads promptly report grade crossing fatalities.



So is all of this smiley-face voluntary alliance stuff working? The FRA says yes:
The Federal Railroad Administration began to emphasize its partnership approach in 1995. "

We start with the assumption that railroads and their employees want to promote safety for their own benefit, not just because a law or regulation requires it

," the F.R.A. would later explain.

Supporters of this approach, called the Safety Assurance and Compliance Program, say it has sharply reduced accidents by focusing on big-picture problems, rather than minor rule infractions.
Others, presumably including those killed by the railroads, aren't so sure:
Charles Lewis, who runs the Center for Public Integrity, a nonprofit watchdog group in Washington, said the vacations merely underscored "the level of incestuousness between the railroad industry and the regulator."

And the recent derailments have caused some government officials to question the F.R.A.'s oversight of Union Pacific. After five derailments in five months near San Antonio, Senator Kay Bailey Hutchison, Republican of Texas, asked for a federal investigation into the company's operations in the area. Two of those derailments occurred near a high school; in another case, two engines plunged into a creek, spilling diesel fuel. "People are asking now, 'What's going on?' " said Mayor Edward D. Garza of San Antonio.

In California last month, a Union Pacific train derailed east of Los Angeles, damaging two houses, spilling fuel, cutting off electricity to 100 houses, and forcing the evacuation of 24 homes. A little more than a year earlier, in the same county, a runaway train raced through residential neighborhoods at speeds up to 95 miles per hour before derailing, injuring 13 people and damaging or destroying 8 houses.
Last July, a
NY Times investigation
revealed that Union Pacific and other railroads repeatedly sidestep their own responsibility in grade-crossing fatalities while they blame motorists for deadly accidents. These would be the railroads that, according to FRA politicals, "want to promote safety for their own benefit."
At least someone's getting pissed off. After Bruening's death,
Judge Nelson Wolff of Bexar County was visibly angry at the crash scene, calling it more evidence that a too-close relationship existed between railroads and their federal regulators that compromised safety.

Judge Wolff said he and others were going to Washington next week to meet with the Federal Railroad Administration, as well as Senator Kay Bailey Hutchison of Texas and Representative Charlie Gonzalez of San Antonio.



Asked the message he would deliver, Judge Wolff replied, "Get more inspectors out here, and stop being so damn cozy" with the railroads.
So America, this is the price you paid for keeping yourselves safe from terrorists under your bed and matrimonial homosexuals. Hope you feel better. Just watch out for runaway trains and wandering clouds of chlorine.
---
Go To My Main Page
---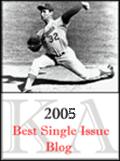 ---
Looking for
Confined Space Safety Information?
Click
Here
---
---
BP Texas City Explosion Stories
2006 Mine Disaster Stories
Popcorn Lung Stories
Speech on Receiving the APHA Lorin Kerr Award
by Jordan Barab, November 9, 2004


---
Acts of God, Acts of Man,"
by Jordan Barab, Working USA


Lies, Partisanship Caused Ergo Standard to Crumble,
by Jordan Barab, Safety + Health, February 2002


A Week of Death,
by Jordan Barab, Hazards, February 5, 2003
March 2003
April 2003
May 2003
June 2003
July 2003
August 2003
September 2003
October 2003
November 2003
December 2003
January 2004
February 2004
March 2004
April 2004
May 2004
June 2004
July 2004
August 2004
September 2004
October 2004
November 2004
December 2004
January 2005
February 2005
March 2005
April 2005
May 2005
June 2005
July 2005
August 2005
September 2005
October 2005
November 2005
December 2005
January 2006
February 2006
March 2006
April 2006
May 2006
June 2006
July 2006
August 2006
September 2006
October 2006
November 2006
December 2006
January 2007
---
---
FINALIST

Koufax Award

For Best Single Issue Blog of 2003 and 2004

---
---