Political and Labor Blogs
AFL-CIO Now
News From The AFL-CIO
Altercation
By the
Nation's
Eric Alterman
Blue Collar Blog
Firefighter, IAFF Member and CWA Staffer Sounds Off
Chris Mooney
The politics of science
Communicate or Die
American Labor Unions and the Internet
Crooks and Liars
Political hypocrisy n The small screen
Daily Kos

A must read for all political junkies
DMI Blog

Politics, Policy and the American Dream
Edwize

The blog of New York's United Federation of Teachers
Effect Measure
A forum for progressive public health discussion
FireDogLake
A Group Political Blog -- Always Something Interesting
GoozNews
Who's Watching Now That The Cameras Have Left?
Gulf Coast Reconstruction Watch
SHOCKED
that there's corporate influence on public health policy?
Impact Analysis
A portal for your adventure in environmental health
Liberal Oasis
On a mission to reclaim the good name of liberals because America was founded on liberal beliefs of freedom and justice for all.
MaxSpeak
Economics deciphered by "Max" Sawicky
Mine Safety Watch
Health and Safety in the Mines
Mother Jones
On Top Of The News
Nathan Newman
Politics, economics and labor issues
Political Animal
Keeping up on Washington Politics by veteran blogger Kevin Drum
The Pump Handle
A water cooler for the public health crowd
rawblogXport
Labor news
Seeing the Forest
...for the trees: A Political Blog
Sirotablog
David Sirota's online magazine of political news & commentary for those who
really
can't get enough politics
Stayin' Alive
Discussion of public health and health care policy, from a public health perspective.
Suburban Guerrilla
Wit, wisdom and politics by a reformed journalist
Talking Points
In-depth politics by Josh Marshall
Tapped
A group blog from the writers of the
American Prospect
Tom Tomorrow
Politics and passion from the cartoonist
Workers Comp Insider
Good and fairly enlighted resource
Working Immigrants
The business of immigrant work: employment, compensation, legal protections, education, mobility, and public policy.
Working Life
By a veteran labor and economics writer Jonathan Tasini
The Yorkshire Ranter
The scene from across the ocean
You Are Worth More
Labor issues in the retail trades
Health and Safety Websites and Resources
Hazards Magazine


Deceit and Denial


eLCOSH (Electronic Library of Safety & Health)


NYCOSH


COSH Network


UCLA-Labor Occupational Safety and Health Program (LOSH)


A Job To Die For


ILO Encyclopaedia of Occupational Health and Safety


Grist Magazine


Drum Major Institute For Public Policy


International Right To Know Campaign


Labor Occupational Health Program (UC Berkeley)


Maquiladora Healthand Safety Support Network


OSHA Worker Page


NIOSH


Canadian Center for Occupational Safety and Health


ACT Workcover (Australia)


Health & Safety Executive (Britain)


Worksafe British Columbia


United Support & Memorial For Workplace Fatalities


US Labor Against the War


LaborNotes


Labor Arts


The Occupational Safety and Health Act of 1970


The Mine Safety and Health Act of 1977



Union Health and Safety Websites
AFL-CIO


United Electrical Workers (UE)


AFSCME


AFSCME DC 37


United Auto Workers


Center to Protect Workers Rights


Communications Workers (CWA)


Laborers


LabourStart


ICEM

---
---
Thursday, December 16, 2004
PERMALINK Posted 10:55 PM by Jordan


WV Iranian Couple Sues After Being Fired From NIOSH
I have a vision of every NIOSH/CDC employee going to work one day wearing a crescent patch or head scarf.....
I
wrote
a few days ago about the Iranian NIOSH employees, Aliakbar and Shahla Afshari, who had been fired for failing a security screening that they didn't even know was happening. Nor were they told the reasons they were fired.
Assisted by the American Civil Liberties Union,
the Afshari's have now filed a lawsuit
asking for back pay, reinstatement or the chance to appeal.
The Afsharis, who are Shiite Muslims, immigrated from Iran 18 years ago to study at West Virginia University. They stayed in the community to build careers and raise three children. Both are lawful permanent residents.

They were fired May 5 because they failed to pass a secret background investigation that was conducted on employees from countries considered a threat to the United States, including Iran, according to a news release from the ACLU in West Virginia.

The Afsharis were told only that they were fired for national security reasons that are classified. They were escorted to the door and told not to return, according to the lawsuit.

The Afsharis, who passed background checks when they were hired in 1996 and in 1997, were not aware of the secret reviews until they were told that they had failed. When their lawyer, Allan Karlin of Morgantown, requested documents used to justify their firing, he was told none existed, according to the lawsuit.

In their lawsuit, they do not question the government's right to conduct background checks. But their lawyers contend that the process has made it impossible for them to defend themselves. The Afsharis believe they were fired because of their national origin and religious beliefs in violation of their First Amendment rights.

"How can we expect the people of the Middle East to take us seriously when we ask them to emulate our democratic principals if we fail to apply those principals to the Afsharis and others like them?" Karlin said Monday.

Mr. Afshari, 52, who has a doctorate in industrial engineering from WVU, built equipment to study the health effects of welding and asphalt fumes and hand and arm vibrations.

Mrs. Afshari, 43, who has a master's degree in occupational health and safety engineering, worked in a laboratory that researched sensitivity to chemicals in the work place, such as allergic reactions to latex gloves.
The Afshari's story has been picked up by a number of bloggers. Revere over at
Effect Measure
wonders where CDC Director Julie Gerberding has been through all of this. CDC is NIOSH's "parent" agency and was named in the Afshari's lawsuit:
We have become so inured to a federal terror bureaucracy run amok we forget to ask, "Why is the head of NIOSH's parent agency, CDC, letting this happen without a peep?" CDC Director Julie Gerberding has an obligation to defend and protect the many dedicated public servants at NIOSH from this kind of Kafkaesque crap. At the very least, she could have publicly insisted on due process.

Diagnosis: Absent spinal column.
Treatment plan: Backbone transplant.
Jonathan Schwarz at
A Tiny Revolution
takes a bit more radical view:
Okay, the US is taking on the tinge of a Kafka-esque nightmare. So what else is new? Well, my eye was caught by this:



Robert C. Creese, a professor of engineering who was Mr. Afshari's doctoral adviser at West Virginia University, described Mr. Afshari as a pacifist who was appalled by the devastation wrought by Iran's decade-long war with Iraq. Mr. Afshari's younger brother was killed by mustard gas in that conflict.

Wow, we've really done right by the Afsharis! First we give Saddam Hussein a green light to invade their country (talking point #5 here), later on we fire them, and in between we help Saddam kill Aliakbar's brother. Hopefully we can draft the Afshari children soon, then make them invade Iran and kill their own grandparents.

No need to thank us, Afshari family, we will say modestly. We're just doin' our job.

(Link via Tom Tomorrow)
And apparently, according to the National Catholic Reporter (no link), things are bad all over:
Iranians in the United States are seeing a surge in firings and FBI interrogations and security clearance denials as anti-terrorist efforts mount and Washington's criticism of the Iranian government sharpens.

Dokhi Fassihian, executive director of the National Iranian American Council, says she is getting up to five reports a day of Iranians complaining of harassment.

Fassihian says Iranians have been singled out since 9/11 but that the current crackdown comes from tightening U.S. security measures as well as increased tension between Washington and Tehran over Iran's nuclear program and alleged ties with terrorist groups. "It appears that, after Afghanistan and Iraq, Iran is a likely target of the next U.S. invasion," says Ali Golchin, an immigration lawyer in San Diego.

***

[Political director for the Iranian American Political Action Committee] Morad Ghorban and Fassihian want balanced anti-terrorist measures that promote homeland security while respecting the rights of industrious and law-abiding persons. Golchin says most Iranians are successful in education, science, business and the professions and deserve the temporary protected status accorded to nationals of many other nations.

They say the treatment of Iranians is out of proportion. "Never, never has there been an instance of terrorism by someone from the Iranian community in America," Fassihian says.
Yeah, tell it to
Japanese-Americans
.
---
Go To My Main Page
---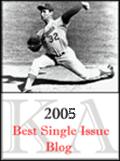 ---
Looking for
Confined Space Safety Information?
Click
Here
---
---
BP Texas City Explosion Stories
2006 Mine Disaster Stories
Popcorn Lung Stories
Speech on Receiving the APHA Lorin Kerr Award
by Jordan Barab, November 9, 2004


---
Acts of God, Acts of Man,"
by Jordan Barab, Working USA


Lies, Partisanship Caused Ergo Standard to Crumble,
by Jordan Barab, Safety + Health, February 2002


A Week of Death,
by Jordan Barab, Hazards, February 5, 2003
March 2003
April 2003
May 2003
June 2003
July 2003
August 2003
September 2003
October 2003
November 2003
December 2003
January 2004
February 2004
March 2004
April 2004
May 2004
June 2004
July 2004
August 2004
September 2004
October 2004
November 2004
December 2004
January 2005
February 2005
March 2005
April 2005
May 2005
June 2005
July 2005
August 2005
September 2005
October 2005
November 2005
December 2005
January 2006
February 2006
March 2006
April 2006
May 2006
June 2006
July 2006
August 2006
September 2006
October 2006
November 2006
December 2006
January 2007
---
---
FINALIST

Koufax Award

For Best Single Issue Blog of 2003 and 2004

---
---