Political and Labor Blogs
AFL-CIO Now
News From The AFL-CIO
Altercation
By the
Nation's
Eric Alterman
Blue Collar Blog
Firefighter, IAFF Member and CWA Staffer Sounds Off
Chris Mooney
The politics of science
Communicate or Die
American Labor Unions and the Internet
Crooks and Liars
Political hypocrisy n The small screen
Daily Kos

A must read for all political junkies
DMI Blog

Politics, Policy and the American Dream
Edwize

The blog of New York's United Federation of Teachers
Effect Measure
A forum for progressive public health discussion
FireDogLake
A Group Political Blog -- Always Something Interesting
GoozNews
Who's Watching Now That The Cameras Have Left?
Gulf Coast Reconstruction Watch
SHOCKED
that there's corporate influence on public health policy?
Impact Analysis
A portal for your adventure in environmental health
Liberal Oasis
On a mission to reclaim the good name of liberals because America was founded on liberal beliefs of freedom and justice for all.
MaxSpeak
Economics deciphered by "Max" Sawicky
Mine Safety Watch
Health and Safety in the Mines
Mother Jones
On Top Of The News
Nathan Newman
Politics, economics and labor issues
Political Animal
Keeping up on Washington Politics by veteran blogger Kevin Drum
The Pump Handle
A water cooler for the public health crowd
rawblogXport
Labor news
Seeing the Forest
...for the trees: A Political Blog
Sirotablog
David Sirota's online magazine of political news & commentary for those who
really
can't get enough politics
Stayin' Alive
Discussion of public health and health care policy, from a public health perspective.
Suburban Guerrilla
Wit, wisdom and politics by a reformed journalist
Talking Points
In-depth politics by Josh Marshall
Tapped
A group blog from the writers of the
American Prospect
Tom Tomorrow
Politics and passion from the cartoonist
Workers Comp Insider
Good and fairly enlighted resource
Working Immigrants
The business of immigrant work: employment, compensation, legal protections, education, mobility, and public policy.
Working Life
By a veteran labor and economics writer Jonathan Tasini
The Yorkshire Ranter
The scene from across the ocean
You Are Worth More
Labor issues in the retail trades
Health and Safety Websites and Resources
Hazards Magazine


Deceit and Denial


eLCOSH (Electronic Library of Safety & Health)


NYCOSH


COSH Network


UCLA-Labor Occupational Safety and Health Program (LOSH)


A Job To Die For


ILO Encyclopaedia of Occupational Health and Safety


Grist Magazine


Drum Major Institute For Public Policy


International Right To Know Campaign


Labor Occupational Health Program (UC Berkeley)


Maquiladora Healthand Safety Support Network


OSHA Worker Page


NIOSH


Canadian Center for Occupational Safety and Health


ACT Workcover (Australia)


Health & Safety Executive (Britain)


Worksafe British Columbia


United Support & Memorial For Workplace Fatalities


US Labor Against the War


LaborNotes


Labor Arts


The Occupational Safety and Health Act of 1970


The Mine Safety and Health Act of 1977



Union Health and Safety Websites
AFL-CIO


United Electrical Workers (UE)


AFSCME


AFSCME DC 37


United Auto Workers


Center to Protect Workers Rights


Communications Workers (CWA)


Laborers


LabourStart


ICEM

---
---
Sunday, January 22, 2006
PERMALINK Posted 12:12 AM by Jordan


The Story Behind The Latest Mine Deaths: Bush Regulations To Blame?
As usual, the Charleston Gazette's Ken Ward -- a one man truth squad -- has the
inside story
of the mine fire that killed two West Virginia miners --
Don I. Bragg
, 33, of Accoville, and
Ellery "Elvis" Hatfield
, 47.
I've already written about the Bush administration's
withdrawal of a regulation that would have required underground coal mines to use improved flame-resistant materials
on the type of conveyor belts that caused the fire in the Aracoma No. 1 mine. Ward reports today of
another Bush era regulation that may have helped underground coal-mine fires spread. The rule, adopted by MSHA with strong support of the mine industry, allowed mines to use the conveyor belt --the same area where the fire broke out -- to draw fresh air to the working face where coal is actually mined.
This arrangement, which had previously been illegal, could help carry flames and deadly gases directly to the miners' work area, or to vital evacuation routes.
Davit McAteer, who headed OSHA during the Clinton administration had resisted this change, as had the Mineworkers union, but MSHA ignored these concerns.
Mines are complicated things, with elaborate ventilation systems and numerious passageways.
Entries are used for various purposes: Some for tracks that run vehicles in and out of the mine, others for fresh-air intakes, for bad-air returns or for conveyor belts that haul coal to the surface.

When Congress wrote the 1969 federal Coal Mine Health and Safety Act, lawmakers specifically stated that "belt entries" and "intake air courses" must be separate.

In its report on the legislation, the Senate said, "The objective of the section is to reduce high air velocities ... in belt haulage-ways where the coal is transported because such velocities fan and propagate mine fines, many of which originate along the haulage-ways.

"Rapid intake air currents also carry products of the fire to the working places quickly before the men know of the fire and lessen their time for escape," the Senate report said. "If they use the return air-courses to escape, the air coursed through may contain these products and quickly overtake them."
(Read this
informative essay
that appeared in
Daily Kos
by someone who works in the mine industry for an idea of how mines work.)
Despite MSHA's initial denials, the Aracoma mine had obtained MSHA approval for using the conveyor belt to draw fresh air into the mine.
As usual, the motivation behind MSHA's action to make it easier to get approval for these changes was based on the coal industry's desire to cut costs. The coal industry felt the the original process of petitioning the agency for such changes in mine design was to burdensome. MSHA proposed such a change in 1988, but it was so controversial that it didn't go anywhere until...
it was revived in January 2003 by Dave Lauriski, a longtime coal industry executive appointed by President Bush to run MSHA.

When Lauriski proposed the change, MSHA officials argued that they were going along with recommendations from the agency's earlier review and the advisory committee report.

In public comments on the proposal, UMW safety officer James Lamont argued that MSHA ignored contrary advice from the National Institute for Occupational Safety and Health. Lamont noted that NIOSH officials previously expressed concern that using belt entries as air intakes would push coal dust toward workers at the mine face.

Also, Lamont cited previous NIOSH comments that, "the practice of ventilating with belt air at any velocity is unsafe and unhealthy." NIOSH also warned that "the use of high velocities would increase fire and explosion hazards from coal dust."

Among those who commented in favor of the MSHA rule change was Kevin Tuttle, manager of health, safety and training for the Deer Creek Mine,

owned by Lauriski's former company, Energy West Mining.



In its comments, the National Mining Association said the rule, "once finalized and implemented, will reduce the administrative and paperwork burdens on both the industry and agency while enhancing the safety and health for miners where belt air ventilation is utilized."



Dennis O'Dell, the UMW's national safety director, said Friday the move toward using belt entries as air intakes is driven by the need for coal companies to more quickly develop mining sections for longwall machines, like the one used at the Aracoma Mine. If operators cannot use the belt entry to suck fresh air into the mine, they have to build another entry. That takes time and money.



"[The Aracoma fire] is exactly why you don't want to do this," O'Dell said. "The fire and the gases and the carbon monoxide go right to where the workers are."

Joe Main, then the UMW's top safety official, noted during the comment period that NIOSH also had said, "Belt-air usage represents the least expensive method of increasing ventilation to the face — not the best for worker health and safety."

An old story -- regulated industry pressues Bush administration to relax "costly" and "burdensome" workplace safety and health rules. The only thing new here is that the truth is coming out before the workers have been laid to rest.
More
2006 Mine Disaster Stories
---
Go To My Main Page
---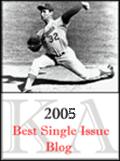 ---
Looking for
Confined Space Safety Information?
Click
Here
---
---
BP Texas City Explosion Stories
2006 Mine Disaster Stories
Popcorn Lung Stories
Speech on Receiving the APHA Lorin Kerr Award
by Jordan Barab, November 9, 2004


---
Acts of God, Acts of Man,"
by Jordan Barab, Working USA


Lies, Partisanship Caused Ergo Standard to Crumble,
by Jordan Barab, Safety + Health, February 2002


A Week of Death,
by Jordan Barab, Hazards, February 5, 2003
March 2003
April 2003
May 2003
June 2003
July 2003
August 2003
September 2003
October 2003
November 2003
December 2003
January 2004
February 2004
March 2004
April 2004
May 2004
June 2004
July 2004
August 2004
September 2004
October 2004
November 2004
December 2004
January 2005
February 2005
March 2005
April 2005
May 2005
June 2005
July 2005
August 2005
September 2005
October 2005
November 2005
December 2005
January 2006
February 2006
March 2006
April 2006
May 2006
June 2006
July 2006
August 2006
September 2006
October 2006
November 2006
December 2006
January 2007
---
---
FINALIST

Koufax Award

For Best Single Issue Blog of 2003 and 2004

---
---