Political and Labor Blogs
AFL-CIO Now
News From The AFL-CIO
Altercation
By the
Nation's
Eric Alterman
Blue Collar Blog
Firefighter, IAFF Member and CWA Staffer Sounds Off
Chris Mooney
The politics of science
Communicate or Die
American Labor Unions and the Internet
Crooks and Liars
Political hypocrisy n The small screen
Daily Kos

A must read for all political junkies
DMI Blog

Politics, Policy and the American Dream
Edwize

The blog of New York's United Federation of Teachers
Effect Measure
A forum for progressive public health discussion
FireDogLake
A Group Political Blog -- Always Something Interesting
GoozNews
Who's Watching Now That The Cameras Have Left?
Gulf Coast Reconstruction Watch
SHOCKED
that there's corporate influence on public health policy?
Impact Analysis
A portal for your adventure in environmental health
Liberal Oasis
On a mission to reclaim the good name of liberals because America was founded on liberal beliefs of freedom and justice for all.
MaxSpeak
Economics deciphered by "Max" Sawicky
Mine Safety Watch
Health and Safety in the Mines
Mother Jones
On Top Of The News
Nathan Newman
Politics, economics and labor issues
Political Animal
Keeping up on Washington Politics by veteran blogger Kevin Drum
The Pump Handle
A water cooler for the public health crowd
rawblogXport
Labor news
Seeing the Forest
...for the trees: A Political Blog
Sirotablog
David Sirota's online magazine of political news & commentary for those who
really
can't get enough politics
Stayin' Alive
Discussion of public health and health care policy, from a public health perspective.
Suburban Guerrilla
Wit, wisdom and politics by a reformed journalist
Talking Points
In-depth politics by Josh Marshall
Tapped
A group blog from the writers of the
American Prospect
Tom Tomorrow
Politics and passion from the cartoonist
Workers Comp Insider
Good and fairly enlighted resource
Working Immigrants
The business of immigrant work: employment, compensation, legal protections, education, mobility, and public policy.
Working Life
By a veteran labor and economics writer Jonathan Tasini
The Yorkshire Ranter
The scene from across the ocean
You Are Worth More
Labor issues in the retail trades
Health and Safety Websites and Resources
Hazards Magazine


Deceit and Denial


eLCOSH (Electronic Library of Safety & Health)


NYCOSH


COSH Network


UCLA-Labor Occupational Safety and Health Program (LOSH)


A Job To Die For


ILO Encyclopaedia of Occupational Health and Safety


Grist Magazine


Drum Major Institute For Public Policy


International Right To Know Campaign


Labor Occupational Health Program (UC Berkeley)


Maquiladora Healthand Safety Support Network


OSHA Worker Page


NIOSH


Canadian Center for Occupational Safety and Health


ACT Workcover (Australia)


Health & Safety Executive (Britain)


Worksafe British Columbia


United Support & Memorial For Workplace Fatalities


US Labor Against the War


LaborNotes


Labor Arts


The Occupational Safety and Health Act of 1970


The Mine Safety and Health Act of 1977



Union Health and Safety Websites
AFL-CIO


United Electrical Workers (UE)


AFSCME


AFSCME DC 37


United Auto Workers


Center to Protect Workers Rights


Communications Workers (CWA)


Laborers


LabourStart


ICEM

---
---
Friday, January 20, 2006
PERMALINK Posted 11:54 PM by Jordan


Yet Another Mine Disaster?
It's hard to know what to say about yet another incident in West Virginia's mines. More than 20 miners were killed last year in the United States, without anyone really noticiing. Yet after the Sago disaster, the media has become hypersensitive to the issue and has woken up to the farce that our workplace safety agencies have become. Or at least to the farce MSHA has become; OSHA is somehow escaping scrutiny -- but more on that later.
At this point, two miners are still missing after a fire broke out at the Aracoma Alma No. 1 Mine in Melville, West Virginia. The mine is operated by Aracoma Coal Co., a subsidiary of Richmond, Va.-based Massey Energy Co. Officials were optimistic about the miners' survival because there is clean air in several sections of the mine, although it's been so long that hopes are starting to fade. Like the Sago mine, Alma No. 1
had its safety problems:
During its last complete inspection by MSHA, from October through December, the mine was cited for 28 violations. They included seven violations concerning the mine's ventilation plan and three concerning accumulation of combustible materials, according to MSHA data.

In 2004, the mine's nonfatal accident rate was significantly better than the national average. But in 2005, the number of accidents rose, and its rate was higher than the national average, according to MSHA records. In 2005, the mine's nonfatal accident rate was 9.01 injuries per 200,000 hours worked, compared to the national average of 6.39 for similar mines, according to MSHA.

In 2004, the operation paid $17,500 in fines assessed by MSHA for mine safety violations. Last year, the operation was fined $28,268. So far, it has paid nearly $13,000 of those fines. Other assessments have been challenged or still are subject to appeal by the company
More than a dozen of the citations since June were related to
inadequate firefighting equipmen
t, MSHA records show.Meanwhile,
blogger Will Bunch
already has the goods on the mine's owner, Massey Energy Co, and how this incident and the Sago disaster have awakened us to what's going on behind the scenes of this administration. Bunch notes that the fines are pittifully small, and the company hasn't even paid most of those yet:
It's not like the owners of the Aracoma Mine don't have the money. It is a subsidiary of Massey Energy Corp., the nation's fourth-largest coal company -- and the largest when it came to raising money for the election and re-election of George W. Bush.

One of the most successful of the Bush Pioneers -- donors, like Jack Abramoff, for example, who raised more than $100,000 for the president's campaign -- is a fellow named James W. "Buck" Harless. And Harless, according to the Boston Globe, is...

a major Bush fund-raiser --[who] would get hundreds of millions of dollars in loan guarantees for a coal gasification plant. [His grandson] served on President Bush's energy transition team, a precursor to Vice President Dick Cheney's Energy Task Force, which developed the critical blueprint for the energy package on Capitol Hill.

In 2000, Harless reportedly raised $275,000 for the Bush campaign and gave another $100,000 to his inaugural fund. He and another West Virginia were invited to a invitation-only briefing on the new president's energy policy. Shortly thereafter, Harless was named a director of Massey Energy.

Massey had actually been involved in quite a pickle with the federal government when Bush took the oath of office. A Massey subsidiary was on the hook for a 2000 coal slurry spill in Kentucky that dumped an estimated 306 million gallons of toxic sludge down 100 miles of waterways -- called by one EPA official the worst environmental disaster in the history of the eastern United States.
That would be the story of whistleblower Jack Spadaro, fired for blowing the whistle on a coverup of the disaster -- who I've written about
here
and
here
. Longer stories about Spadaro's fight can be found at
Salon
(which requires you to watch a short ad to read it) and in the
Washington Monthly
last year.
And once again within only a couple of weeks I go to bed wondering if I'll wake to good news or bad news from West Virginia.
More
2006 Mine Disaster Stories
Labels: Coal Mining
---
Go To My Main Page
---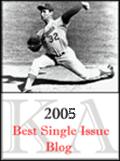 ---
Looking for
Confined Space Safety Information?
Click
Here
---
---
BP Texas City Explosion Stories
2006 Mine Disaster Stories
Popcorn Lung Stories
Speech on Receiving the APHA Lorin Kerr Award
by Jordan Barab, November 9, 2004


---
Acts of God, Acts of Man,"
by Jordan Barab, Working USA


Lies, Partisanship Caused Ergo Standard to Crumble,
by Jordan Barab, Safety + Health, February 2002


A Week of Death,
by Jordan Barab, Hazards, February 5, 2003
March 2003
April 2003
May 2003
June 2003
July 2003
August 2003
September 2003
October 2003
November 2003
December 2003
January 2004
February 2004
March 2004
April 2004
May 2004
June 2004
July 2004
August 2004
September 2004
October 2004
November 2004
December 2004
January 2005
February 2005
March 2005
April 2005
May 2005
June 2005
July 2005
August 2005
September 2005
October 2005
November 2005
December 2005
January 2006
February 2006
March 2006
April 2006
May 2006
June 2006
July 2006
August 2006
September 2006
October 2006
November 2006
December 2006
January 2007
---
---
FINALIST

Koufax Award

For Best Single Issue Blog of 2003 and 2004

---
---