OSHA Grants: Bad News for Labor
One of OSHA's most lasting successes over the years has been its worker training grant program. Started by Assistant Secretary of Labor for OSHA, Eula Bingham in the late 1970's, the grant program, now known as the Susan Harwood Grant Program, has resulted in training programs benefiting tens of thousands of workers.
Although the program was significantly reduced during the Reagan-Bush I years, it began to regain its former size and significance during the Clinton era, rising to over $11 million in FY 2001. The 5-Year New Directions grants were reduced during times of low funding to one to two year grants. They were again extended into 5 Year grants in programs announced in FY 2000 and again in early FY 2001, by Assistant Secretary Charles Jeffress, giving grantees time to build a program that could plant some lasting roots.
One of the first acts of the Bush II administration was to rescind the last round of grants issued by the Clinton Administration only days before they were to take effect. They then tried to cut off the first round of 5-year grants after the first year. Democrats in the Senate, along with Republican Arlen Specter (PA), directed OSHA to refund the program.
Bush's first OSHA budget proposed eliminating the Susan Harwood Grant program and reducing OSHA's grant budget from $11 million to $4 million. The goal was to rely more on internet and other forms of electronic training rather than "inefficient" classroom training that had the disadvantage of being done during work time (ignoring the fact that OSHA standard require training to be done on worktime.)
Somehow they tried to sell the program as part of their Hispanic outreach program, conjuring up visions of tired Hispanic workers dragging home to their trailer parks from a 10 hour day cutting chickens in the poultry plant, making dinner, helping the kids with homework, and then relaxing in front of their high-speed internet connections for a bit of health and safety training.
Failing to pass the laugh test, the Senate once again ordered OSHA to fund the entire program, including subsequent years of the 5-Year grant program. Late last month, OSHA
announced its new round of grants
. In addition to refunding the 5-year program, OSHA announced 50 new grants. But this round has a slightly new twist. Throughout the almost 25 years of OSHA worker training grants, through Democratic and Republican administrations, there has been a tradition of even-handedness between business associations and unions. No longer. The only promise Boy George has managed to keep over the past few years is his promise to "Change the tone" in Washington -- seemingly for the worse:
Out of the 50 new grants that OSHA announced, only 4 (or 8%) go to unions or labor-management coalitions, while 14 (or 28%) go to businesses or business associations.
Compare this with
FY 2000
, the year before Bush II took office. Labor had 31% of the grants, while business had 37%. (Universities had 14% of the grants in FY 2000 and 52% this year.)*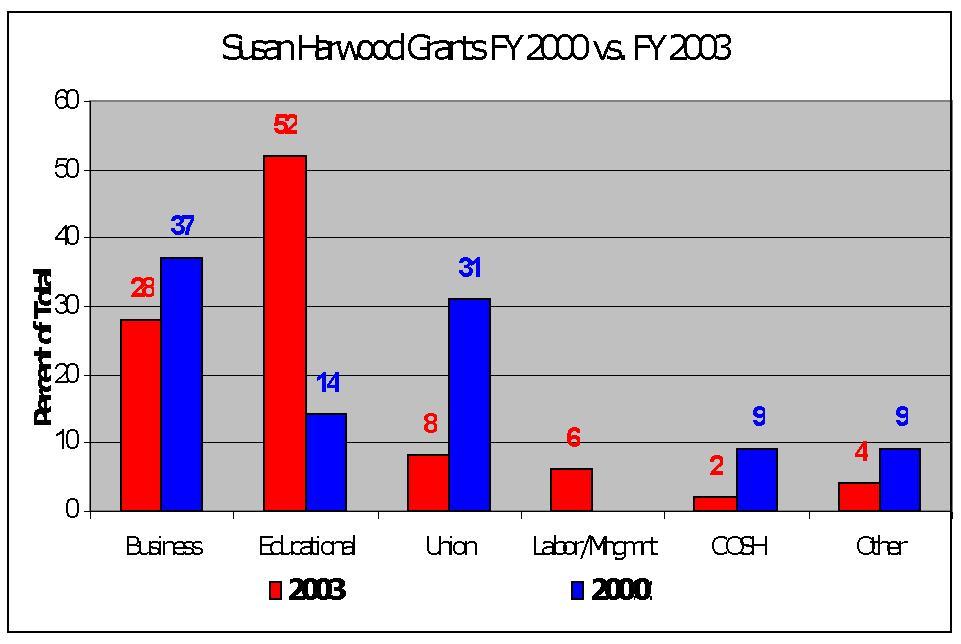 I participated in the grant process during the two rounds of Grants in FY 2000 and 2001. We bent over backward to maintain some balance between labor and businesses.
This almost makes me feel like that was kind of stupid.
*Note: I have no way of knowing how many unions actually applied for grants this year, nor did I compare the amount of money granted to each group.