Political and Labor Blogs
AFL-CIO Now
News From The AFL-CIO
Altercation
By the
Nation's
Eric Alterman
Blue Collar Blog
Firefighter, IAFF Member and CWA Staffer Sounds Off
Chris Mooney
The politics of science
Communicate or Die
American Labor Unions and the Internet
Crooks and Liars
Political hypocrisy n The small screen
Daily Kos

A must read for all political junkies
DMI Blog

Politics, Policy and the American Dream
Edwize

The blog of New York's United Federation of Teachers
Effect Measure
A forum for progressive public health discussion
FireDogLake
A Group Political Blog -- Always Something Interesting
GoozNews
Who's Watching Now That The Cameras Have Left?
Gulf Coast Reconstruction Watch
SHOCKED
that there's corporate influence on public health policy?
Impact Analysis
A portal for your adventure in environmental health
Liberal Oasis
On a mission to reclaim the good name of liberals because America was founded on liberal beliefs of freedom and justice for all.
MaxSpeak
Economics deciphered by "Max" Sawicky
Mine Safety Watch
Health and Safety in the Mines
Mother Jones
On Top Of The News
Nathan Newman
Politics, economics and labor issues
Political Animal
Keeping up on Washington Politics by veteran blogger Kevin Drum
The Pump Handle
A water cooler for the public health crowd
rawblogXport
Labor news
Seeing the Forest
...for the trees: A Political Blog
Sirotablog
David Sirota's online magazine of political news & commentary for those who
really
can't get enough politics
Stayin' Alive
Discussion of public health and health care policy, from a public health perspective.
Suburban Guerrilla
Wit, wisdom and politics by a reformed journalist
Talking Points
In-depth politics by Josh Marshall
Tapped
A group blog from the writers of the
American Prospect
Tom Tomorrow
Politics and passion from the cartoonist
Workers Comp Insider
Good and fairly enlighted resource
Working Immigrants
The business of immigrant work: employment, compensation, legal protections, education, mobility, and public policy.
Working Life
By a veteran labor and economics writer Jonathan Tasini
The Yorkshire Ranter
The scene from across the ocean
You Are Worth More
Labor issues in the retail trades
Health and Safety Websites and Resources
Hazards Magazine


Deceit and Denial


eLCOSH (Electronic Library of Safety & Health)


NYCOSH


COSH Network


UCLA-Labor Occupational Safety and Health Program (LOSH)


A Job To Die For


ILO Encyclopaedia of Occupational Health and Safety


Grist Magazine


Drum Major Institute For Public Policy


International Right To Know Campaign


Labor Occupational Health Program (UC Berkeley)


Maquiladora Healthand Safety Support Network


OSHA Worker Page


NIOSH


Canadian Center for Occupational Safety and Health


ACT Workcover (Australia)


Health & Safety Executive (Britain)


Worksafe British Columbia


United Support & Memorial For Workplace Fatalities


US Labor Against the War


LaborNotes


Labor Arts


The Occupational Safety and Health Act of 1970


The Mine Safety and Health Act of 1977



Union Health and Safety Websites
AFL-CIO


United Electrical Workers (UE)


AFSCME


AFSCME DC 37


United Auto Workers


Center to Protect Workers Rights


Communications Workers (CWA)


Laborers


LabourStart


ICEM

---
---
Monday, November 17, 2003
PERMALINK Posted 9:16 PM by Jordan


Is Eliot Spitzer the Only Activist Having Fun These Days?
Everyone complains to me that this Blog is too depresssing. I agree. Here's some good stuff.
If you haven't heard of New York state Attorney General Eliot Spitzer, start paying attention. You'll be hearing more about him in the future (When't the next election for Governor of New York?)
I first met him testified in support of a particularly controversial section of the federal ergonomics standard -- work removal protection. Opponents claimed that the OSHA proposal, which would have required pay to people unable to work due to ergonomcs injuries, was a violation of the OSH Act which prohibits OSHA from affecting state workers compensation practices. Spitzer not only came down to Washington to testify at the OSHA hearing, but organized a whole group of state Attorneys General to sign a statement supporting the ergonomics standard.
He has been regularly featured for going after Wall St. firms who violate the law, but are not prosecuted by the Securities and Exchange Commission (SEC). He has an
op-ed
in the
New York Times
today that talks about the failure of the Bush Administration's regulatory enforcement and the need for the states to pick up the slack.
Much of the piece deals with weak SEC enforcement, but he also addresses the administration's environmental failures:
With two decisions in the last two weeks, the Bush administration has sent its clearest message yet that it values corporate interests over the interests of average Americans....It is not surprising that the commission would sanction a deal that ignores consumers and is unsatisfactory to state regulators. Just look at the Bush administration's decision to abandon pending enforcement actions and investigations of Clear Air Act violations.

Even supporters of the Bush administration's environmental policy were stunned when the E.P.A. announced that it was closing pending investigations into more than 100 power plants and factories for violating the Clean Air Act — and dropping 13 cases in which it had already made a determination that the law had been violated.

Regulators may disagree about what our environmental laws should look like. But we should all be able to agree that companies that violated then-existing pollution laws should be punished.

Those environmental laws were enacted to protect a public that was concerned about its health and safety. By letting companies that violated the Clean Air Act off the hook, the Environmental Protection Agency has effectively issued an industry-wide pardon. This will only embolden polluters to continue practices that harm the environment.

My office had worked with the agency to investigate polluters, and will continue to do so when possible. But today a bipartisan coalition of 14 state attorneys general will sue the agency to halt the implementation of weaker standards. In addition, we will continue to press the lawsuits that have been filed. We have also requested the E.P.A. records for the cases that have been dropped, and will file lawsuits if they are warranted by the facts.

And
as promised
:
A coalition of 14 states plus the District of Columbia filed papers in federal court today in an effort to stop the Environmental Protection Agency from introducing a new rule that the states say will seriously weaken the provisions of the Clean Air Act and send more pollution into the atmosphere.


***

The 14 states states that sued today want the new rule to be put on hold while the case is brought to trial to determine whether or not the regulations are legal. The new rule "violates the plain language of the Clean Air Act, conflicts with Congressional intent, and contradicts longstanding court rulings," the states said in a statement today.

"It is a sad day in America when a coalition of states must go to federal court to defend the Clean Air Act against the misguided actions of the federal agency created to protect the environment," the New York attorney general, Eliot Spitzer, said. "But in this matter, the E.P.A. is standing with polluters instead of with the people it is supposed to protect, and the states have no choice but to take this action."
---
Go To My Main Page
---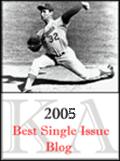 ---
Looking for
Confined Space Safety Information?
Click
Here
---
---
BP Texas City Explosion Stories
2006 Mine Disaster Stories
Popcorn Lung Stories
Speech on Receiving the APHA Lorin Kerr Award
by Jordan Barab, November 9, 2004


---
Acts of God, Acts of Man,"
by Jordan Barab, Working USA


Lies, Partisanship Caused Ergo Standard to Crumble,
by Jordan Barab, Safety + Health, February 2002


A Week of Death,
by Jordan Barab, Hazards, February 5, 2003
March 2003
April 2003
May 2003
June 2003
July 2003
August 2003
September 2003
October 2003
November 2003
December 2003
January 2004
February 2004
March 2004
April 2004
May 2004
June 2004
July 2004
August 2004
September 2004
October 2004
November 2004
December 2004
January 2005
February 2005
March 2005
April 2005
May 2005
June 2005
July 2005
August 2005
September 2005
October 2005
November 2005
December 2005
January 2006
February 2006
March 2006
April 2006
May 2006
June 2006
July 2006
August 2006
September 2006
October 2006
November 2006
December 2006
January 2007
---
---
FINALIST

Koufax Award

For Best Single Issue Blog of 2003 and 2004

---
---