Political and Labor Blogs
AFL-CIO Now
News From The AFL-CIO
Altercation
By the
Nation's
Eric Alterman
Blue Collar Blog
Firefighter, IAFF Member and CWA Staffer Sounds Off
Chris Mooney
The politics of science
Communicate or Die
American Labor Unions and the Internet
Crooks and Liars
Political hypocrisy n The small screen
Daily Kos

A must read for all political junkies
DMI Blog

Politics, Policy and the American Dream
Edwize

The blog of New York's United Federation of Teachers
Effect Measure
A forum for progressive public health discussion
FireDogLake
A Group Political Blog -- Always Something Interesting
GoozNews
Who's Watching Now That The Cameras Have Left?
Gulf Coast Reconstruction Watch
SHOCKED
that there's corporate influence on public health policy?
Impact Analysis
A portal for your adventure in environmental health
Liberal Oasis
On a mission to reclaim the good name of liberals because America was founded on liberal beliefs of freedom and justice for all.
MaxSpeak
Economics deciphered by "Max" Sawicky
Mine Safety Watch
Health and Safety in the Mines
Mother Jones
On Top Of The News
Nathan Newman
Politics, economics and labor issues
Political Animal
Keeping up on Washington Politics by veteran blogger Kevin Drum
The Pump Handle
A water cooler for the public health crowd
rawblogXport
Labor news
Seeing the Forest
...for the trees: A Political Blog
Sirotablog
David Sirota's online magazine of political news & commentary for those who
really
can't get enough politics
Stayin' Alive
Discussion of public health and health care policy, from a public health perspective.
Suburban Guerrilla
Wit, wisdom and politics by a reformed journalist
Talking Points
In-depth politics by Josh Marshall
Tapped
A group blog from the writers of the
American Prospect
Tom Tomorrow
Politics and passion from the cartoonist
Workers Comp Insider
Good and fairly enlighted resource
Working Immigrants
The business of immigrant work: employment, compensation, legal protections, education, mobility, and public policy.
Working Life
By a veteran labor and economics writer Jonathan Tasini
The Yorkshire Ranter
The scene from across the ocean
You Are Worth More
Labor issues in the retail trades
Health and Safety Websites and Resources
Hazards Magazine


Deceit and Denial


eLCOSH (Electronic Library of Safety & Health)


NYCOSH


COSH Network


UCLA-Labor Occupational Safety and Health Program (LOSH)


A Job To Die For


ILO Encyclopaedia of Occupational Health and Safety


Grist Magazine


Drum Major Institute For Public Policy


International Right To Know Campaign


Labor Occupational Health Program (UC Berkeley)


Maquiladora Healthand Safety Support Network


OSHA Worker Page


NIOSH


Canadian Center for Occupational Safety and Health


ACT Workcover (Australia)


Health & Safety Executive (Britain)


Worksafe British Columbia


United Support & Memorial For Workplace Fatalities


US Labor Against the War


LaborNotes


Labor Arts


The Occupational Safety and Health Act of 1970


The Mine Safety and Health Act of 1977



Union Health and Safety Websites
AFL-CIO


United Electrical Workers (UE)


AFSCME


AFSCME DC 37


United Auto Workers


Center to Protect Workers Rights


Communications Workers (CWA)


Laborers


LabourStart


ICEM

---
---
Sunday, October 02, 2005
PERMALINK Posted 11:01 PM by Jordan


Grace's Deadly Asbestos Tentacles Continue To Reach Across The Country
Slowly, but surely the full story of breadth and depth of W.R. Grace's asbestos crimes are being told.
The
Oakland Tribune
has an article about worker exposure to asbestos-containing vermiculite at the Trenton (Hamilton), New Jersey W.R. Grace Site. I reported on this several times before (see below).
Federal EPA has indicted seven current and former executives of W.R. Grace in Montana for attempting to hide the fact that asbestos was present in vermiculite products in the company's Libby, Montana plant. But the problem didn't stay in Montana. The vermiculite was transported for processing to around 30 facilities across the country.
Tests conducted by Grace itself inside the plant in the late 1970s showed airborne asbestos averaging 45 times today's workplace standards — and three times higher than those inside a similar plant in the Southern California city of Santa Ana — with some concentrations 100 times higher.

By 1983, federal scientists believed airborne asbestos in the plant was lowered to today's standards, and the plant stopped operating in 1993.

Many scientists believe the current occupational standard still imperils workers, particularly for the kind of asbestos found in Libby vermiculite.

Some scientists argue that Libby asbestos poses 100 times the risk of ordinary asbestos for triggering mesothelioma, a rare and almost invariably lethal cancer of the lung lining.

That risk more than doubles for smokers.

"If you're a former worker, the best thing you could do right now is to alert your physician that you were exposed," said James Durant, an environmental health scientist at the federal toxics agency who led the Newark study.



Asbestos concentrations were high enough at the Newark plant that families of workers could have been exposed to unhealthy amounts by doing the laundry.
The
Tribune
articles also note that:
The agency's recent reports on 18 of the largest W.R. Grace plants could prove politically difficult for federal lawmakers as Congress considers removing asbestos lawsuits from the courts and creating a massive trust fund for asbestos victims. If plant workers became ill, they would have to compete for compensation on less-certain terms than traditional asbestos workers.

Symptoms of asbestos-related disease can take 25 or more years to emerge, so workers could begin showing respiratory problems this decade or later.
There are also concerns about contamination of the plant's neighbors which are currently being investigated by the
Agency for Toxic Substances and Disease Registry
:
The toxics agency is seeking former Grace workers and immediate neighbors from the 1960s through the early 1980s to warn them and learn more about the plants' operations. At one Grace site in Minneapolis, for example, children were allowed to play in piles of vermiculite, and residents were encouraged to take the glittering material home for use in their gardens or attics.

Federal officials don't know whether that happened at Newark. The U.S. Environmental Protection Agency found elevated levels of asbestos in soil around the Newark plant in 2002, before conducting a cleanup there.

Thousands of older Bay Area homes are believed to be insulated with asbestos-contaminated vermiculite that the plant shipped to hardware stores and insulation installers. Federal health and environmental officials warn homeowners who find vermiculite insulation in their attics to leave it undisturbed until cleanup by a professional asbestos-remediation firm.
The
Agency for Toxic Substances and Disease Registry
(ATSDR) website which has a map showing W.R. Grace "hotspots" across the country, and the agency is conducting site investigations "to determine appropriate actions, as needed, to protect public health in each location."
On September 22, ATSDR announced the completion of site investigations at eight additional W.R. Grace plants, and issued a
Press Release
repeating its warning that former workers at the closed processing plants are at increased risk for developing asbestos related health problems.
ATSDR recommends that former workers and for many of the sites, household members who lived with them, take specific steps to protect their health and improve quality of life:


Learn more about asbestos exposure,
See a doctor with experience in asbestos-related lung disease,
Quit smoking,
Get regular flu and pneumonia shots.

Residents could have been exposed to asbestos if they handled or played in waste rock, a by-product of vermiculite exfoliation. At some vermiculite plants, workers or people in the community may have brought waste rock from the plant to their homes. This waste rock was used in many ways, for example in gardens and as fill or driveway surfacing material.

When processing vermiculite, the plants might have released dust and asbestos fibers into the air. ATSDR cannot determine the extent of exposure to former residents who lived near the plant.
Related Articles
Labels: Asbestos, Criminal Prosecution
---
Go To My Main Page
---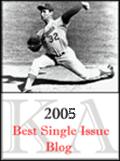 ---
Looking for
Confined Space Safety Information?
Click
Here
---
---
BP Texas City Explosion Stories
2006 Mine Disaster Stories
Popcorn Lung Stories
Speech on Receiving the APHA Lorin Kerr Award
by Jordan Barab, November 9, 2004


---
Acts of God, Acts of Man,"
by Jordan Barab, Working USA


Lies, Partisanship Caused Ergo Standard to Crumble,
by Jordan Barab, Safety + Health, February 2002


A Week of Death,
by Jordan Barab, Hazards, February 5, 2003
March 2003
April 2003
May 2003
June 2003
July 2003
August 2003
September 2003
October 2003
November 2003
December 2003
January 2004
February 2004
March 2004
April 2004
May 2004
June 2004
July 2004
August 2004
September 2004
October 2004
November 2004
December 2004
January 2005
February 2005
March 2005
April 2005
May 2005
June 2005
July 2005
August 2005
September 2005
October 2005
November 2005
December 2005
January 2006
February 2006
March 2006
April 2006
May 2006
June 2006
July 2006
August 2006
September 2006
October 2006
November 2006
December 2006
January 2007
---
---
FINALIST

Koufax Award

For Best Single Issue Blog of 2003 and 2004

---
---