Political and Labor Blogs
AFL-CIO Now
News From The AFL-CIO
Altercation
By the
Nation's
Eric Alterman
Blue Collar Blog
Firefighter, IAFF Member and CWA Staffer Sounds Off
Chris Mooney
The politics of science
Communicate or Die
American Labor Unions and the Internet
Crooks and Liars
Political hypocrisy n The small screen
Daily Kos

A must read for all political junkies
DMI Blog

Politics, Policy and the American Dream
Edwize

The blog of New York's United Federation of Teachers
Effect Measure
A forum for progressive public health discussion
FireDogLake
A Group Political Blog -- Always Something Interesting
GoozNews
Who's Watching Now That The Cameras Have Left?
Gulf Coast Reconstruction Watch
SHOCKED
that there's corporate influence on public health policy?
Impact Analysis
A portal for your adventure in environmental health
Liberal Oasis
On a mission to reclaim the good name of liberals because America was founded on liberal beliefs of freedom and justice for all.
MaxSpeak
Economics deciphered by "Max" Sawicky
Mine Safety Watch
Health and Safety in the Mines
Mother Jones
On Top Of The News
Nathan Newman
Politics, economics and labor issues
Political Animal
Keeping up on Washington Politics by veteran blogger Kevin Drum
The Pump Handle
A water cooler for the public health crowd
rawblogXport
Labor news
Seeing the Forest
...for the trees: A Political Blog
Sirotablog
David Sirota's online magazine of political news & commentary for those who
really
can't get enough politics
Stayin' Alive
Discussion of public health and health care policy, from a public health perspective.
Suburban Guerrilla
Wit, wisdom and politics by a reformed journalist
Talking Points
In-depth politics by Josh Marshall
Tapped
A group blog from the writers of the
American Prospect
Tom Tomorrow
Politics and passion from the cartoonist
Workers Comp Insider
Good and fairly enlighted resource
Working Immigrants
The business of immigrant work: employment, compensation, legal protections, education, mobility, and public policy.
Working Life
By a veteran labor and economics writer Jonathan Tasini
The Yorkshire Ranter
The scene from across the ocean
You Are Worth More
Labor issues in the retail trades
Health and Safety Websites and Resources
Hazards Magazine


Deceit and Denial


eLCOSH (Electronic Library of Safety & Health)


NYCOSH


COSH Network


UCLA-Labor Occupational Safety and Health Program (LOSH)


A Job To Die For


ILO Encyclopaedia of Occupational Health and Safety


Grist Magazine


Drum Major Institute For Public Policy


International Right To Know Campaign


Labor Occupational Health Program (UC Berkeley)


Maquiladora Healthand Safety Support Network


OSHA Worker Page


NIOSH


Canadian Center for Occupational Safety and Health


ACT Workcover (Australia)


Health & Safety Executive (Britain)


Worksafe British Columbia


United Support & Memorial For Workplace Fatalities


US Labor Against the War


LaborNotes


Labor Arts


The Occupational Safety and Health Act of 1970


The Mine Safety and Health Act of 1977



Union Health and Safety Websites
AFL-CIO


United Electrical Workers (UE)


AFSCME


AFSCME DC 37


United Auto Workers


Center to Protect Workers Rights


Communications Workers (CWA)


Laborers


LabourStart


ICEM

---
---
Thursday, April 08, 2004
PERMALINK Posted 11:57 PM by Jordan


If Safety Was Voluntary, Only Volunteers Would Be Safe
Study Finds That Voluntary Safety Measures Don't Work
Talk to most industry executives and Bush political appointees these days and you'll find that they only have nice things to say about the virtues of Bush's OSHA and EPA, where
alliances
, compliance assistance and voluntary industry guidelines have ushered in a new era of peace, cooperation and good times. They'll dimly recall the bad old days of the distant past when those old fashioned, top down, command-and-control, inflexible, confrontational, one-size-fits-all regulations reigned and OSHA and EPA didn't see eye-to-eye on workplace and environmental "progress."
Well, it turns out that things may not be as rosy as the current in-crowd believes. U.S. PIRG released a report today that shows that voluntary measures may not be all that it was billed as.
Chemical facilities owned by companies enrolled in an industry-sponsored voluntary safety program have had more than 1,800 accidents per year since 1990, according to a new report released today by the U.S. Public Interest Research Group.

The U.S. PIRG report, "Irresponsible Care: How the Chemical Industry Fails to Protect the Public From Chemical Accidents," analyzes the history of accidents at the facilities that implement Responsible Care, a voluntary security code subscribed to by companies that are members of the American Chemistry Council, the largest industry lobbying organization and loudest opponent of mandatory safety standards. The report criticizes Bush Administration plans to address safety and security at chemical facilities by industry self-regulation.
US PIRG, and its NJPIRG, its New Jersey affiliate conducted the study. They found that
Facilities in New Jersey that are owned by ACC member companies have had 521 accidents since 1990, ranking the state 13th in the country.


BP, Dow, and DuPont nationally ranked first through third, respectively, for the most accidents at their facilities since 1990. Facilities owned by these companies across the nation had nearly one third of the accidents at all ACC member companies since 1990.


Between 1990 and 2003, there has been no downward trend in the number of accidents at facilities that have adopted Responsible Care.
"The safety record of ACC member companies since Responsible Care? began shows that voluntary measures just don't work," said Rick Engler, Director of the New Jersey Work Environment Council, an alliance of 70 labor and environmental organizations.
A major problem with the "Responsible Care?" brand to self-regulation is that it ignores the practice of "inherently safe production" which substitutes safer chemicals and processes wherever possible, thereby
eliminating
the possibility of serious consequences from an accident. The cocept of inherently safe production has become more urgent since 9/11 because of the terrorist threat to the nation's chemical facilities. The chemical industry and Bush administration are relying on voluntary Responsible Care guidelines to safeguard this country's chemical facilities. The report criticizes the federal government for relying on the chemical industy's responsible care security guidelines which focus on perimeter security, rather than substituting safer technologies.
Newspaper articles and a recent 60 Minutes program
have documented numerous security breaches.
The debate over chemical plant security has been raging almost since the day after 9/11. Senator Jon Corzine has
introduced legislation
for the past two years that would require industry to explore new safer technologies - less volatile chemicals, for example - and require their use where "practical." The Bush administration's favored bill would essentially relay on voluntary industry guidelines.
The PIRG report also focuses on efforts in New Jersey to rely on a voluntary system for securing chemical plants, which largely uses the industry-created Responsible Care security code in place of publicly developed standards for assuring security at chemical facilities. According to the report,
The "Memorandum of Agreement Concerning Domestic Security Preparedness" between New Jersey's Domestic Security Preparedness Task Force, the state Department of Environmental Protection (DEP), the American Chemistry Council, and the Chemistry Council of New Jersey was developed without public input and did not include any public interest, environmental, or labor participants. Both the DEP and the Attorney General have not made drafts of the agreement public, citing "homeland security concerns," despite the fact that the Agreement does not contain any information about particular facilities.

NJPIRG and WEC again urged the Governor to use his existing authority and to support new legislation to mandate that chemical facilities substitute safer chemicals and processes where feasible. The groups also expressed support for state and federal legislation proposed by State Senator Sweeney, US Senator Corzine (NJ) and Congressman Pallone (NJ) that would require facilities to adopt chemical security improvements.
Labels: Chemical Plant Security
---
Go To My Main Page
---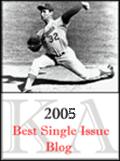 ---
Looking for
Confined Space Safety Information?
Click
Here
---
---
BP Texas City Explosion Stories
2006 Mine Disaster Stories
Popcorn Lung Stories
Speech on Receiving the APHA Lorin Kerr Award
by Jordan Barab, November 9, 2004


---
Acts of God, Acts of Man,"
by Jordan Barab, Working USA


Lies, Partisanship Caused Ergo Standard to Crumble,
by Jordan Barab, Safety + Health, February 2002


A Week of Death,
by Jordan Barab, Hazards, February 5, 2003
March 2003
April 2003
May 2003
June 2003
July 2003
August 2003
September 2003
October 2003
November 2003
December 2003
January 2004
February 2004
March 2004
April 2004
May 2004
June 2004
July 2004
August 2004
September 2004
October 2004
November 2004
December 2004
January 2005
February 2005
March 2005
April 2005
May 2005
June 2005
July 2005
August 2005
September 2005
October 2005
November 2005
December 2005
January 2006
February 2006
March 2006
April 2006
May 2006
June 2006
July 2006
August 2006
September 2006
October 2006
November 2006
December 2006
January 2007
---
---
FINALIST

Koufax Award

For Best Single Issue Blog of 2003 and 2004

---
---