Political and Labor Blogs
AFL-CIO Now
News From The AFL-CIO
Altercation
By the
Nation's
Eric Alterman
Blue Collar Blog
Firefighter, IAFF Member and CWA Staffer Sounds Off
Chris Mooney
The politics of science
Communicate or Die
American Labor Unions and the Internet
Crooks and Liars
Political hypocrisy n The small screen
Daily Kos

A must read for all political junkies
DMI Blog

Politics, Policy and the American Dream
Edwize

The blog of New York's United Federation of Teachers
Effect Measure
A forum for progressive public health discussion
FireDogLake
A Group Political Blog -- Always Something Interesting
GoozNews
Who's Watching Now That The Cameras Have Left?
Gulf Coast Reconstruction Watch
SHOCKED
that there's corporate influence on public health policy?
Impact Analysis
A portal for your adventure in environmental health
Liberal Oasis
On a mission to reclaim the good name of liberals because America was founded on liberal beliefs of freedom and justice for all.
MaxSpeak
Economics deciphered by "Max" Sawicky
Mine Safety Watch
Health and Safety in the Mines
Mother Jones
On Top Of The News
Nathan Newman
Politics, economics and labor issues
Political Animal
Keeping up on Washington Politics by veteran blogger Kevin Drum
The Pump Handle
A water cooler for the public health crowd
rawblogXport
Labor news
Seeing the Forest
...for the trees: A Political Blog
Sirotablog
David Sirota's online magazine of political news & commentary for those who
really
can't get enough politics
Stayin' Alive
Discussion of public health and health care policy, from a public health perspective.
Suburban Guerrilla
Wit, wisdom and politics by a reformed journalist
Talking Points
In-depth politics by Josh Marshall
Tapped
A group blog from the writers of the
American Prospect
Tom Tomorrow
Politics and passion from the cartoonist
Workers Comp Insider
Good and fairly enlighted resource
Working Immigrants
The business of immigrant work: employment, compensation, legal protections, education, mobility, and public policy.
Working Life
By a veteran labor and economics writer Jonathan Tasini
The Yorkshire Ranter
The scene from across the ocean
You Are Worth More
Labor issues in the retail trades
Health and Safety Websites and Resources
Hazards Magazine


Deceit and Denial


eLCOSH (Electronic Library of Safety & Health)


NYCOSH


COSH Network


UCLA-Labor Occupational Safety and Health Program (LOSH)


A Job To Die For


ILO Encyclopaedia of Occupational Health and Safety


Grist Magazine


Drum Major Institute For Public Policy


International Right To Know Campaign


Labor Occupational Health Program (UC Berkeley)


Maquiladora Healthand Safety Support Network


OSHA Worker Page


NIOSH


Canadian Center for Occupational Safety and Health


ACT Workcover (Australia)


Health & Safety Executive (Britain)


Worksafe British Columbia


United Support & Memorial For Workplace Fatalities


US Labor Against the War


LaborNotes


Labor Arts


The Occupational Safety and Health Act of 1970


The Mine Safety and Health Act of 1977



Union Health and Safety Websites
AFL-CIO


United Electrical Workers (UE)


AFSCME


AFSCME DC 37


United Auto Workers


Center to Protect Workers Rights


Communications Workers (CWA)


Laborers


LabourStart


ICEM

---
---
Tuesday, November 01, 2005
PERMALINK Posted 7:39 AM by Jordan


Labor Dept Rebuked Over Wal-Mart Deal
The Bush administration's bad week continues.
While this won't make the same headlines as the Miers withdrawal or Scooter's journey to the dark side, the underbelly of the Bush administration's coziness with its special corporate friends was revealed for all to see as the Bush Labor Department was
taken to the woodshed
yesterday by its inspector general who criticized the Department for an agreement promising the stores 15 day notice before labor invstigators woud inspect its stores for child labor violations.
The Labor Department's inspector general strongly criticized department officials yesterday for "serious breakdowns" in procedures involving an agreement promising Wal-Mart Stores 15 days' notice before labor investigators would inspect its stores for child labor violations.

The report by the inspector general faulted department officials for making "significant concessions" to Wal-Mart, the nation's largest retailer, without obtaining anything in return.

The report also criticized department officials for letting Wal-Mart lawyers write substantial parts of the settlement and for leaving the department's own legal division out of the settlement process.



The report said that in granting Wal-Mart the 15-day notice, the Wage and Hour Division violated its own handbook. It added that agreeing to let Wal-Mart jointly develop news releases about the settlement with the department

violated Labor Department policies.



The inspector general, Gordon S. Heddell, said the agreement did not violate federal laws or regulations.
The Labor Department had reached the special deal with Wal-Mart
last February
when Wal-Mart, the world's largest retailer agreed to pay $135,540 to settle federal charges that it violated child labor laws in Connecticut, Arkansas and New Hampshire. As part of the agreement, revealed yesterday after it was secretly signed in January, the Labor Department agreed "to give Wal-Mart 15 days' notice before the Labor Department investigates any other 'wage and hour' accusations, like failure to pay minimum wage or overtime."
The inspector general wrote that all Wal-Mart promised to do if caught violating the law again was to bring a store into compliance within 10 days of when the department notifies it of a violation, but that there was
"little commitment from the employer beyond what it was already doing or required to do by law."

"In our view," the inspector general's office wrote about the Wage and Hour Division, "the Wal-Mart agreement may adversely impact W.H.D.'s authority to conduct future investigations and issue citations or penalty assessments, and potentially restrict information to the public."

The violations involved workers under age 18 operating dangerous machinery, including cardboard balers and chain saws. In the agreement, Wal-Mart denied any wrongdoing, although the company agreed to pay the fine.
The inspector general's report was conducted
at the request of California Congressman George Miller
who has had a pretty good month, after succeeding in pressuring the administration into backing off of its Davis Bacon wage support suspension last week.
The inspector general also contradicted the Labor Department's claim that there was
nothing about this agreement that the Clinton administration hadn't done
, finding that
the agreement between Wal-Mart and the Labor Department's Wage and Hour Division (W.H.D) "was significantly different from other agreements entered into by W.H.D." and "had the most far-reaching restriction on W.H.D.'s authority to conduct investigations and assess" fines..
The full inspector general report can be found
here
.

Related Articles
:
What's It All About, Vicky? Child Labor, Wal-Mart and the Bush Administration, Feb. 19, 2005

Wal-Mart -- DOL Deal: Clinton Did It Too? Not!
, February 16, 2005

More Wal-Mart/DOL Shenanigans
, February 15, 2005

Miller Calls For Investigation of Wal-Mart Deal
February 15, 2005

Bush Labor Department Puts Wal-Mart in "Privileged Position"
February 12, 2005

Wal-Mart: Following In The Proud Footsteps of the Tobacco, Beer and Petroleum Industries
February 11, 2005

Wal-Mart Enters 19th Century: Locks Workers In Overnight
January 18, 2004
---
Go To My Main Page
---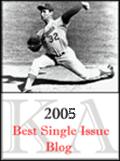 ---
Looking for
Confined Space Safety Information?
Click
Here
---
---
BP Texas City Explosion Stories
2006 Mine Disaster Stories
Popcorn Lung Stories
Speech on Receiving the APHA Lorin Kerr Award
by Jordan Barab, November 9, 2004


---
Acts of God, Acts of Man,"
by Jordan Barab, Working USA


Lies, Partisanship Caused Ergo Standard to Crumble,
by Jordan Barab, Safety + Health, February 2002


A Week of Death,
by Jordan Barab, Hazards, February 5, 2003
March 2003
April 2003
May 2003
June 2003
July 2003
August 2003
September 2003
October 2003
November 2003
December 2003
January 2004
February 2004
March 2004
April 2004
May 2004
June 2004
July 2004
August 2004
September 2004
October 2004
November 2004
December 2004
January 2005
February 2005
March 2005
April 2005
May 2005
June 2005
July 2005
August 2005
September 2005
October 2005
November 2005
December 2005
January 2006
February 2006
March 2006
April 2006
May 2006
June 2006
July 2006
August 2006
September 2006
October 2006
November 2006
December 2006
January 2007
---
---
FINALIST

Koufax Award

For Best Single Issue Blog of 2003 and 2004

---
---