Political and Labor Blogs
AFL-CIO Now
News From The AFL-CIO
Altercation
By the
Nation's
Eric Alterman
Blue Collar Blog
Firefighter, IAFF Member and CWA Staffer Sounds Off
Chris Mooney
The politics of science
Communicate or Die
American Labor Unions and the Internet
Crooks and Liars
Political hypocrisy n The small screen
Daily Kos

A must read for all political junkies
DMI Blog

Politics, Policy and the American Dream
Edwize

The blog of New York's United Federation of Teachers
Effect Measure
A forum for progressive public health discussion
FireDogLake
A Group Political Blog -- Always Something Interesting
GoozNews
Who's Watching Now That The Cameras Have Left?
Gulf Coast Reconstruction Watch
SHOCKED
that there's corporate influence on public health policy?
Impact Analysis
A portal for your adventure in environmental health
Liberal Oasis
On a mission to reclaim the good name of liberals because America was founded on liberal beliefs of freedom and justice for all.
MaxSpeak
Economics deciphered by "Max" Sawicky
Mine Safety Watch
Health and Safety in the Mines
Mother Jones
On Top Of The News
Nathan Newman
Politics, economics and labor issues
Political Animal
Keeping up on Washington Politics by veteran blogger Kevin Drum
The Pump Handle
A water cooler for the public health crowd
rawblogXport
Labor news
Seeing the Forest
...for the trees: A Political Blog
Sirotablog
David Sirota's online magazine of political news & commentary for those who
really
can't get enough politics
Stayin' Alive
Discussion of public health and health care policy, from a public health perspective.
Suburban Guerrilla
Wit, wisdom and politics by a reformed journalist
Talking Points
In-depth politics by Josh Marshall
Tapped
A group blog from the writers of the
American Prospect
Tom Tomorrow
Politics and passion from the cartoonist
Workers Comp Insider
Good and fairly enlighted resource
Working Immigrants
The business of immigrant work: employment, compensation, legal protections, education, mobility, and public policy.
Working Life
By a veteran labor and economics writer Jonathan Tasini
The Yorkshire Ranter
The scene from across the ocean
You Are Worth More
Labor issues in the retail trades
Health and Safety Websites and Resources
Hazards Magazine


Deceit and Denial


eLCOSH (Electronic Library of Safety & Health)


NYCOSH


COSH Network


UCLA-Labor Occupational Safety and Health Program (LOSH)


A Job To Die For


ILO Encyclopaedia of Occupational Health and Safety


Grist Magazine


Drum Major Institute For Public Policy


International Right To Know Campaign


Labor Occupational Health Program (UC Berkeley)


Maquiladora Healthand Safety Support Network


OSHA Worker Page


NIOSH


Canadian Center for Occupational Safety and Health


ACT Workcover (Australia)


Health & Safety Executive (Britain)


Worksafe British Columbia


United Support & Memorial For Workplace Fatalities


US Labor Against the War


LaborNotes


Labor Arts


The Occupational Safety and Health Act of 1970


The Mine Safety and Health Act of 1977



Union Health and Safety Websites
AFL-CIO


United Electrical Workers (UE)


AFSCME


AFSCME DC 37


United Auto Workers


Center to Protect Workers Rights


Communications Workers (CWA)


Laborers


LabourStart


ICEM

---
---
Saturday, November 05, 2005
PERMALINK Posted 1:28 PM by Jordan


Manslaughter Charges In Trench Death
A Staten Island, New York, construction company owner, Ken Formica, owner of Port Richmond-based Formica Construction, was
charged with manslaughter
yesterday in the 2003 death of a Mexican laborer, Lorenzo Pavia. Pavia was crushed to death under tons of earth when a 15 foot deep unshored trench collapsed on top of him and then decapitated in the rescue attempt.
What is significant about this is that the prosecutor used manslaughter laws instead of the Occupational Safety and Health Act which carries much lower penalties. Until the OSHAct is changed to allow stiffer penalties that will effectively deter these types of preventable tragedies, we need to strongly support aggressive prosecutors who apply tougher criminal penalties to workplace incidents.

I
wrote
about this first tragedy last May, basing it on an excellent article by
Staten Island Advance
reporter Heidi Shrager, who went far beyone the usual "trench collapsed, worker died, terrible accident, everyone's sad, one of those things, move on" stories that we see by the dozens every week.
According to yesterday's indictment,
Formica allegedly knew the 15-foot-deep, waterlogged trench that he helped dig was deadly when he directed Lorenzo Pavia, 39, to descend into it, according to the seven-count indictment unsealed yesterday.

"No worker, regardless of his or her job, should be exposed to the dangers posed by an unshored trench," said District Attorney Daniel Donovan during a press conference after Formica's arraignment in state Supreme Court, St. George. "The lives of construction workers in our community are not a dispensable commodity. Failure to protect workers in this way is a crime and will result in your prosecution."
In addition to second-degree manslaughter, Formica was charged with criminally negligent homicide, first-degree reckless endangerment, and third-degree assault.
In
New York
, "A person is guilty of manslaughter in the second degree when...He recklessly causes the death of another person."
Formica's attorney said it was just an accident:
"We believe this was a tragic accident," said Joseph V. Sorrentino, Formica's defense lawyer. "This is a guy with a stellar safety record who cooperated from the beginning of the investigation. There was no attempt here to cover up or to run from responsibility."
Formica, the "guy with a stellar safety record," had received a previous citation nine months before Pavia's death.
In that case, an inspector from the city Department of Transportation ordered one of Formica's workers out of an unsafe trench, and warned Formica to follow safety regulations.
Formica faces 15 years in jail. OSHA had previously fined the company only $15,000 even though there were 14 serious and one willful violation. Had OSHA sought a criminal prosecution under the OSHA Act, the charge would have been a misdemeanor with a maximum of 6 months in jail. This case, is therefore, particularly significant:
"Indictments are extremely rare," said Jordan Barab, a former OSHA official who writes extensively about the issue on his worker safety Web log. "The real importance here, beyond punishing the management of the company itself, is the message it will send to other employers. They can't take shortcuts lightly. There is a major price to be paid for putting someone's life at risk just to do things more quickly, or make more money."

Under OSHA regulations, trenches deeper than 5 feet must be either shored or sloped. During his deposition after Pavia's death, Formica admitted to OSHA investigators that he made a mistake by leaving the trench unshored, and was at a loss as to why that was the case.

OSHA charged the company with 15 violations totaling almost $15,000. All the fines were deemed "serious" except for one: The charge of not shoring the trench, which was deemed "willful," the most serious kind of offense and the required classification in order to criminally prosecute under the OSHA Act. Still, prosecutors charging defendants with violating the OSHA Act can seek only a misdemeanor charge and a maximum penalty of six months.



Donovan's felony charge of second-degree manslaughter represents "a more creative way" to tackle the problem, said Barab.

Prosecutors are "drawing the parallel between killing someone in a bar fight and killing them in the workplace," he added. "They are taking a law used for other purposes and applying it to the workplace, which I think, given the weakness of the OSHA Act, is a very good thing."
OSHA, which is attempting to focus more on criminal penalties after being embarassed by a couple of
NY Times series
in 2003, assisted in this indictment.
Labor officials and advocates hailed the indictment as a huge step toward ensuring workplace safety, especially for undocumented immigrant workers like Pavia, who typically are ignorant of regulations, hesitant to report employer violations to regulators and speak little English.

While workplace fatalities are on the decline in the general population, they are soaring among Hispanic and immigrant workers, said Robert D. Kulick, the director of the federal Occupational Safety and Health Administration branch in Avenel, N.J., whose staff worked with Donovan's office in the indictment.
Bills have been introduced
in the House of Representatives (by NY Congressman Major Owens) and in the Senate (by MA Senator Ted Kennedy) that would change the OSHAct to make corporate manslaughter a felony offense, with the possibility of sentences that might range from no time behind bars to up to 10 years in prison. Upon a second offense, the maximum sentence could be doubled.
Labels: Criminal Prosecution, Journalism, Trench Hazards
---
Go To My Main Page
---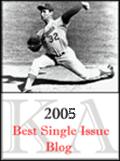 ---
Looking for
Confined Space Safety Information?
Click
Here
---
---
BP Texas City Explosion Stories
2006 Mine Disaster Stories
Popcorn Lung Stories
Speech on Receiving the APHA Lorin Kerr Award
by Jordan Barab, November 9, 2004


---
Acts of God, Acts of Man,"
by Jordan Barab, Working USA


Lies, Partisanship Caused Ergo Standard to Crumble,
by Jordan Barab, Safety + Health, February 2002


A Week of Death,
by Jordan Barab, Hazards, February 5, 2003
March 2003
April 2003
May 2003
June 2003
July 2003
August 2003
September 2003
October 2003
November 2003
December 2003
January 2004
February 2004
March 2004
April 2004
May 2004
June 2004
July 2004
August 2004
September 2004
October 2004
November 2004
December 2004
January 2005
February 2005
March 2005
April 2005
May 2005
June 2005
July 2005
August 2005
September 2005
October 2005
November 2005
December 2005
January 2006
February 2006
March 2006
April 2006
May 2006
June 2006
July 2006
August 2006
September 2006
October 2006
November 2006
December 2006
January 2007
---
---
FINALIST

Koufax Award

For Best Single Issue Blog of 2003 and 2004

---
---