Political and Labor Blogs
AFL-CIO Now
News From The AFL-CIO
Altercation
By the
Nation's
Eric Alterman
Blue Collar Blog
Firefighter, IAFF Member and CWA Staffer Sounds Off
Chris Mooney
The politics of science
Communicate or Die
American Labor Unions and the Internet
Crooks and Liars
Political hypocrisy n The small screen
Daily Kos

A must read for all political junkies
DMI Blog

Politics, Policy and the American Dream
Edwize

The blog of New York's United Federation of Teachers
Effect Measure
A forum for progressive public health discussion
FireDogLake
A Group Political Blog -- Always Something Interesting
GoozNews
Who's Watching Now That The Cameras Have Left?
Gulf Coast Reconstruction Watch
SHOCKED
that there's corporate influence on public health policy?
Impact Analysis
A portal for your adventure in environmental health
Liberal Oasis
On a mission to reclaim the good name of liberals because America was founded on liberal beliefs of freedom and justice for all.
MaxSpeak
Economics deciphered by "Max" Sawicky
Mine Safety Watch
Health and Safety in the Mines
Mother Jones
On Top Of The News
Nathan Newman
Politics, economics and labor issues
Political Animal
Keeping up on Washington Politics by veteran blogger Kevin Drum
The Pump Handle
A water cooler for the public health crowd
rawblogXport
Labor news
Seeing the Forest
...for the trees: A Political Blog
Sirotablog
David Sirota's online magazine of political news & commentary for those who
really
can't get enough politics
Stayin' Alive
Discussion of public health and health care policy, from a public health perspective.
Suburban Guerrilla
Wit, wisdom and politics by a reformed journalist
Talking Points
In-depth politics by Josh Marshall
Tapped
A group blog from the writers of the
American Prospect
Tom Tomorrow
Politics and passion from the cartoonist
Workers Comp Insider
Good and fairly enlighted resource
Working Immigrants
The business of immigrant work: employment, compensation, legal protections, education, mobility, and public policy.
Working Life
By a veteran labor and economics writer Jonathan Tasini
The Yorkshire Ranter
The scene from across the ocean
You Are Worth More
Labor issues in the retail trades
Health and Safety Websites and Resources
Hazards Magazine


Deceit and Denial


eLCOSH (Electronic Library of Safety & Health)


NYCOSH


COSH Network


UCLA-Labor Occupational Safety and Health Program (LOSH)


A Job To Die For


ILO Encyclopaedia of Occupational Health and Safety


Grist Magazine


Drum Major Institute For Public Policy


International Right To Know Campaign


Labor Occupational Health Program (UC Berkeley)


Maquiladora Healthand Safety Support Network


OSHA Worker Page


NIOSH


Canadian Center for Occupational Safety and Health


ACT Workcover (Australia)


Health & Safety Executive (Britain)


Worksafe British Columbia


United Support & Memorial For Workplace Fatalities


US Labor Against the War


LaborNotes


Labor Arts


The Occupational Safety and Health Act of 1970


The Mine Safety and Health Act of 1977



Union Health and Safety Websites
AFL-CIO


United Electrical Workers (UE)


AFSCME


AFSCME DC 37


United Auto Workers


Center to Protect Workers Rights


Communications Workers (CWA)


Laborers


LabourStart


ICEM

---
---
Sunday, March 12, 2006
PERMALINK Posted 3:28 PM by Jordan


Democracy In American Workplaces? Joke, right?
No, this isn't America in the 1880's, it's America in the 21st century,
if you can believe it
:
Above the photographs of Fidel Castro, Kim Jong Il of North Korea and an American union president, the full-page advertisement contains a provocative quotation: "There is no reason to subject the workers to an election."

Below the photographs, the advertisement asks, "Who said it?"

For the answer, readers are directed to a Web site, which explains that those words were uttered by Bruce S. Raynor, the union president and the leader of Unite Here, which represents hotel, restaurant and apparel workers.

In seeking to equate Mr. Raynor with foreign dictators, the business-backed group that ran the advertisement was trying to discredit the most successful strategy that unions have used to try to reverse a decades-long slide in membership.
Now, to the uneducated observer, this ad by the Center for Union Facts (which I wrote about
last month
) might make some sense. Of course, anyone who knows anything about union organizing compaigns understands that if democracy in American politics looked anything like democracy in the American workplace, we'd be living in a fascist dictatorship: According to a report issued by
American Rights at Work
,
30% of employers fire pro-union workers.

49% of employers threaten to close a worksite when workers try to form a union, but only 2% actually do.

51% of employers coerce workers into opposing unions with bribery or favoritism.

82% of employers hire high-priced unionbusting consultants to fight union organizing drives.

91% of employers force employees to attend one-on-one anti-union meetings with their supervisors.
And the systematic use of legal and illegal tactics impedes union organizing.
Aided by a weak labor law system that fails to protect workers' rights, employers manipulate the governmentsupervised union recognition process in a way that allows them to abuse their power and significantly influence the outcome of union representation elections.

In 91% of the union recognition petitions filed with the National Labor Relations Board (NLRB) in the survey, a majority of workers indicated they wanted a union before the process began. In several cases, workers demonstrated more than 80% support.

However, unions were victorious in only 31% of the campaigns in which they filed a petition.
Given these facts, it's no wonder that employers associations are horrified at the labor movement's new strategy:
That strategy is known as card checks, a process in which companies grant union recognition once a majority of workers sign cards saying they favor a union. Unions increasingly want to use this procedure to replace the traditional organizing method: secret-ballot elections overseen by the National Labor Relations Board.

Many businesses oppose card checks because they say the procedure makes it much easier for unions to secure majority support, often giving management little chance to present its case against unionization. But unions say companies often prevent fair elections by firing and intimidating union supporters.

And, labor leaders complain, elections often become so contentious that nearly half the time unions win, companies fail to sign collective bargaining agreements. Card checks lead much more easily to contracts, union leaders say.

Card checks were used to sign up roughly 70 percent of the private-sector workers who joined unions last year, according to A.F.L.-C.I.O. officials. That compares with less than 5 percent two decades ago.

Through card checks, 150,000 private-sector workers joined unions in 2005. Over the past year, the procedure has been used to unionize 4,600 workers at the Wynn Las Vegas hotel-casino, 5,000 janitors in Houston and 16,500 workers at Cingular, the cellphone company.

In an interview this week, Mr. Raynor again maintained that it was better to use card checks than "to subject workers to an election."
And, of course, the business leaders have their
lapdogs
allies supporting them in Congress:
Representative Charlie Norwood, Republican of Georgia, who is chairman of the House Subcommittee on Workforce Protections, is sponsoring legislation that would outlaw card checks. His bill has 81 co-sponsors.

"Union thugs are allowed to confront individual workers on the job and at their homes, and demand the worker sign a card giving the union exclusive rights to representation," Mr. Norwood wrote in an op-ed article in The Washington Times.

Union leaders say that coercion is rare.

The National Labor Relations Act gives private-sector workers the right to unionize through card checks or secret-ballot elections. But the act also gives employers the right to insist on elections.
Labor is running its own campaigns -- in the legislative arena, in the boardrooms and in the streets.
Labor unions are backing a bill that would give unions the right to use card checks while taking away the right of companies to insist on secret-ballot elections.

The bill has 210 co-sponsors in the House and 42 in the Senate. But even supporters say it will probably not pass in this Congress because President Bush is likely to veto it.

Meanwhile, unions are using various tactics to persuade companies to accept card checks and are also increasingly pressing employers to pledge not to fight unionization efforts.

Sometimes unions use contract negotiations at one operation — perhaps agreeing to productivity measures — to get a company to agree to card checks at its other sites. More often, unions undertake confrontational campaigns to squeeze employers to agree to card checks.

To pressure Cintas, the giant uniform and laundry company, Unite Here has encouraged workers to bring lawsuits alleging pay violations and racial and sexual discrimination. Cintas has not given in, insisting that secret-ballot elections are fairer.
Because shit like this shouldn't be happening, not in the United States in 2006:
At the Consolidated Biscuit bakery in McComb, Ohio, Bill Lawhorn said more than 70 percent of the workers had signed cards in favor of joining the Bakery, Confectionery, Tobacco Workers and Grain Millers Union when he led efforts to form a union in 2002.

Nonetheless, the union lost a secret-ballot election, 485 to 286, after Consolidated Biscuit conducted a vigorous anti-union campaign. Two years later a National Labor Relations Board judge found that managers had illegally spied on union supporters and had warned them that the bakery would go bankrupt if a union was voted in.

Mr. Lawhorn was fired the day after the unionization vote. The labor board judge ordered him and six other workers reinstated, ruling that they were illegally fired for supporting a union.

The bakery has appealed. Mr. Lawhorn remains unemployed, hoping the appeal process will uphold his reinstatement.
Related Articles
Labels: Charlie Norwood
---
Go To My Main Page
---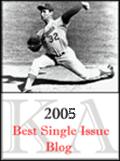 ---
Looking for
Confined Space Safety Information?
Click
Here
---
---
BP Texas City Explosion Stories
2006 Mine Disaster Stories
Popcorn Lung Stories
Speech on Receiving the APHA Lorin Kerr Award
by Jordan Barab, November 9, 2004


---
Acts of God, Acts of Man,"
by Jordan Barab, Working USA


Lies, Partisanship Caused Ergo Standard to Crumble,
by Jordan Barab, Safety + Health, February 2002


A Week of Death,
by Jordan Barab, Hazards, February 5, 2003
March 2003
April 2003
May 2003
June 2003
July 2003
August 2003
September 2003
October 2003
November 2003
December 2003
January 2004
February 2004
March 2004
April 2004
May 2004
June 2004
July 2004
August 2004
September 2004
October 2004
November 2004
December 2004
January 2005
February 2005
March 2005
April 2005
May 2005
June 2005
July 2005
August 2005
September 2005
October 2005
November 2005
December 2005
January 2006
February 2006
March 2006
April 2006
May 2006
June 2006
July 2006
August 2006
September 2006
October 2006
November 2006
December 2006
January 2007
---
---
FINALIST

Koufax Award

For Best Single Issue Blog of 2003 and 2004

---
---