Political and Labor Blogs
AFL-CIO Now
News From The AFL-CIO
Altercation
By the
Nation's
Eric Alterman
Blue Collar Blog
Firefighter, IAFF Member and CWA Staffer Sounds Off
Chris Mooney
The politics of science
Communicate or Die
American Labor Unions and the Internet
Crooks and Liars
Political hypocrisy n The small screen
Daily Kos

A must read for all political junkies
DMI Blog

Politics, Policy and the American Dream
Edwize

The blog of New York's United Federation of Teachers
Effect Measure
A forum for progressive public health discussion
FireDogLake
A Group Political Blog -- Always Something Interesting
GoozNews
Who's Watching Now That The Cameras Have Left?
Gulf Coast Reconstruction Watch
SHOCKED
that there's corporate influence on public health policy?
Impact Analysis
A portal for your adventure in environmental health
Liberal Oasis
On a mission to reclaim the good name of liberals because America was founded on liberal beliefs of freedom and justice for all.
MaxSpeak
Economics deciphered by "Max" Sawicky
Mine Safety Watch
Health and Safety in the Mines
Mother Jones
On Top Of The News
Nathan Newman
Politics, economics and labor issues
Political Animal
Keeping up on Washington Politics by veteran blogger Kevin Drum
The Pump Handle
A water cooler for the public health crowd
rawblogXport
Labor news
Seeing the Forest
...for the trees: A Political Blog
Sirotablog
David Sirota's online magazine of political news & commentary for those who
really
can't get enough politics
Stayin' Alive
Discussion of public health and health care policy, from a public health perspective.
Suburban Guerrilla
Wit, wisdom and politics by a reformed journalist
Talking Points
In-depth politics by Josh Marshall
Tapped
A group blog from the writers of the
American Prospect
Tom Tomorrow
Politics and passion from the cartoonist
Workers Comp Insider
Good and fairly enlighted resource
Working Immigrants
The business of immigrant work: employment, compensation, legal protections, education, mobility, and public policy.
Working Life
By a veteran labor and economics writer Jonathan Tasini
The Yorkshire Ranter
The scene from across the ocean
You Are Worth More
Labor issues in the retail trades
Health and Safety Websites and Resources
Hazards Magazine


Deceit and Denial


eLCOSH (Electronic Library of Safety & Health)


NYCOSH


COSH Network


UCLA-Labor Occupational Safety and Health Program (LOSH)


A Job To Die For


ILO Encyclopaedia of Occupational Health and Safety


Grist Magazine


Drum Major Institute For Public Policy


International Right To Know Campaign


Labor Occupational Health Program (UC Berkeley)


Maquiladora Healthand Safety Support Network


OSHA Worker Page


NIOSH


Canadian Center for Occupational Safety and Health


ACT Workcover (Australia)


Health & Safety Executive (Britain)


Worksafe British Columbia


United Support & Memorial For Workplace Fatalities


US Labor Against the War


LaborNotes


Labor Arts


The Occupational Safety and Health Act of 1970


The Mine Safety and Health Act of 1977



Union Health and Safety Websites
AFL-CIO


United Electrical Workers (UE)


AFSCME


AFSCME DC 37


United Auto Workers


Center to Protect Workers Rights


Communications Workers (CWA)


Laborers


LabourStart


ICEM

---
---
Thursday, March 16, 2006
PERMALINK Posted 9:08 PM by Jordan


Senate Confirms Foulke: An Open Letter To the New Assistant Secretary for OSHA
The Senate confirmed Edwin G. Foulke as Assistant Secretary of Labor For Occupational Safety and Health Monday. Foulke, formerly chair of the Occupational Safety and Health Review Commission, comes from a law firm well known in union-busting circles, where he has spent most of his career representing management in workplace safety and health cases.
Nevertheless
,
he told the Senate committee reviewing his nomination in January that he could protect workers as OSHA's new leader.

"As head of OSHA," he said, "I understand that I will be ultimately responsible for helping to ensure as much as possible that every employee in the United States works in a safe and healthy workplace."
We'll see.
AN OPEN LETTER TO THE HONORABLE EDWIN G. FOULKE, ASSISTANT SECRETARY OF LABOR FOR OCCUPATIONAL SAFETY AND HEALTH
Dear Assistant Secretary Foulke:
Congratulations on your appointment to head the Occupational Safety and Health Administration. It's an enormous responsibility, as I'm sure you are aware: you literally hold the lives and health of thousands of American workers in your hands. Don't screw it up.
I'm sure you're not happy that I've previously characterized you as a
union-busting
Republican political operative whose
fundraising and party leadership skills
have finally paid off. And you may not be happy about my prediction that your administration will be (yawn) a
continuation of the same
tired, ineffective, moribund, anti-worker programs that have succeed in making OSHA almost totally irrelevant to workplace safety in this country.
On the other hand, I'm sure, in the wee hours of night, as you lie awake in bed, wondering what the next three years hold, you're also asking yourself what contribution you can possibly make to humanity by heading up an agency that has been castrated by the President at whose pleasure you serve.

Well Ed, here's your chance to put your money where your silver-toungued mouth is. For a short period of time, you have an opportunity to take a number of giant steps to protect workers, defend your manhood, and, most important of all, do what both John Henshaw and Jonathan Snare have spent countless hours fantacizing about: you can make a complete fool out of me.
Here's how.
You can show the
Mayberry Machiavellis
at the White House, and those wet-behind-the-ears, know-it-all,
young Republicans
who are actually running this country that that you've got balls, cajones, that you're no Brownie, that all that B.S. you were spewing at your confirmation hearing about how OSHA's biggest challenge is to cater to small business was just a bunch of confirmation claptrap intended to warm the cockles of Senator Enzi's heart.
OK, here's your 100 day agenda:
Issue the "Payment for Personal Protective Equipment" standard. The standard has been languishing at OSHA since the end of the Clinton Administration. Explain that if anyone is going to take seriously OSHA's efforts to reach out to Hispanic workers, the first step must be to ensure that employers pay for their boots, gloves and other equipment.


Issue an Advance Notice of Proposed Rulemaking for a standard to protect health care workers against a flu pandemic. Show you're serous about ensuring that this country is ready for a flu pandemic by safeguarding the health of our caregivers


Propose legislation calling for increased criminal penalties and higher fines. Yes, maybe most employers may take safety seriously, but there are still far too many in this country who continue to knowingly and willfully cut corners and kill workers. Their only punishment is a relatively insiginificant fine, considering that they killed someones' father, mother, son or daughter. Only the certainty of high fines and jail terms will stop them from considering violations, injuries, illnesses and fatalities to be an acceptable risk. (Spend a few hours reading Confined Space, and then tell me you don't agree...)

Launch a serious and sustained effort to update the OSHA's Permissible Exposure Limit for chemicals. Hundreds of chemicals are regulated by OSHA based on science from the 1950's and 1960's, making the agency a laughing stock, and exposing workers to thousands of hazardous chemicals.

Fill the empty labor-liaison positions in the field. Due to deaths and retirements, fewer than half of the OSHA Regional offices have labor liaisons. None of the empty positions have been filled. If you really want to know what goes on in American workplaces, you need people that workers will trust.

Announce that you are launching a review of the recently issued Hexavalent Chromium standard. New information has surfaced that the chromium industry hid important studies showing lung cancer at very low exposure levels, and there are numerous other flaws in the standard. Basically, the thing's a piece of shit, but you have a chance to blame it on someone else -- if you act fast.


Announce that you are launching a serious review of OSHA's voluntary Programs, based on the 2004 Government Accountability Office report that showed there was no evidence that the programs were effective. Oh, and while you're at it, get rid of that idiotic alliance program. Admit that it's just a rather unsuccessful public relations ploy to hide the fact that OSHA has gone out of the standard setting business.
Do these things and not only will you have made a name for yourself in workplace safety, but I'll eat crow, because right now, I don't think you really get what's going on in this country's workplaces. And even if you do, I don't think you have the balls to do anything about it.
So, come on, Ed, prove me wrong. What do you have to lose but your irrelevance? You'll never have more political capital than you have now. They can't fire an Assistant Secretary the month after he's confirmed. What are they going to do, send you on a hunting trip with Dick Cheney? Dude, You've got 'em by the balls. Now, squeeze.
Good luck. You'll need it.
Sincerely,
Jordan Barab
Blogger, Confined Space.
P.S. I'm sure many of my readers have other suggestions. Check the comments below.
---
Go To My Main Page
---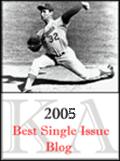 ---
Looking for
Confined Space Safety Information?
Click
Here
---
---
BP Texas City Explosion Stories
2006 Mine Disaster Stories
Popcorn Lung Stories
Speech on Receiving the APHA Lorin Kerr Award
by Jordan Barab, November 9, 2004


---
Acts of God, Acts of Man,"
by Jordan Barab, Working USA


Lies, Partisanship Caused Ergo Standard to Crumble,
by Jordan Barab, Safety + Health, February 2002


A Week of Death,
by Jordan Barab, Hazards, February 5, 2003
March 2003
April 2003
May 2003
June 2003
July 2003
August 2003
September 2003
October 2003
November 2003
December 2003
January 2004
February 2004
March 2004
April 2004
May 2004
June 2004
July 2004
August 2004
September 2004
October 2004
November 2004
December 2004
January 2005
February 2005
March 2005
April 2005
May 2005
June 2005
July 2005
August 2005
September 2005
October 2005
November 2005
December 2005
January 2006
February 2006
March 2006
April 2006
May 2006
June 2006
July 2006
August 2006
September 2006
October 2006
November 2006
December 2006
January 2007
---
---
FINALIST

Koufax Award

For Best Single Issue Blog of 2003 and 2004

---
---