Political and Labor Blogs
AFL-CIO Now
News From The AFL-CIO
Altercation
By the
Nation's
Eric Alterman
Blue Collar Blog
Firefighter, IAFF Member and CWA Staffer Sounds Off
Chris Mooney
The politics of science
Communicate or Die
American Labor Unions and the Internet
Crooks and Liars
Political hypocrisy n The small screen
Daily Kos

A must read for all political junkies
DMI Blog

Politics, Policy and the American Dream
Edwize

The blog of New York's United Federation of Teachers
Effect Measure
A forum for progressive public health discussion
FireDogLake
A Group Political Blog -- Always Something Interesting
GoozNews
Who's Watching Now That The Cameras Have Left?
Gulf Coast Reconstruction Watch
SHOCKED
that there's corporate influence on public health policy?
Impact Analysis
A portal for your adventure in environmental health
Liberal Oasis
On a mission to reclaim the good name of liberals because America was founded on liberal beliefs of freedom and justice for all.
MaxSpeak
Economics deciphered by "Max" Sawicky
Mine Safety Watch
Health and Safety in the Mines
Mother Jones
On Top Of The News
Nathan Newman
Politics, economics and labor issues
Political Animal
Keeping up on Washington Politics by veteran blogger Kevin Drum
The Pump Handle
A water cooler for the public health crowd
rawblogXport
Labor news
Seeing the Forest
...for the trees: A Political Blog
Sirotablog
David Sirota's online magazine of political news & commentary for those who
really
can't get enough politics
Stayin' Alive
Discussion of public health and health care policy, from a public health perspective.
Suburban Guerrilla
Wit, wisdom and politics by a reformed journalist
Talking Points
In-depth politics by Josh Marshall
Tapped
A group blog from the writers of the
American Prospect
Tom Tomorrow
Politics and passion from the cartoonist
Workers Comp Insider
Good and fairly enlighted resource
Working Immigrants
The business of immigrant work: employment, compensation, legal protections, education, mobility, and public policy.
Working Life
By a veteran labor and economics writer Jonathan Tasini
The Yorkshire Ranter
The scene from across the ocean
You Are Worth More
Labor issues in the retail trades
Health and Safety Websites and Resources
Hazards Magazine


Deceit and Denial


eLCOSH (Electronic Library of Safety & Health)


NYCOSH


COSH Network


UCLA-Labor Occupational Safety and Health Program (LOSH)


A Job To Die For


ILO Encyclopaedia of Occupational Health and Safety


Grist Magazine


Drum Major Institute For Public Policy


International Right To Know Campaign


Labor Occupational Health Program (UC Berkeley)


Maquiladora Healthand Safety Support Network


OSHA Worker Page


NIOSH


Canadian Center for Occupational Safety and Health


ACT Workcover (Australia)


Health & Safety Executive (Britain)


Worksafe British Columbia


United Support & Memorial For Workplace Fatalities


US Labor Against the War


LaborNotes


Labor Arts


The Occupational Safety and Health Act of 1970


The Mine Safety and Health Act of 1977



Union Health and Safety Websites
AFL-CIO


United Electrical Workers (UE)


AFSCME


AFSCME DC 37


United Auto Workers


Center to Protect Workers Rights


Communications Workers (CWA)


Laborers


LabourStart


ICEM

---
---
Thursday, May 27, 2004
PERMALINK Posted 8:15 PM by Jordan


UAW and AAOHN Letters to CDC Director Julie Gerberding Regarding NIOSH Reorganization
Below are letters from UAW Health and Safety Director Frank Mirer and American Association of Occupational Health Nurses President Susan Randolf expressing concern about the NIOSH reorganization
discussed earlier this week
.
May 25, 2004

Dr. Julie L. Gerberding, Director
Centers for Disease Control and Prevention
1600 Clifton Road, NE
Building 1, Room 3053, MS-D30
Atlanta, GA 30333

Re: Fate of NIOSH in the reorganization of CDC

Dear Dr. Gerberding:

I write to express the concerns of the UAW with the impact on the National Institute for Occupational Safety and Health of the impending reorganization of CDC. The announced plan appears to downgrade NIOSH from a Center directly reporting to the Director of CDC, to a unit reporting to you through a new layer of management.

NIOSH plays a critical role in the health of the nation. Working Americans spend upwards of 40% of their waking hours at work. The working environment is a locus of many unique exposures to health and safety hazards, as well as a potential arena for many prevention programs. The working environment is not the primary mission of the traditional stakeholders in CDC, such as state and local health departments, or health care institutions.

The UAW has long been an active partner with NIOSH in matters of occupational health research. We, and others in the occupational health community had limited input into the CDC reorganization discussion, and were unaware any decision so substantially impacting NIOSH was under consideration. This may be because efforts to elicit stakeholder input were more directed toward the "traditional" stakeholders. To our knowledge, this plan never arose in public meetings.

We don't understand the value of inserting a new layer of management, placing NIOSH a level down. Our dialogue should start with a statement of what problem regarding NIOSH the reorganization is intended to solve.

NIOSH is by statute a sister and equal agency to the Occupational Safety and Health Administration and the Mine Safety and Health Administration. Each of these is led by an Assistant Secretary of Labor. The placement of NIOSH within the CDC is an administrative choice by HHS. The further reduced level of NIOSH in the CDC will reduce the influence of public health science in the agendas of these agencies, and in consideration by Congress.

We are concerned that NIOSH is placed under group/cluster with environmental focus. Historically, this combination has lead to neglect of the occupational environment. We are concerned that reduced status will lead to reduced importance of the occupational environment, and possibly reduced funding. NIOSH funding is usually decided by Congress in conjunction with that for OSHA and MSHA. Each year the occupational health community has gone to Congress just to keep funding flat, sometimes in the face of proposed reductions.

The National Occupational Research Agenda has been an excellent example of business-labor-academic partnership. This process and the reduced position of NIOSH will discourage partnerships.

For these reasons, the UAW urges that the announced new organizational structure relative to NIOSH be rescinded.

Sincerely,

Franklin E. Mirer, Ph.D.
Director * Health and Safety Department
International Union, UAW



---



Dear Dr. Gerberding:

On behalf of the American Association of Occupational Health Nurses, Inc. (AAOHN), we are extremely concerned about the proposed reorganization of the Centers for Disease Control and Prevention (CDC) and the negative impact it would have on the National Institute for Occupational Safety and Health(NIOSH). Our specific concerns are:

1. Lack of awareness that the reorganization would affect NIOSH.

While AAOHN provided comments about the reorganization and proposed
prototypes, we were not aware that the reorganization would affect NIOSH butrather just the programs and services within the CDC. From the materials we reviewed about the CDC's Futures Initiative, nothing was mentioned about independent institutes, such as NIOSH, within CDC. Because the reorganization affects the placement of NIOSH within the CDC structure, opportunity for input by key stakeholders would have been essential. Had AAOHN been aware of this, our comments would have been much different.

2. Lack of visibility of NIOSH.

By placing NIOSH into the Coordinating Center for Environmental Health, Injury Prevention, and Occupational Health, NIOSH is moved down one level within the CDC structure and thus loses its identity as an independently created entity by the Occupational Safety and Health Act. As a result, the Director of NIOSH would report to the head of the Coordinating Center and not the Director of CDC. This has implications on input to decision makers on key policy initiatives and funding. The budgetary implications of this move are unknown. Each year key NIOSH stakeholders have gone to Congress to advocate for same level of funding. The reorganization will not assist in this effort; in fact, it would be inappropriate for NIOSH to go directly to Congress.

3. Decrease of importance of occupational safety and health.

This reorganization significantly weakens and diminishes the importance of occupational safety and health. It is not clear to us why NIOSH would be placed in the cluster with environmental health and injury prevention.

NIOSH was created as the federal agency responsible for conducting research and making recommendations for the prevention of work-related injury and illness. It should not be watered down under an environmental sub-group.

Additionally, NIOSH and over 500 business, labor, and academic partners created the National Occupational Research Agenda (NORA) in 1996. The reorganization will discourage partnerships and the lower level of NIOSH in the CDC structure will inhibit participation. NORA has been effective in translating occupational health research into practice.

AAOHN requests that the reorganization of the CDC be placed "on hold" until input from NIOSH stakeholders has been received and evaluated. We also look forward to participating on a conference call later this week with other members of NIOSH stakeholders who are equally concerned about the recent CDC reorganization. We want to better understand your decision and rationale for this move while sharing our concerns about its ramifications on safety and health of US workers.

Sincerely,

Susan A. Randolph, MSN, RN, COHN-S, FAAOHN
President, AAOHN
---
Go To My Main Page
---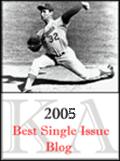 ---
Looking for
Confined Space Safety Information?
Click
Here
---
---
BP Texas City Explosion Stories
2006 Mine Disaster Stories
Popcorn Lung Stories
Speech on Receiving the APHA Lorin Kerr Award
by Jordan Barab, November 9, 2004


---
Acts of God, Acts of Man,"
by Jordan Barab, Working USA


Lies, Partisanship Caused Ergo Standard to Crumble,
by Jordan Barab, Safety + Health, February 2002


A Week of Death,
by Jordan Barab, Hazards, February 5, 2003
March 2003
April 2003
May 2003
June 2003
July 2003
August 2003
September 2003
October 2003
November 2003
December 2003
January 2004
February 2004
March 2004
April 2004
May 2004
June 2004
July 2004
August 2004
September 2004
October 2004
November 2004
December 2004
January 2005
February 2005
March 2005
April 2005
May 2005
June 2005
July 2005
August 2005
September 2005
October 2005
November 2005
December 2005
January 2006
February 2006
March 2006
April 2006
May 2006
June 2006
July 2006
August 2006
September 2006
October 2006
November 2006
December 2006
January 2007
---
---
FINALIST

Koufax Award

For Best Single Issue Blog of 2003 and 2004

---
---