Political and Labor Blogs
AFL-CIO Now
News From The AFL-CIO
Altercation
By the
Nation's
Eric Alterman
Blue Collar Blog
Firefighter, IAFF Member and CWA Staffer Sounds Off
Chris Mooney
The politics of science
Communicate or Die
American Labor Unions and the Internet
Crooks and Liars
Political hypocrisy n The small screen
Daily Kos

A must read for all political junkies
DMI Blog

Politics, Policy and the American Dream
Edwize

The blog of New York's United Federation of Teachers
Effect Measure
A forum for progressive public health discussion
FireDogLake
A Group Political Blog -- Always Something Interesting
GoozNews
Who's Watching Now That The Cameras Have Left?
Gulf Coast Reconstruction Watch
SHOCKED
that there's corporate influence on public health policy?
Impact Analysis
A portal for your adventure in environmental health
Liberal Oasis
On a mission to reclaim the good name of liberals because America was founded on liberal beliefs of freedom and justice for all.
MaxSpeak
Economics deciphered by "Max" Sawicky
Mine Safety Watch
Health and Safety in the Mines
Mother Jones
On Top Of The News
Nathan Newman
Politics, economics and labor issues
Political Animal
Keeping up on Washington Politics by veteran blogger Kevin Drum
The Pump Handle
A water cooler for the public health crowd
rawblogXport
Labor news
Seeing the Forest
...for the trees: A Political Blog
Sirotablog
David Sirota's online magazine of political news & commentary for those who
really
can't get enough politics
Stayin' Alive
Discussion of public health and health care policy, from a public health perspective.
Suburban Guerrilla
Wit, wisdom and politics by a reformed journalist
Talking Points
In-depth politics by Josh Marshall
Tapped
A group blog from the writers of the
American Prospect
Tom Tomorrow
Politics and passion from the cartoonist
Workers Comp Insider
Good and fairly enlighted resource
Working Immigrants
The business of immigrant work: employment, compensation, legal protections, education, mobility, and public policy.
Working Life
By a veteran labor and economics writer Jonathan Tasini
The Yorkshire Ranter
The scene from across the ocean
You Are Worth More
Labor issues in the retail trades
Health and Safety Websites and Resources
Hazards Magazine


Deceit and Denial


eLCOSH (Electronic Library of Safety & Health)


NYCOSH


COSH Network


UCLA-Labor Occupational Safety and Health Program (LOSH)


A Job To Die For


ILO Encyclopaedia of Occupational Health and Safety


Grist Magazine


Drum Major Institute For Public Policy


International Right To Know Campaign


Labor Occupational Health Program (UC Berkeley)


Maquiladora Healthand Safety Support Network


OSHA Worker Page


NIOSH


Canadian Center for Occupational Safety and Health


ACT Workcover (Australia)


Health & Safety Executive (Britain)


Worksafe British Columbia


United Support & Memorial For Workplace Fatalities


US Labor Against the War


LaborNotes


Labor Arts


The Occupational Safety and Health Act of 1970


The Mine Safety and Health Act of 1977



Union Health and Safety Websites
AFL-CIO


United Electrical Workers (UE)


AFSCME


AFSCME DC 37


United Auto Workers


Center to Protect Workers Rights


Communications Workers (CWA)


Laborers


LabourStart


ICEM

---
---
Tuesday, June 21, 2005
PERMALINK Posted 6:41 PM by Jordan


Reducing Malpractice Premiums By Reducing Malpractice: Lessons For Workplace Safety?
The Wall St. Journal had a fascinating story today about how a high-risk group of physicians have beaten back skyrocketing malpractice premiums -- not by passing tort reform legislation, but -- get this -- by reducing malpractice. But almost as interesting as the accomplishment itself is how they went about it and the lessons it teaches for all of us safety types.
I have written about the malpractice insurance racket before and the attempt by physicians' associations to blame rising premiums on frivolous lawsuits, greedy patients and trial lawyers, rather than on greedy insurance companies and, of course, too much malpractice. In fact, the fight has gotten so bitter, that some physicians have actually
refused to treat trial lawyers
.
Once one of the highest risk medical professions, anesthesiologists have made amazing progress:
Over the past two decades, patient deaths due to anesthesia have declined to one death per 200,000 to 300,000 cases from one for every 5,000 cases, according to studies compiled by the Institute of Medicine, an arm of the National Academies, a leading scientific advisory body.

Malpractice payments involving the nation's 30,000 anesthesiologists are down, too, and anesthesiologists typically pay some of the smallest malpractice premiums around. That's a huge change from when they were considered among the riskiest doctors to insure. Nationwide, the average annual premium for anesthesiologists is less than $21,000, according to a survey by the American Society of Anesthesiologists. An obstetrician might pay 10 times that amount, Medical Liability Monitor, an industry newsletter, reports.
So, how did they do it? Punishing incompetent anesthesiologists perhaps?
No. First, they decided to gather data. What was causing accidental anesthesia-related deaths? After overcoming initial resistance from the insurance industry, the Anesthesia Patient Safety Foundation gathered information on thousands of malpractice cases.
What did they find? Many fatalities were caused by inserting the patient's breathing tube down the esophagus into the stomach instead of down the trachea into the lungs. It was difficult to detect the mistake until it was too late. Although devices were developed to detect the problem, they were expensive and hospitals were reluctant to buy them until the American Society of Anesthesiologists made the devices the basic standards for anesthesia care. After that, if hospitals didn't purchase them, they opened themselves up to malpractice liability.
Another problem dealt with alarms:
Anesthesiologists are now focused on alarm bells. Modern anesthesia machines come equipped with audible alarms that sound when certain thresholds, such as oxygen levels, are crossed. But the alarms irritate many surgeons, so some anesthesiologists have turned them off. The foundation has documented 26 alarm-related malpractice claims between 1970 and 2002, or a little more than one a year. Of those, more than 20 resulted in either death or brain damage.

The foundation is pushing to adopt a formal standard that prohibits anesthesiologists from disabling the alarms. "I would not fly on an airplane if the pilot announced all the alarms were being turned off," says Robert K. Stoelting, the foundation's current president. "Our patients deserve the same safety net."
The most important lesson from this experience is that the anesthesiologists focused on addressing systemic problems instead of human fallibility.
But according to Neil Kochenour, medical director at the University of Utah Hospitals and Clinics, physicians are resistant:
Dr. Kochenour says his institution has tried to emulate the anesthesiologists by concentrating more on identifying systemic errors and less on individual blame. But these efforts run headlong into thinking drummed into physicians since medical school, he says. "I don't think physicians are very good systems thinkers, by and large," he says. Many, especially surgeons, prize their independence, he says, and that makes it hard to achieve the kind of cooperation necessary to reduce errors.
What lessons can this teach us about making workplaces safer? First, addressing systemic problems -- removing the hazard or unsafe condition -- is a much more effective way of dealing with safety problems than blaming the worker -- a lesson that the steel industry, the construction industry, railroads and BP Amoco have not learned.
Second, what finally drove the anesthesiologists to address their problems? Huge malpractice awards and rising premiums. Unfortunately, workers and their families can't sue construction companies that kill employees, and the business community has been successful in "reforming" workers comp laws whenever the premiums start getting too high by putting more of the burden on injured workers.

And finally, what lessons can we learn from this story about rising workers compensation rates? If the best way to fight rising medical malpractice premiums is to reduce the amount of malpractice, maybe the best way to fight rising workers compensation insurance premiums is .... to reduce workplace injuries.

As my kids would say, "Duh!"

Related Stories
Labels: Behavioral Safety, BP
---
Go To My Main Page
---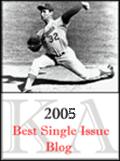 ---
Looking for
Confined Space Safety Information?
Click
Here
---
---
BP Texas City Explosion Stories
2006 Mine Disaster Stories
Popcorn Lung Stories
Speech on Receiving the APHA Lorin Kerr Award
by Jordan Barab, November 9, 2004


---
Acts of God, Acts of Man,"
by Jordan Barab, Working USA


Lies, Partisanship Caused Ergo Standard to Crumble,
by Jordan Barab, Safety + Health, February 2002


A Week of Death,
by Jordan Barab, Hazards, February 5, 2003
March 2003
April 2003
May 2003
June 2003
July 2003
August 2003
September 2003
October 2003
November 2003
December 2003
January 2004
February 2004
March 2004
April 2004
May 2004
June 2004
July 2004
August 2004
September 2004
October 2004
November 2004
December 2004
January 2005
February 2005
March 2005
April 2005
May 2005
June 2005
July 2005
August 2005
September 2005
October 2005
November 2005
December 2005
January 2006
February 2006
March 2006
April 2006
May 2006
June 2006
July 2006
August 2006
September 2006
October 2006
November 2006
December 2006
January 2007
---
---
FINALIST

Koufax Award

For Best Single Issue Blog of 2003 and 2004

---
---